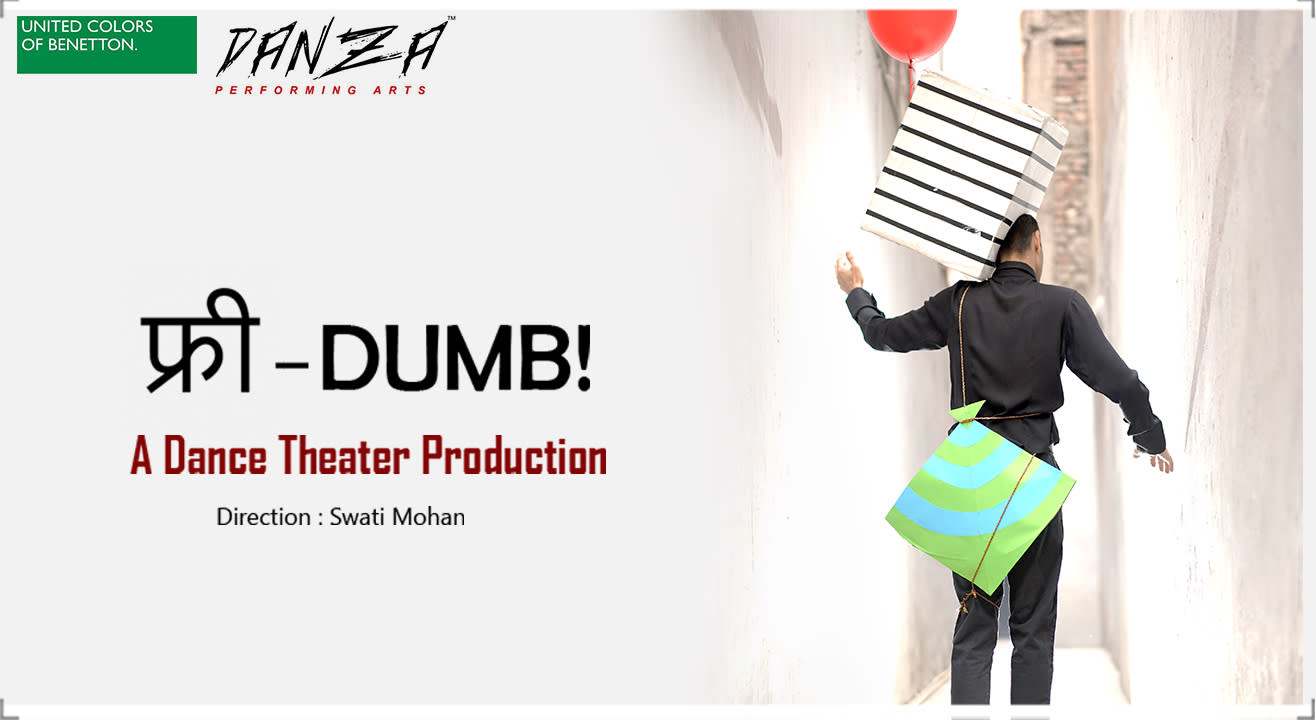 फ्री - DUMB! A Dance Theater Production
Apparel House, Gurugram, Gurugram
Step out and enjoy this event
Invite your friends
and enjoy a shared experience
फ्री - DUMB! A Dance Theater Production
Apparel House, Gurugram, Gurugram
Step out and enjoy this event
Invite your friends
and enjoy a shared experience
Invite your friends
and enjoy a shared experience
Freedom, a word on everyone's mind these days but what is it we want freedom from? "Stop suffering your freedom" is the starting point of this inquiry. The production is about realizing that one actually needs freedom from one's own self, freedom from mindlessness in daily living and hence freedom from the "dumb"! Herd mentality, addiction to mobile phones and hence "restless-bed syndrome", moral policing, being in toxic relationships even though we can make a choice to leave, losing our own identity and freedom to speak in all this madness, are few ideas we explored with dance and physical theater. Creativity, getting back to flow energy and un-conditionality of joy, irrespective of what there is, was the answer we found.
Kids, adults, dancers, actors, musicians, amateurs and professionals, a cast of about 35 performers will share the joy of researching life using arts as a tool with you all. This is Danza Performing Arts'
10thAnnual Summer Dance Theater Production where we practice jazz, contemporary dance, theater music, yoga and meditation to explore and heal the "self" through creative expression. Do come and add your bit to this much needed energy of फ्री - DUMB! We look forward to having you with us in this dance of life!
Crew:
Direction: Swati Mohan.
Production Mentor: Dilip Shankar.
Concept: Swati Mohan, Dilip Shankar, Gaurav Singh.
Choreography: Swati Mohan, Gaurav Singh and Supriya Babbar.
Physical Theater Facilitator: Uma Katju.
Music Edit: Gaurav Singh.
Light Design: Milind Srivastava.
Video Artist and Publicity Photography: Deepak Kattar.
Social Media Manager: Avi Arora.
Videography: Deepak Bhatia, Rakesh.
Property Team: Nyanada Patil, Anannya Sharma and Sanjana Nayar.
Publicity Design: Aishwarya Talluri.
Styling Consultancy: अनाम.
Actors and Dancers: Students of Danza Performing Arts.
Website: www.danzaperformingarts.in
Apparel House, Gurugram
Institutional Area, Sector 44, Gurugram, Haryana 122003, India
GET DIRECTIONS
फ्री - DUMB! A Dance Theater Production
Apparel House, Gurugram, Gurugram
Step out and enjoy this event
Invite your friends
and enjoy a shared experience