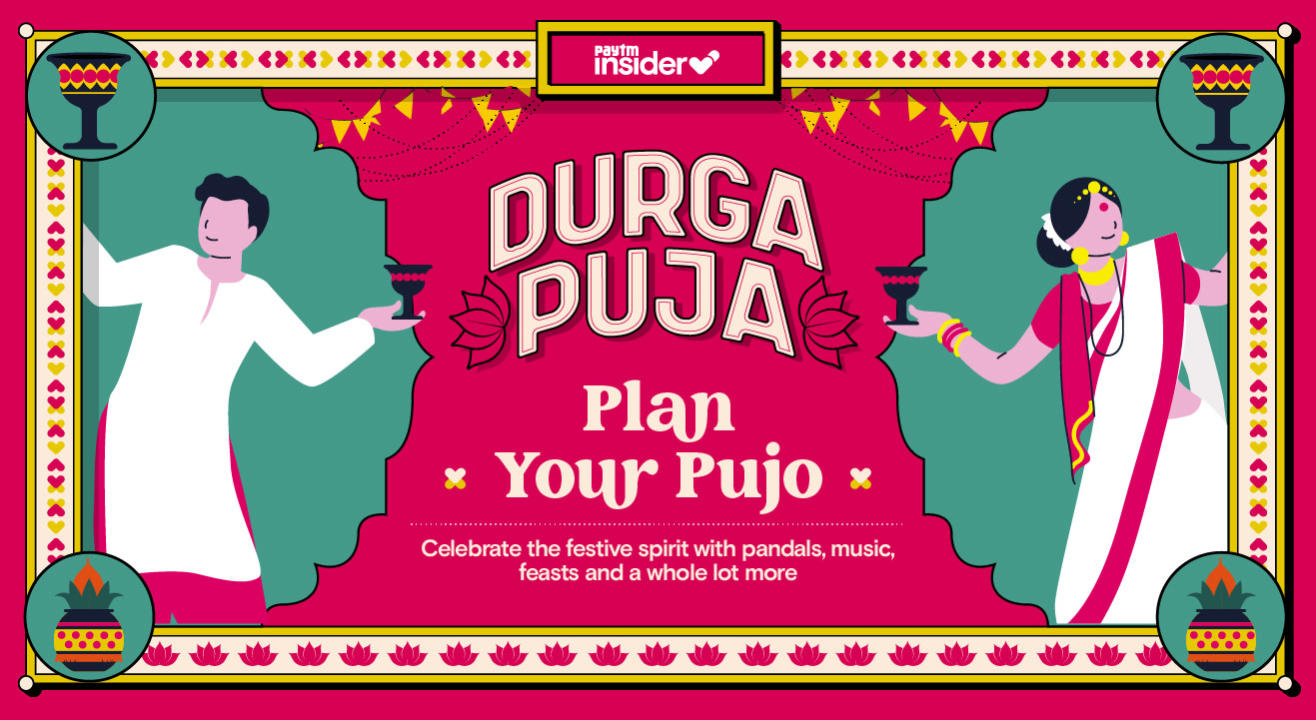 Celebrate Durga Puja with these Events
Witness the City of Joy become the City of Art for the 5 days of this auspicious festival. Put on your finest outfits and explore the best of celebrations that Kolkata has to offer during Durga Puja.
Invite your friends
and enjoy a shared experience
Durga Puja 2023 Offer
Get 10%* OFF. Use CODE: PUJO23 when booking your tickets.
*T&C Apply. Scroll to the bottom of the page for details.
It's time for Durga Puja!
That time of the year again, when Kolkata comes to a standstill and welcomes the magnificent goddess, Maa Durga into their homes and lives. It's true that nothing compares to Durga Puja celebrations in Kolkata. The city doesn't sleep and its people - completely decked up from head to toe, enjoy the revelry to the hilt. Dhunuchi naach, the sound of dhak and an engaging fragrance of flowers, Bengal boasts some of the most enthralling pandals with innovative themes and grand idols of Goddess Durga.
Durga Pujo Feasts & treats!
Off beat Durga Pujo Celebrations -
How will the celebrations look this year?
More than festivities, Pujo is an emotion in itself. It brings together people for five days over endless choices of food, flowers, bright fairy lights, and pandals that are larger than life.
This year, in 2023 - we're hoping its bigger, better and brighter than ever!
From the artisans to the pandal organisers, everyone is trying to do their bit to have a safe and peaceful Durga Puja this year. Some pandals might not be as big as you're used to seeing, but hey! It's the shared experience of Durga Puja that counts. Best of the hotels are putting together celebrations for people to enjoy. From buffets to pandals to shining fairy light decorations - these celebrations will have it all. Not just this, you can also sign up for 360° virtual reality tours of some of the best pandals. So even if your family and friends are in different places, you can have a sense of togetherness with these augmented reality experiences.
Excited about the festival but don't know the dates? Check them out below:

Shasthi (sixth day) - Friday, October 20th, 2023
Maha Saptami (seventh day) - Saturday, October 21st, 2023
Maha Ashtami (eighth day) - Sunday, October 22nd, 2023
Maha Navami (ninth day) - Monday, October 23rd, 2023
Vijayadashami (tenth day) - Tuesday, October 24th, 2023
What to expect from Durga Puja events in Kolkata
Durga Puja always brings with it gorgeous pandals, live performances, amazing cuisine and more: Get the best of both worlds with indoor banquets and outdoor stages.
Lots and lots of dancing
Durga Puja is the biggest and most widely celebrated festival in West Bengal, among other states in India. The five-day extravaganza consists of stunning idols, brightly lit pandals, loud music and more. Be it enclosed banquets, outdoor pandals or community pujas, Durga Puja is incomplete without the music and dance.
Pretty lights and pretty people
No festival in India is complete without a well-lit city and decked-up people! Similarly, the five day spectacle has a whole set of beautifully constructed pandals, roads with bright lights and colorful decorations all over the city.

At the same time, no festival is complete until everyone dresses up for it. In Kolkata, traditional sarees (such as the lal par saree - the famous red and white saree usually worn with a big red bindi, and dhotis are brought out of the closets.
So much food!
Pujo is highly anticipated in Kolkata and one of the biggest reasons is the food! For these five days, community pandals and organized events arrange buffets and numerous food stalls. The menu is a long list of traditional Bengali food that includes both vegetarian and non-vegetarian delicacies!
Recalling some of the best memories from the Durga Puja in the previous years:
The Evergreen Mahishasura Mardini Radio Program:
It was a way of life for the locals and for everyone else to visit Kolkata during the Pujo and experience it all first-hand. From beginning the day with the iconic "Mahishasura Mardini" by Birendra Krishna Bhadra to doing the annual Pujo shopping, here is a recap of all the things that make the heart of Durga Puja in Kolkata:
See Durga murti being made
The beautifully handcrafted idols of Goddess Durga sure are stunning. However, you'll appreciate them even more if you see the effort that goes into making them. The majority of them are crafted in one area - Kumartuli in north Kolkata, around 30 minutes drive from the city centre. If you looked around, you'd see idols everywhere - some as small as your palm, others as tall as 15 feet! The idols get sent all over Kolkata and even abroad. There are other shops too, which sell the accessories needed to decorate the idols. Photography is allowed, but not without a fee. If you visited on the occasion of Mahalaya (around a week before Durga Puja starts) you could see the eyes being drawn onto the statues in an auspicious ritual called Chokkhu Daan.

While the idols remain the talk of the town, it has always been amazing to see how craftsmen shape the fantastic pandals with bamboo, canvas and coloured cloth; there is no construction, imaginary or real, that they cannot give shape to. With the explosion of themes and the entry of artists and art school students, the pandals and idols are cast from various things. The result? Kolkata would turn into a virtual walk-through gallery. You could find large crowds moving across the city, enjoying the various pandals and their decor.
Attend the Kola Bou pooja
Durga Puja commences with the invocation of the holy presence of Goddess Durga into the idols. The ritual begins early in the morning, before dawn, with the bathing of a banana tree in the Hooghly River. The banana tree is dressed like a newlywed bride (known as "Kola Bou", the banana bride) in a sari, and used to transport the goddess's energy. People could attend the rituals at Prinsep, Bagh Bazaar and Ahiritola ghats.
Durga Puja Pandal hopping
The highlight of Durga Puja was no doubt visiting the many different displays (pandals) of Goddess Durga, each with a unique theme or decorative style. This activity is commonly referred to as "pandal hopping". There are thousands of pandals in Kolkata so it's only possible to visit a fraction of them - and even then it requires a bit of strategic planning as they're spread out all over the city. You could find the most well-known ones in north and south Kolkata, which is conveniently connected by the Metro railway. The most popular time for pandal hopping is at night when they're lit up. But you could avoid much of the crowd if you planned on going during the day,

Visiting more than hundreds (probably thousands) of pandals is not possible in just five days. These are some of the best ones that one could visit, known for their most elaborate and innovative themes, and even attract people from all over the world: Kumartuli Park, College Square, Bagbazar, Hindustan Park and Sikdar Bagan Sadharan Durgotsov.
Witnessing the illuminating lights at every para
Colourful lights and elaborate creativity turn Kolkata into a fairy town at night during Durga Puja. In fact, what was earlier known as 'Chandannagar lighting', the illumination executed by electricians from the district town, predates the trend of holding theme-based Pujo. With advanced technology, the illumination has gone up several notches and if you ventured out in the streets, you could see these 'light' paintings all across town.
Bonedi Barir Durga Puja
While Kolkata's public Durga Pujo tends to get all the attention, the traditional "Bonedi Barir" pujas in the city's palatial old private mansions are also really worth experiencing. They're spread out across Kolkata (as well as other major towns in Bengal). Two of the most famous ones are Sovabazar Raj Bari and Rani Rashmoni Bari in North Kolkata.
Participating in a Kumari Puja
The Kumari Puja is another significant ritual that's performed during the Durga Puja festival. During the festival, Goddess Durga is worshipped in various forms. In this ritual, she's worshipped in the form of a young unmarried girl. This serves as a reminder that the goddess and her energy are omnipresent in all beings. Belur Math in Kolkata holds an extensive program of rituals for Durga Puja, including a special Kumari Puja.
Dancing for the Goddess
After the evening rituals on Ashtami and preparing for the Sandhi Pujo for Navami, it's traditional for the devotional Dhunuchi folk dance to be performed in front of Goddess Durga to please her. This is done holding an earthen pot filled with burning coconut husk and camphor. On the beats of the Dhak, the dancers showcase their various moves - smoke, sound, and rhythmic swaying engulf the atmosphere! The dance is inclusive and anyone, men and women, can join in. It has become so popular that people have started organizing competitions!
Food during Durga Puja
There's never a better time to sample Kolkata's famous Bengali cuisine than Durga Puja. The festival isn't considered to be complete without food! You could find a wide array of it everywhere - on the streets, at the pandals, and in speciality Bengali restaurants. Hopping from one pandal to another, day or night, does make you hungry. A nibble here, a bite there and you were good to go!

While visiting the pandals during the day, one could experience the food served to visitors at the pandals, called bhog (offerings to the god which are distributed). It commonly consists of khichdi, a mixed vegetable curry, a sweet dish like rasgulla or gulab jamun, fried pakoras like aloo bhaja or beguni, paayesh and chutney.

But when it comes to street food, some of the fastest moving foods are the Kathi roll, fish cutlet, fish chop, Mughlai paratha, Kolkata-style chicken/mutton biryani and momo. The streets had options to satisfy a vegetarian's cravings too, like aloor chop, samosa, radhaballavi cholar dal, luchi aloo dum, and a very 'desi' version of stir-fried noodles or 'chowmein'. And of course, how can there be pandal hopping without a puchka refuel along with the spicy and tangy jhaalmuri and Kolkata-style bhel.

After all the spicy, chatpata food, end it on a sweet note is mandatory! After all, any Pujo is incomplete without some famous Bengali sweets - from roshogulla, mishti doi, sondesh, the list goes on...
Vijaya Dashami celebration
One of the most charming and emotional reasons why people visit Kolkata and stay till the end is for Dashami. This is the day when the goddess is immersed in the Ganges. There's more to it. This day, the married ladies in the house come over to their para pandals and play Sindoor Khela. Family meets, the younger generation pay respects with Shubho Bijaya and pronaam. At the same time, the immersion goes on with a sad but a hopeful heart of coming back next year.
Witnessing the immersion of Durga idols
Durga Puja comes to an end with the Immersion Ceremony where people would converge and sing and dance till the Goddess gets immersed in the holy waters of the Ganges. Popularly known as bhasan, people would have a ball on the streets and smear each other with colours while dancing to popular music. The immersion rituals taking place at major ghats like Babughat used to be a sight to behold! This was definitely one occasion where one could witness the sheer magic of the city.

One of the most popular immersion points is Babu Ghat (centrally located near Eden Garden). West Bengal Tourism Development Corporation used to conduct special immersion boat cruises down the river. One could use those or otherwise head to Red Road to watch the Durga idols being taken in procession to the ghats as revellers chant, "Asche bochor abaar hobe!" (It'll happen again next year!).
Confused about how you want to celebrate? Take a look at all the Pujo events and experiences here!
Terms and Conditions for the Durga Puja 2023 Offer
The max discount amount is subject to change.
Discount upto ₹1000, Minimum cart value of ₹2000 for one event or item.
All decisions taken by Paytm Insider on any dispute regarding the discount is final.
This discount code can only be used once per user.
Subscribe to receive our newsletter!
Find the best experiences happening out there in your city or enjoy handpicked content while sitting comfortably at home. Paytm Insider is your go-to place to figure out what to do today!