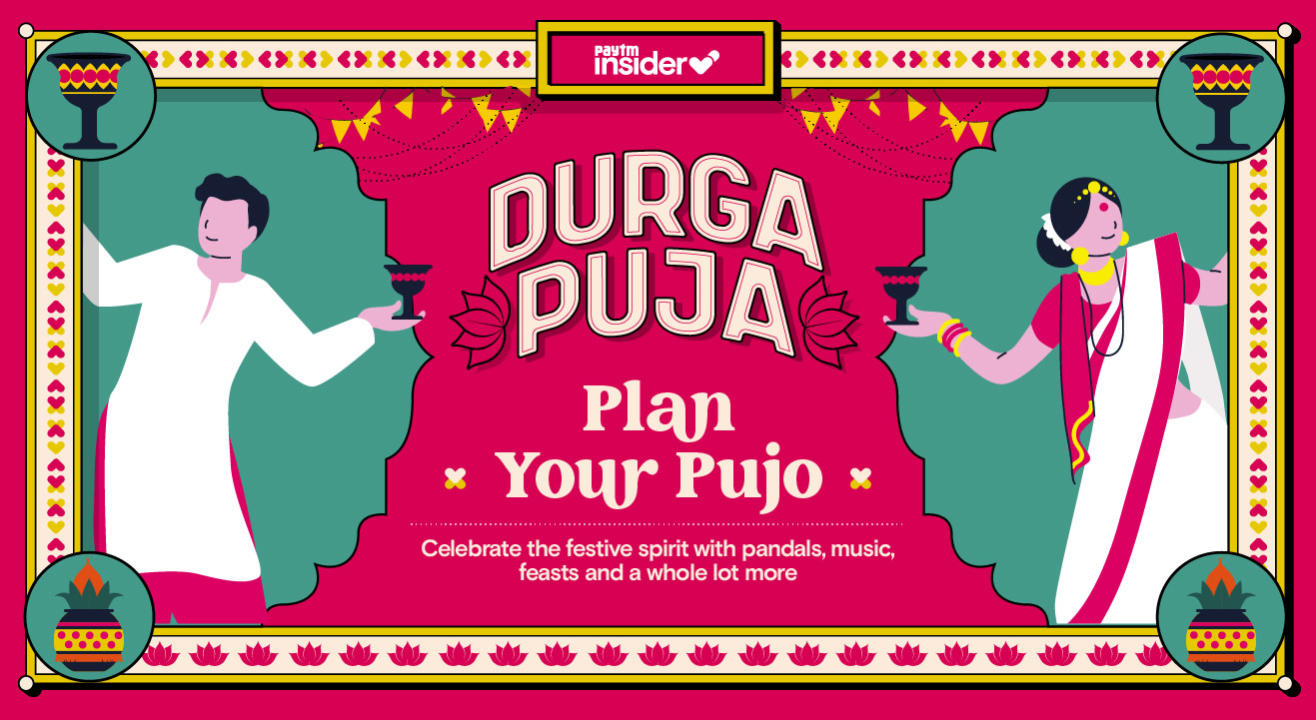 Pujo Asche! | Pandal Darshans, Celebrations, Important Dates and More!
Witness the City of Joy become the City of Art for the 5 days of this auspicious festival. Put on your finest outfits and indulge in the best of food Kolkata has to offer during Durga Puja.
Invite your friends
and enjoy a shared experience
Durga Puja 2023 Offer
No Booking Fee on select events.
Durga Puja 2023
That time of the year again, when Kolkata comes to a standstill and welcomes the magnificent goddess, Maa Durga into their homes and lives. It's true that nothing compares to Durga Puja celebrations in Kolkata. The city doesn't sleep and its people - completely decked up from head to toe, enjoy the revelry to the hilt. Its five days of celebration with themed pandals and traditional Pujos, colourful sarees and even brighter lights. Dhunuchi naach, the sound of dhak and an engaging fragrance of flowers, Bengal boasts some of the most enthralling pandals with innovative themes and grand idols of Goddess Durga.
Excited about the festival but don't know the dates? Check them out below:
Shasthi (sixth day) - Friday, October 20th, 2023; Kalparambha is an early morning ritual where the devotee makes a resolution to observe all puja rituals in a sacrosanct manner.
Maha Saptami (seventh day) - Saturday, October 21st, 2023; Maha Saptami includes the bathing ritual of nine plants, bathing of the mirror which reflects Goddess Durga, and worshipping the goddess.
Maha Ashtami (eighth day) - Sunday, October 22nd, 2023; Nine small pots are installed and the nine shaktis of Durga are then invoked in them. All the nine forms of the goddess are worshipped during Mahashtami puja.
Maha Navami (ninth day) - Monday, October 23rd, 2023; 'Durga Balidan' which refers to sacrifice is done on Navami Tithi. In most places, a symbolic Bali with vegetables like banana, cucumber or pumpkin is offered.
Vijayadashami (tenth day) - Tuesday, October 24th, 2023; A symbolic immersion of Durga that declares the end of the Puja rituals, women apply vermillion on the forehead and the feet of the idol and offer sweets to her, in preparation of her departure.
See how these 5 Indian States and Cities celebrate Durga Puja in their own way.
Kolkata
Kolkata is by far the most famous city for you to experience Durga Puja. The city is famous for it's Durga Puja pandals and delicious delights in the form of Bengali cuisines and vibrant attires make the festival whole. Visually spectacular in its light and pandal decoration, Kolkata is a must visit destination during Durga Puja.
Delhi
Delhi witnesses one of the best Durga Puja celebrations in India. Chittaranjan Park, famous as CR Park showcases amazing works of art along with scrumptious delights and music. Ramlila Maidan holds an event where Ravanas effigies are burnt on Dussehra where hundreds of people father to witness this celebration.

Ahmedabad
Ahmedabad celebrates the triumph of Lord Ram with fireworks through the night. Drama pieces are performed where the story of Dussehra is depicted with songs, dances and dialogues.
Mumbai
Mumbai is one of the top places to visit in India to enjoy Durga Puja. You can see quite a few Indian celebrities at pandals. The Balkanji Bari, Lokhandwala Durgotsav and many more celebrate Durga Puja with beautiful pandals.
Karnataka
Dussehra in Mysore is a unique event with cultural shows, military parades and sport competitions across the Durga Puja celebrations. The Mysore Palace is decorated during this time.
Make this festive season special with Durga Puja events happening all over the city. Indulge in scrumptious meals and beautiful sights in the City of Joy!
Take a look at all the ways to celebrate Durga Puja!
Subscribe to receive our newsletter!
Find the best experiences happening out there in your city or enjoy handpicked content while sitting comfortably at home. Paytm Insider is your go-to place to figure out what to do today!