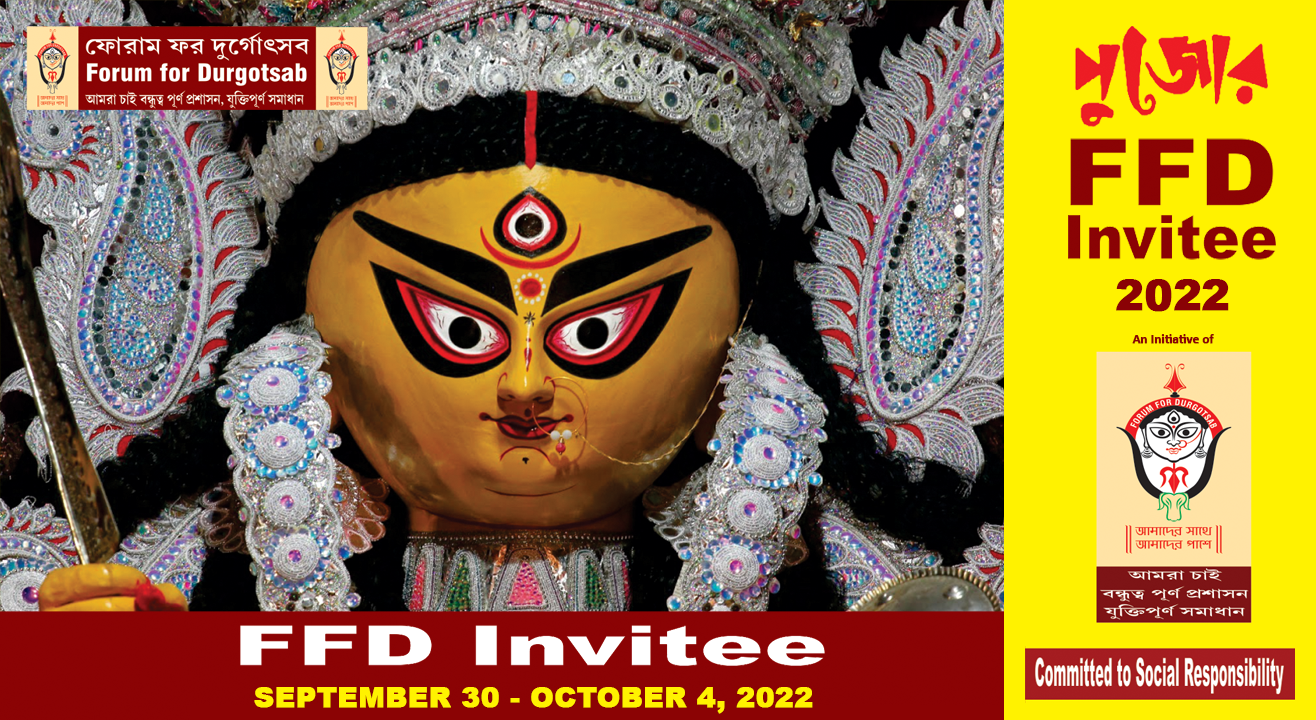 Durga Pujor Passport 2022 I Forum For Durgotsab | Durga Puja 2022
January 28 | 9:10AM - January 29 | 9:10AM
Multiple Locations, Kolkata
Invite your friends
and enjoy a shared experience
Durga Pujor Passport 2022 I Forum For Durgotsab | Durga Puja 2022
January 28 | 9:10AM - January 29 | 9:10AM
Multiple Locations, Kolkata
Invite your friends
and enjoy a shared experience
Invite your friends
and enjoy a shared experience
DUE TO HIGH DAMAND WE HAVE EXTENDED COLLECTATION AND SALES OF VIP PASSPORT TO 1ST AND 2ND OCTOBER
Durga Pujor Passport 2022 I Forum For Durgotsab
Wanna be an VIP this Durga Pujo? Wanna move around the best of the Pujo pandals of Kolkata without standing in long queues?
Yes, this time it's not a day dream or an imagination beyond reality.
This will enable you experience a hassle-free pandal hopping and enjoy the creativity of best of the Pujo pandals in a grand and easier way.
So more time for Phuchka, Prem & Adda!
Happy Pujo in advance.
TICKET COLLECTION DETAILS:
Date: 1 & 2nd October
Time: 9AM - 2PM
Address
South Kolkata
Badamtala Ashar Sangha Club Premises (Near Rashbehari Crossing)
North Kolkata
Noti Binodini Memorial Amphitheatre ( Star Theatre )
Tala Barowari
Tala Prattay
Kumartuli Sarbojanin
Kumartuli Park Sarbojanin
Jagat Mukjerjee Park
Nalin Sarkar Street Sarbojanin
Hatibagan Nabin Pally
Hatibagan Sarbojanin
Sikdar bagan Sadharan Durgotsab
Kashi Bose Lane
Chalta Bagan
Chorebagan Sarbojanin
Netaji Colony Lowland Sarbojanin
Nawpara Dadabhai Sangha
Telengabagan
Beleghata 33 Palli
Dum Dum Park Tarun Sangha
Dum Dum Park Bharat Chakra
Dum Dum Tarun Dal
Keshtopur Prafulla Kanan Paschim Adhibasi Brinda
Abasar Sarbojanin
Bakul Bagan Sarbojanin
Chakraberia Sarbojanin
Kalighat Milan Sangha
64- PALLY Puja Parishad
Badamtala Ashar Sangha
66 Pally
Shibmandir
Ballygunge Cultural Association
Samaj Sebi
Hindustan Park Sarbojanin
Gariahat Hindusthan Club
Singhi Park Sarbojanin Durgapuja Committee
Naktala Udayan Sangha
Bosupukur Sitala Madir
Bosepukur Talbagan
Santoshpur Trikon Park
Santoshpur Lake Pally
Purbachal Shakti sangha
Garia Naba Durga
Pally Sarodiya
Behala Nutan Dal
Behala Nutan Sangha
Behala Debdaru Fatak Sarbojanin
Behala Friends
Behala Club
Barisha Club
Barisha Sarbojanin Durgotsab
SB Park Sarbojanin
Ajeya Sanghati
41 Pally Club
Vivekananda Park Athletic Club
Durga Pujor Passport 2022 I Forum For Durgotsab | Durga Puja 2022
January 28 | 9:10AM - January 29 | 9:10AM
Multiple Locations, Kolkata
Invite your friends
and enjoy a shared experience