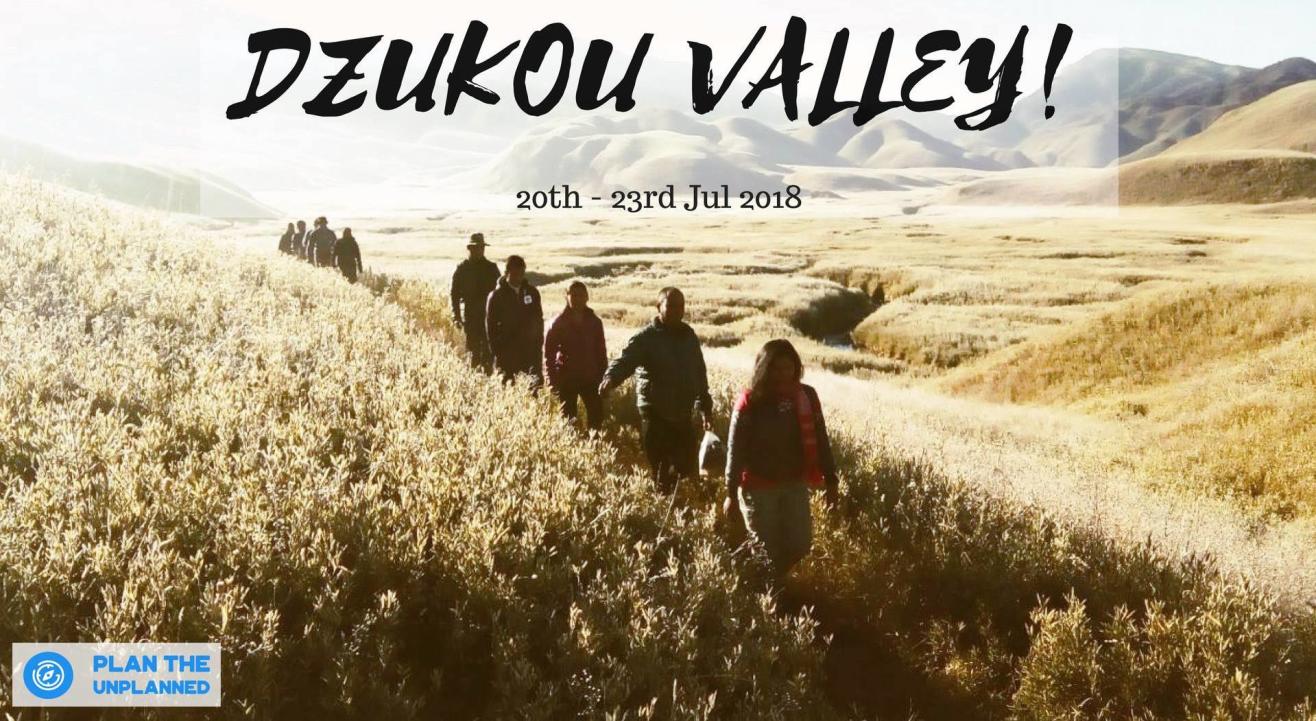 Trek
Dzukou Valley Trek In Nagaland | Plan The Unplanned
December 26 - 29 | 11:30PM
About
We at Plan The Unplanned are always looking for new and exotic locales to uncover and we're happy to say that next up is one of the most desired trek routes in Nagaland – The Dzukou Valley Trek!
The vast expanses of green hill slopes, the surreal presence of pearly white clouds and the gleaming mountain tops make for a dream-like trekking route. Located at an altitude of 2450 meters, The Dzukou Valley, located at the bottom of a large crater of an extinct volcano is by far the best trekking routes in the whole of Nagaland.
The trekking trail to reach the Dzukou Valley is going to leave you breathless, make you feel inspired and test your endurance all at once – making this trail very special! As you make your way up towards the valley be prepared for a real feast for the eyes because you are going to witness the magnificence of rolling hillocks covered by a thick blanket of green forests, the tranquil beauty of aqua blue water paving its way through the middle of the valley and glorious assortment of flowers that fill the valley with colour and light.
The steep trek upwards followed by 2-3 hours of walking through thick bamboo thickets and deep forest land, you will understand why this trail is considered the best trek routes in Nagaland. For all you avid trekkers, adventure seekers and photography enthusiasts, this testing trek expedition will be totally worth the captivating views along this special journey. If you aren't excited by this chance for a new adventure yet – just take a look at the magical images of the valley and you'll be as blown away as we are! Come discover the most charming spot in the North East with PlanTheUnplanned and tick another adventure off your travel bucket list – book your spot now!
DAY 0
Arrive by plane or train at Guwahati (Own arrangements to be made.)
Night train from Guwahati to Dimapur at 11:30 pm
DAY 1
Reach Dimapur by train at 4:30 am
Drive from Dimapur to Kohima
Drive from Kohima to Vishwema
Trek begins from Vishwema village to Dzukou rest house
Accommodation at Dzukou rest house
DAY 2

Trek to the Dzukou Valley and the campsite
Trek back to Vishwema
Drive from Vishwema to Kohima
Stay at Kohima
DAY 3
Explore Kohima
Night train from Kohima to Guwahati
Transportation

Meals - 2 Breakfast 2 Lunch 3 Dinners, High tea Snacks

Guide

Forest Permits

Accommodation In Tents/Rooms

Sleeping Bag, Mattress

Porter

The experience that You gain
Any kind of insurance

Personal Expense:( snacks, mineral water etc)

Anything that's not included in the inclusions above.
Consumption of alcohol, intoxicants, and smoking would not be tolerated during the entire course of the journey. Kindly co-operate with us to make the experience more fun.

Put Litter in its place, do not trash the mother earth.

Plan The Unplanned shall not be responsible for any of your belongings, valuables, jewelry etc. Kindly do take care.

In the case of traffic delays or breakdowns expect a few delays in reaching the destination.