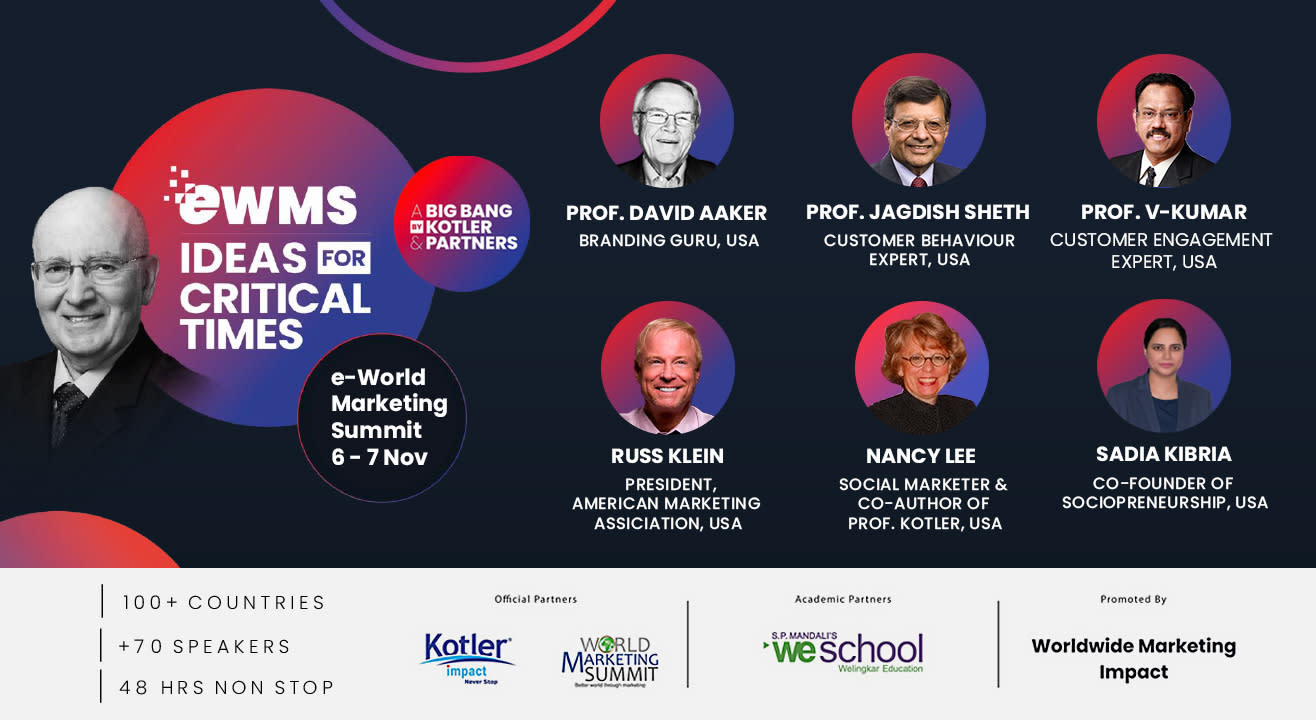 November 6 | 5:30AM - November 8 | 5:30AM (IST)
Enjoy this event from your home
Invite your friends
and enjoy a shared experience
Invite your friends
and enjoy a shared experience
About the Event
E WORLD MARKETING SUMMIT - Ideas for a critical time
The most influential personalities in the world will share their vision stories and strategies in the most relevant business areas.
Attend the event with 70+ world-renowned speakers on November 6 - 8, 5:30AM (Indian Standard Time).
Grab your early bird ticket - limited period only!
You also get access to view Speaker Videos from the Summit after the event is over!
The Theme
Ideas for Business leadership and sustainability in critical times
Who should Attend
Business Leaders, Marketing, Enthusiasts, Professionals, Academic, Entrepreneurs, and Students
Audience
Over 1 million worldwide
Learn from world trend setters about:
Latest Trends in Marketing
Innovation & Customer Engagement
Digital Marketing
Phronetic Leadership
B2B Marketing
Services Marketing
High Tech Marketing
GIG Economy
Design Thinking
Transformative Digital Strategies
Advertising
Selling on-line
Marketech
E-commerce
E-Retailing
Management of Technology
Artificial Intelligence
Block Chain
Best Practices in Leadership
Leading in uncertainty
Selling disruptions
Value Creation
Entrepreneurship Stories
Simplifying Startup fund raising
Sociopreneurship
New Product Development
Small Business Retailing
Startups Marketing & Selling
Consumer Packaged Goods
Pricing
Download the Brochure here.
About Philip Kotler : A brilliant mind ahead of the times
Widely acknowledged as the Father of Modern Marketing and the world's foremost expert in strategic marketing, Prof. Philip Kotler have successfully made WMS a much-awaited series of dialogue in the world.

Professor Kotler have published over 50 books on all aspects of marketing, including the widely used textbook in graduate business schools worldwide, Marketing Management and was ranked fourth most Influential Business Writers/ Management Gurus, following Peter Drucker, Bill Gates, and Jack Welch.
Speakers at the E World Marketing Summit 2020
PROF. PHILIP KOTLER
Father of Modern Marketing and Founder of WMS
PROF. JAGDISH SHETH
Emory University, USA
PROF. DAVID AAKER
Branding Guru, USA
PROF. V KUMAR
Customer Engagement Expert, USA
RUSS KLEIN
President, American Marketing Association, USA
NANCY LEE
Social Marketer & Co-author of Prof. Kotler, USA
MICHAEL J. GELB
Author of Mastering the Art of Public Speaking, USA
SADIA KIBRIA
Founder of Sociopreneurship and CEO of WMS

There are over 50 speakers at the E World Marketing Summit 2020 across categories such as:
World Trend-Setters, Global-Relations Experts, Marketing Practice Experts, Marketing Academic Experts, TED Speakers & Business Leaders from around the globe. View the full list of speakers here.
Student / Silver Ticket | INR 4,709 (Inclusive of GST)
Recommended for Students.
Grab your early bird ticket - limited period only!

With this ticket you get:
- Full eWMS Access
- E-certificate of eWMS attendance is for students only. (Submitting your current School/Institution/university is mandatory for the Certificate)*
- Access for one week to all the speaker videos from the main event


Gold | INR 9,322 (Inclusive of GST)
Recommended for Professionals & Companies.

With this ticket you get:
- Full eWMS Access (06-07 November 2020)
- E-certificate of eWMS attendance
- Access for one month to all the speaker videos from the main event


Platinum | INR 15,222 (Inclusive of GST)
Recommended for Professionals & Companies.

With this ticket you get:
- Full eWMS Access (06-07 November 2020)
- E-certificate of eWMS attendance
- Access for one month to all the speaker videos from the main event
- Exclusive access to Kotler Impact Masterclass
- E-certificate of Kotler Impact Masterclass attendance
- Kotler Impact Alumni Membership (1 year membership)
- Special E-book Gift - INTELLIGENT MARKETING: Employing New-Age Technologies, authored by Prof. V Kumar (published by Sage)