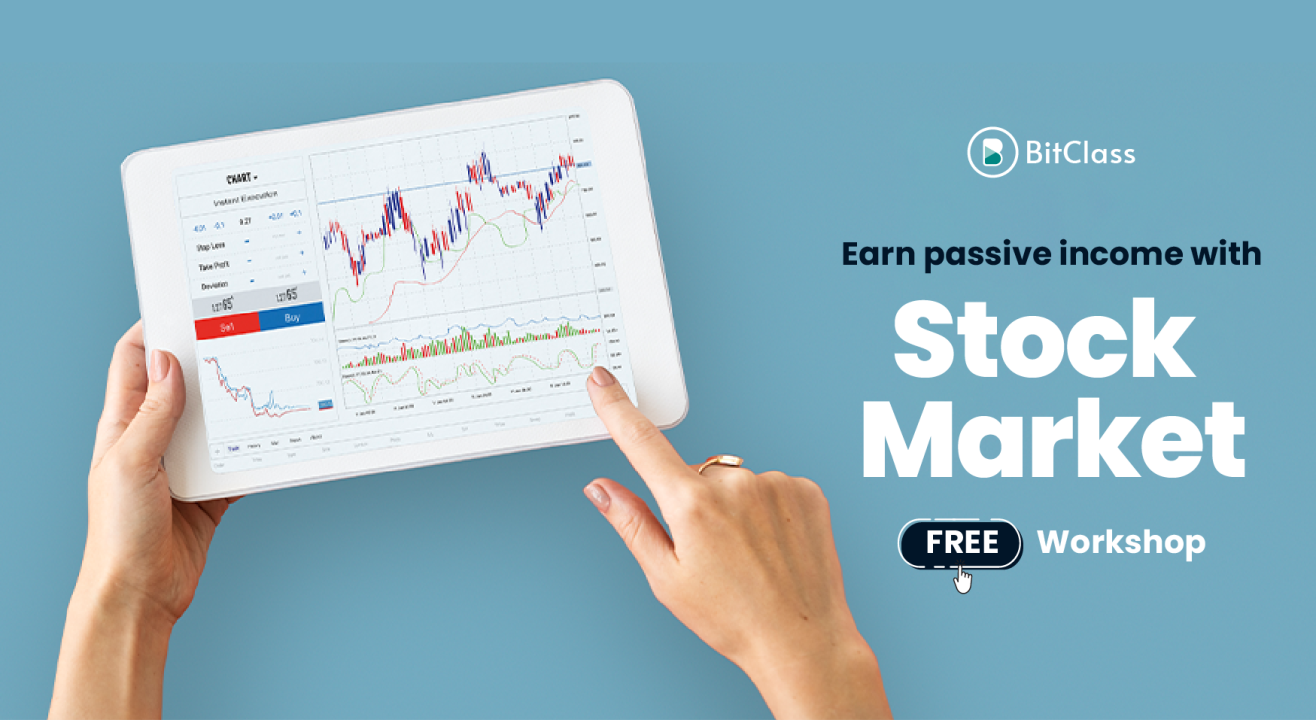 Earn with Stock Market | Learn Trading Strategies & Investment
September 26 | 7:30PM - September 28 | 8:30PM
Enjoy this event from your home
Event Guide
Masterclass
Learn from an expert
Invite your friends
and enjoy a shared experience
Earn with Stock Market | Learn Trading Strategies & Investment
September 26 | 7:30PM - September 28 | 8:30PM
Enjoy this event from your home
Event Guide
Masterclass
Learn from an expert
Invite your friends
and enjoy a shared experience
Event Guide
Masterclass
Learn from an expert
Invite your friends
and enjoy a shared experience
The stock market is one place where the sky is the limit to earn money.
One great advantage of stock trading lies in the fact that the game itself lasts a lifetime. Just like riding a bike, trial and error, coupled with the ability to keep pressing forth, will eventually lead to success.
But before you get started, what really is stock trading?
In simple terms, stock trading is the buying and selling of a company's shares with the aim to make a profit. When you buy shares in any company, you own a small part of that company, and the value of your investment will change as the company's share price moves up and down.
This workshop will take you on a tour of the financial markets – including shares, indices, etc – equipping you with the essentials every trader needs to know. You'll discover how each market operates, what drives it, and most importantly how you might capitalize on its movements.
What will you learn in this workshop?
Why do we choose technical analysis vs fundamental analysis in the stock market?
First steps towards a successful career in the stock market
Which tool to use for charts?
Settings required before starting in the stock market
How to do a basic analysis + H


What are the takeaways of this workshop?
A better understanding of how trading works
Get a hands-on understanding of charting
A flavor of technical analysis
A trading setup that can be used practically and will easily be able to recover this workshop's fee
There is no single market secret to discover, no single correct way to trade the markets. Those seeking the one true answer to the markets haven't even gotten as far as asking the right question, let alone getting the right answer. - Jack Schwagger
Wall Street isn't forgiving. If you're serious about trading as a wealth-building strategy, you need the skills and training to make it all work. By the end of this workshop, develop a basic understanding of the financial markets and training.
REGISTER TODAY and start your journey as the wolf of wall street with the expert—Preetam Oswal, himself!
Happy Trading!
Earn with Stock Market | Learn Trading Strategies & Investment
September 26 | 7:30PM - September 28 | 8:30PM
Enjoy this event from your home
Event Guide
Masterclass
Learn from an expert
Invite your friends
and enjoy a shared experience