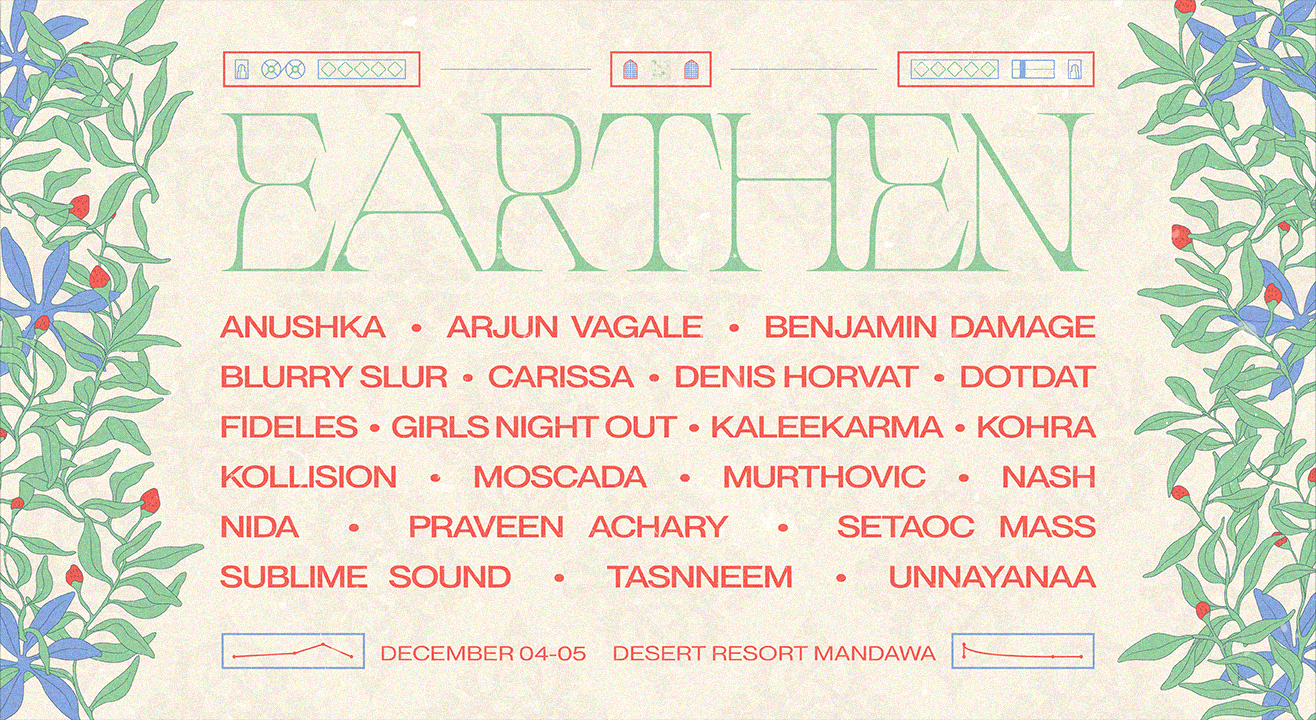 Earthen Festival 2021 | December 4 - 5
Venue: WelcomHeritage, Desert Resort, Mandawa, Rajasthan.
Invite your friends
and enjoy a shared experience
Earthen Festival 2021

Earthen is an experience, whose roots are embedded with art, culture, heritage & music.
An experience that's a cumulative occurrence in unchartered yet bequest locations. (Culture & Heritage)
An experience that's a spellbinding artistic setting & traditionally euphoric atmosphere in the Indian Subcontinent. (Art, Music)
Desert Resort - Book Your Room

Castle Mandawa - Book Your Room
Get your Festival tickets here!
Sneak Peek Into The Venue
Desert Resort

Desert Resort

Desert Resort

Desert Resort

Desert Resort

Castle Mandawa

Castle Mandawa

Castle Mandawa

Castle Mandawa
COVID Guidelines
COVID Vaccination certificate or a negative COVID report 24-48 hours prior to the entrance is mandatory. A copy of the same shall be provided to us digitally before reaching the site.
Social distancing at all times during the event.
Compulsory masks at all times on the premises.
Sanitation kits for all attendees.
24x7 emergency medical support.
An effective sanitation crew for the entire venue.
Regulated thermal temperature checks at the entrance and across the venue.
Disinfection being used on all luggage.
A health data report to be maintained throughout, for all attendees.
Terms & Conditions
The age limit is 18 years +. Alcohol will only be served on display of a Valid ID and credible age proof.
Please carry a valid ID Proof.
The internet handling fee per ticket may be levied. Please check the total amount before payment.
It is mandatory for the attendees to submit COVID vaccination certificate or a negative COVID 19 test 24-48 hours before the event and attendees must make sure to submit their report 24 hours prior to the festival.
Attendees must carry their Covid19 negative report/ vaccination certificate and those without will not be allowed to enter the premises.
Tickets once booked cannot be exchanged, refunded or canceled.
No refunds on purchased tickets are possible, even in case of any rescheduling.
Each pass admits fixed number of persons as per their room package, in whose names the room has been reserved ("Entrant").
This pass is transferable only through us. Incase of transfer the transferor has to email us and mark the transferee on the same email.
Outside food and beverages are not allowed within the premises. Event can be rescheduled, canceled at the sole discretion of Earthen India.
("Organizers"). The event is subject to force majeure conditions.
Drugs, cigarettes, lighters, matchbox, arms and ammunition, alcohol bottles, cans, tins or any other such material are not permitted inside the venue.
Organizers reserve the right to perform security checks on invitees/members of the audience at any point. Including the entry point for security reasons. Security procedures, including frisking, remains the right of the management. Your cooperation is solicited.
Strobe lightings at this event may trigger epileptic fits. Those with a history of epilepsy or any health condition that would be of concern must take adequate precautions. This event uses amplified sounds, Wear hearing protection at live concerts to reduce the risk of hearing damages.
Smoking is strictly prohibited. No drug use – Consumption of narcotics is illegal and those found in possession or consuming narcotics at the event will be handed over to police authorities. Persons suspected of carrying items that may be used in an offensive or dangerous manner or carrying out illegal activities within the site may be searched.
You shall not use or display within the venue any sponsorship, promotional or marketing materials unless authorized by written confirmation from organizers.
Wristbands removed from the wrist or tampered with will be rendered invalid and will not be replaced. Lost or missing wristbands will not be replaced. Those without wristbands will be refused admission to the site or may be removed from the Festival Site.
No plastic should be brought or used within the grounds of the festival.
The sponsors/performers/organizers are not responsible for any injury or damage occurring due to the event. Any claims regarding the same would be settled in courts.
People in an inebriated state may not be allowed entry.
Venue rules apply.
Subscribe to receive our newsletter!
Find the best experiences happening out there in your city or enjoy handpicked content while sitting comfortably at home. Paytm Insider is your go-to place to figure out what to do today!