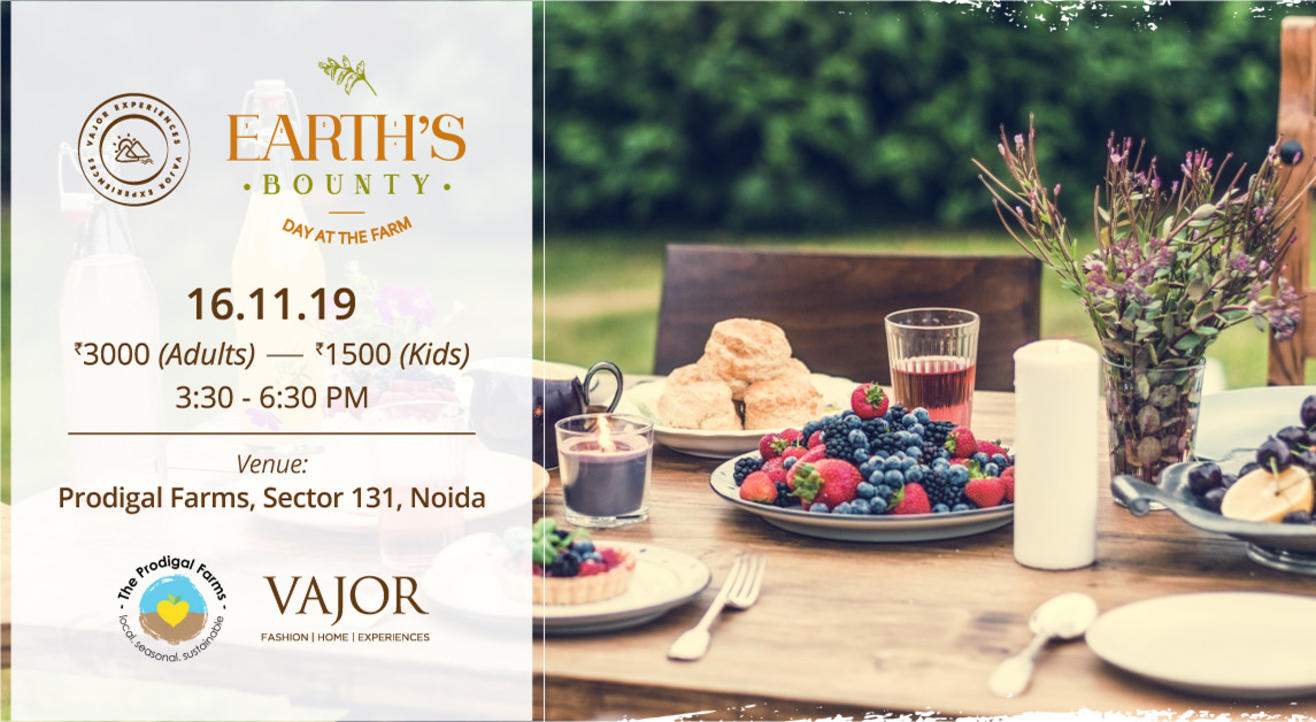 Earth's Bounty: Day At The Farm by Vajor
Invite your friends
and enjoy a shared experience
Invite your friends
and enjoy a shared experience
About the Event
"...and into the field I go, to lose my mind and find my soul."
Welcome to a Vajor Experience focused on food, farming and fun! Curated at the relaxed and contemporary Prodigal Farms, this conscious living experience is about 'living your day like a farmer'. In a countryside like space, have an out-of-the-city experience where you harvest your own veggies, practise hands-on and learn farming as a skill in the company of other eco-conscious humans. Here's an outline of the event:
As you reach the farm, you'll be greeted by our host over fresh drinks. We take you on a tour of the farm to witness the various zero-waste farming practices, trace the property and its produce and meet the farmers and farm animals!
Get your hands dirty as you pluck your own veggies to be transformed into a freshly made zero-mile menu. You may even wish to assist our chefs in curating the meals. Be our farmer for the day and indulge in farming activities before you dig into the beautifully healthy meal ahead.
Look forward to a special workshop that tells you recipes for plant-based salads to take back home with you!
Before the nourishing event ends, be part of another workshop that lets you in on exciting ways to rework on your old distressed furniture using paint & wax. Got an old one at home? Bring it with you or you can even work on one at the farm.
Take back a special giveaway from the experience!
Also, the farms are 'pet-friendly' so don't shy away from bringing your furry friends to enjoy with you!
Key Takeaways:
Live your day like a farmer in a relaxed urban farm
Tour of the farm & eco-conscious activities
Harvest your own veggies & learn farming as a skill
Easy hacks to practice sustainable farming at home
Unlock exciting plant-based salad recipes
Explore ways to refashion your old distressed furniture
Inclusions:
Menu - an elaborate 4 course meal, drinks, salads & desserts
Giveaway from the farm team
Plant-based salad workshop
Furniture workshop
The Prodigal Farms
Bandh Rd, Near Jaypee Hospital, Sector 131, Noida, Uttar Pradesh 201304
GET DIRECTIONS