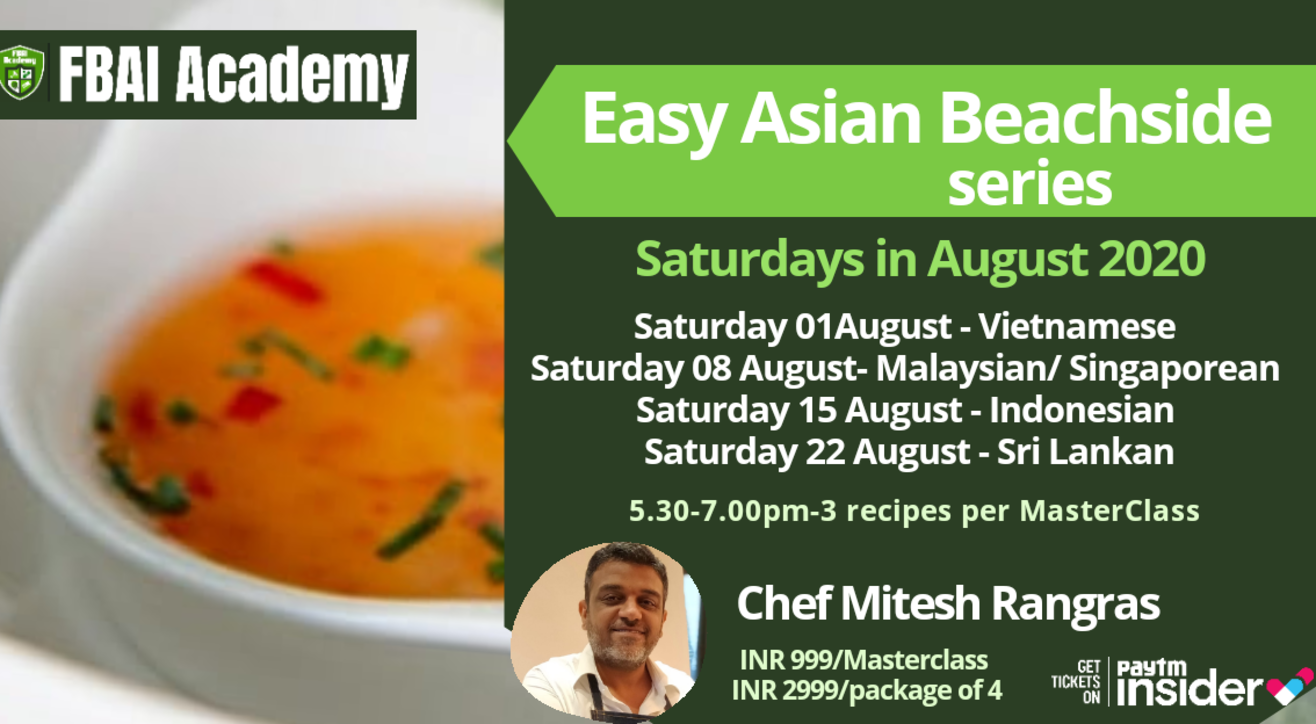 Easy Asian Beachside Recipes
August 1 | 5:30PM - August 29 | 11:30PM
Enjoy this event from your home
Event Guide
Digital Event
Watch on Zoom
For Age(s)
Family Friendly
Masterclass
Learn from an expert
Invite your friends
and enjoy a shared experience
Event Guide
Digital Event
Watch on Zoom
For Age(s)
Family Friendly
Masterclass
Learn from an expert
Invite your friends
and enjoy a shared experience
About the Event
"South East Asia is a traveller's paradise and one of the main reasons why the popularity never reduces is because of its food. They all have a rich heritage, history and ever changing cultural landscapes that have made the cuisines popular globally. We've selected the 4 most unique cuisines which we hope all of you will enjoy recreating in the comfort of your homes.
Its ideal if you're trying to make your next meal interesting for you and your family, or to impress friends when we ultimately resume entertaining"
Vietnamese Cuisine – Saturday 01 August 2020, 5.30-7pm
1) Rice Paper Rolls - Rice paper rolls, veggies, salad, Nuoc cham dip
2) Mekong prawns with chili - spicy stir fry prawns,shallots, rice, special spice mix
3) Pho - Classic clear broth, rice noodles, chicken toppings
Vietnamese cuisine works on principle of harmony created between Fresh Ingredients, pungent fish based sauces, exotic herbs and sour lemons. This cuisine has evolved over the past few centuries with Chinese, French, Cambodian (khmer) influences because of its great location in the heart of South East Asia.
This Introductory course is a beginners guide through a carefully selected assortment of dishes that will show you how to recreate the beautiful food at home.
Cuisine of Singapore & Malaysia – Saturday 08 August 2020, 5.30-7pm
1) Roti John - minced chicken & egg sandwich from Singapore food courts
2) Curry Laksa - special seafood recipe, noodles, spicy curry, toppings
3) Satay - Classic Malaysian recipe, peanut sauce
The original fusion cuisine. Since Malaysia has 3 major ethnic groups viz. Malay, Chinese & Indian , It has the most interesting combination of ingredients one can imagine. It is common place to see Indian spices, oyster sauce and candle nuts in the same recipe.
I'm sharing 3 of my favorite easy to recreate recipes from the food courts of Singapore and the streets of Penang, the food capital of Malaysia.
Indonesian Cuisine – Saturday 15 August 2020, 5.30-7pm
1) Ayam Goreng - Indonesian fried chicken, sambal balado
2) Nasi Goreng - Indonesian spicy fried rice,fried egg, chicken satay
3) Balinese Curry - Vegan curry with sweet potato, peanuts,chili &water chestnut
Most of us know Bali as the popular travel destination but Indonesia has many more regions with varied food and the nicest people. Bali being a Hindu Island has the greatest Pork and vegetarian recipes and the rest of the country being Islamic has superb chicken & meat recipes.
I'm sharing 3 quintessential recipes which are known globally and are favorites at every Pan Asian restaurant in India.
Sri Lankan Cuisine – Saturday 01 August 2020, 5.30-7pm
1) Kiribath with Kukul Mas (chicken) curry - Coconut rice, spiced chicken curry, special curry powder
2) Kottu roti - Street snack with roti,chicken, eggs, veggies and curry
3) Devil prawns/potato - Stir fried prawns, spicy sauce, coriander
With its largely Buddhist Sinhalese population it's a great Island cuisine with lots of fish, coconut, spices and herbs. It has a lot of influences from Tamil (they are the second biggest ethnic group) and Malay cuisines, due to its geography.
I'm sharing a few recipes which I picked up travelling around the beautiful country for a few weeks. I'm going to be sharing recipes like Kiribath, the famous Jaffna Curry powder which we will use to make the kukul mas curry (chicken) , the Sizzling Devilled prawns and the street favorite Kottu roti.