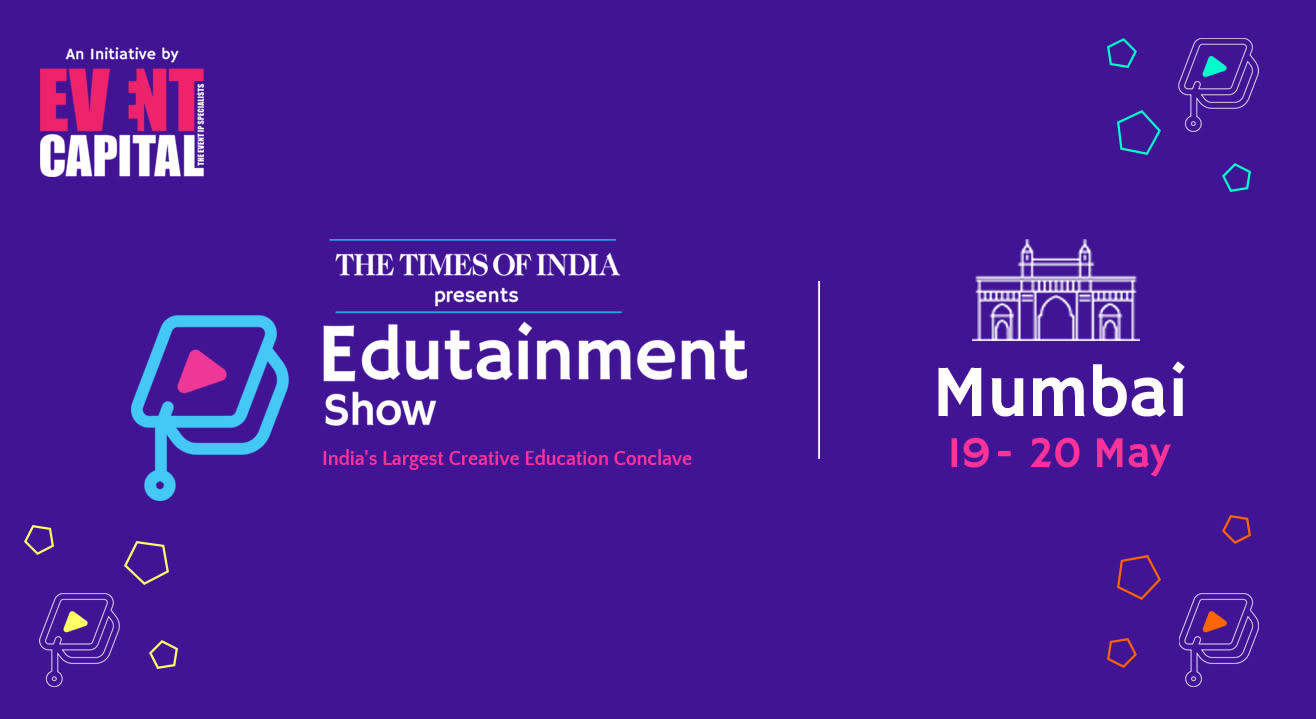 Conference
About
The fifth edition of India's largest educational exhibition and summit, 'Edutainment Show' is back. Students can explore exciting career options in DESIGN, EDUCATION, MEDIA and COMMUNICATION while participating in informative workshops with media stalwarts.
This year the festival is larger and grander, thanks to a partnership with India's largest media house, the Times of India group, bringing under it's ambit a plethora of creative contests and workshops focused on communication and design.
With participation from more than a hundred and fifty educational institutions, the Edutainment Show is set to be a massive event this year.
This year, the show is going deeper into the minds of aspiring creators and guiding them with workshops, inspirational speakers and institutions. If you are an aspiring musician, singer, designer, writer, artist, typographer, artist manager, filmmaker, content creator, you don't want to miss out on this!
Day One - May 19 - Friday
1. Creating Festival Magic
Instructor: Tanvi Gupta, Founder Nariyal Paani
Timing: 10:45AM - 11:45AM
Blending décor and ambience with activities and performances takes talent and finesse. Set the right tone and you can transform an empty space into an unforgettable experience! Learn behind–the-scenes tips from industry expert and Festival Director, Tanvi Gupta on the hard and soft skills required to design and direct a wildly successful festival.

2. The Secret to Running a Great Restaurant ` aka The Bombay Canteen Workshop
Instructors: Yash Bhanage and Sameer Seth
Timing:12:00PM - 1:15PM
Want to know what it takes to run a great restaurant? Talent and teamwork! Working in the hospitality industry involves all the senses. From designing recipes and menus to preparing food and drinks, to developing a solid and happy team, the founders of Bombay's best canteen will share the facts and dispel the fiction about running a great restaurant.
And don't worry, you won't leave hungry. You'll learn how to make - and enjoy - a delicious mocktail and salad.

3. Design Studio: Nature's Genius
Instructor: Anjan Prakash, Biomimicry Communicator
Timing: 1:30PM - 2:45PM
Dive into Nature's 3.8 billion years old Design Thinking Lab and learn some of the tried and true strategies that have resulted in sustainable, non-toxic, elegant and innovative designs. How did the Kingfisher bird, Blue Mussels, Galapagos Sharks, Honey Bees, a Forest floor, Orchids – each inspire designs that changed the way engineers; scientists; manufacturers; and designers began to perceive the World of Design? Learn how by engaging and exploring design through nature's eyes.

4. DIY: Bookmaking
Instructor: Meethil Momaya, Librarian and Founder, Trilogy The Eternal Library
Timing: 3:00PM - 4:15PM
Get your arts and crafts on! Learn from scratch in this guided step-by-step tutorial just how to make, sequence and edit your own book. Expert bookmakers, Meethil Momaya, will show you all of the different types of folds and binds and at the end, you will walk away with your very own DIY book! All materials and necessary supplies will be provided.

Day Two - May 20 - Saturday
1. Photography 101 Workshop
Instructor: Mulchand Dhedia, Professional Photographer
Timing: 11:45AM - 12:45PM
Learn the real deal on what makes an amazing photograph, from content to perspective. And once you've been taught the basics, you'll practice taking pictures using your smartphone, for the rare opportunity to have your work reviewed by professional expert photographers.This is a chance you won't want to miss! The best photos will receive recognition on social media with credits given to respective photographers.

2. The Beginner's Guide to UX/ UI Design
Instructor: Prateekshankar Dixit, Head UX, Urban Ladder
Timing: 1:15PM - 2:15PM
It's all the rage these days, UX/UI, but what exactly do they mean? UX expert, Prateekshankar Dixit, will shed light on how user interface and the experience we have with a product are among the most important and relevant things to consider when making a product. Discover what makes a product effective, easy and enjoyable to use and learn how the look and feel of it can make all the difference. In this interactive workshop, you will have examined products, solve design problems and create efficient wireframes.

3. Storytelling through Film
Instructors: Kunal Punjabi and Reema Sengupta
Timing: 2:30PM - 3:30PM
How do you tell a story through video? Kunal Punjabi and Reema Sengupta, the young filmmakers behind some of the most popular music videos and digital marketing campaigns going viral today break it down for you ~ from conceptualization to execution. Learn what's involved in pre-production, production and post-production for writers, directors and actors as well as editors, set designers and stylists. You'll leave with invaluable, tips and tricks and pointers on how to make your own awesome videos.

4. Indiefolio presents Design Portfolio Workshop
Instructor: Kavan Antani, Designer
Timing: 3:45PM - 4:45PM
If you're looking to be a designer, your portfolio is everything. For a creative professional, the portfolio is far more important than a resume and Kavan Antani, Co-Founder of IndieFolio.com, India's largest professional creative network, will show you just How to Build a Portfolio. The workshop will cover insider tips, mistakes to avoid and examples of great portfolios to help you and your work get noticed.
Venue
Hotel Sahara Star
Opp. Domestic Airport, Vile Parle East, Chhatrapati Shivaji International Airport Area, Vile Parle, Mumbai, Maharashtra 400099