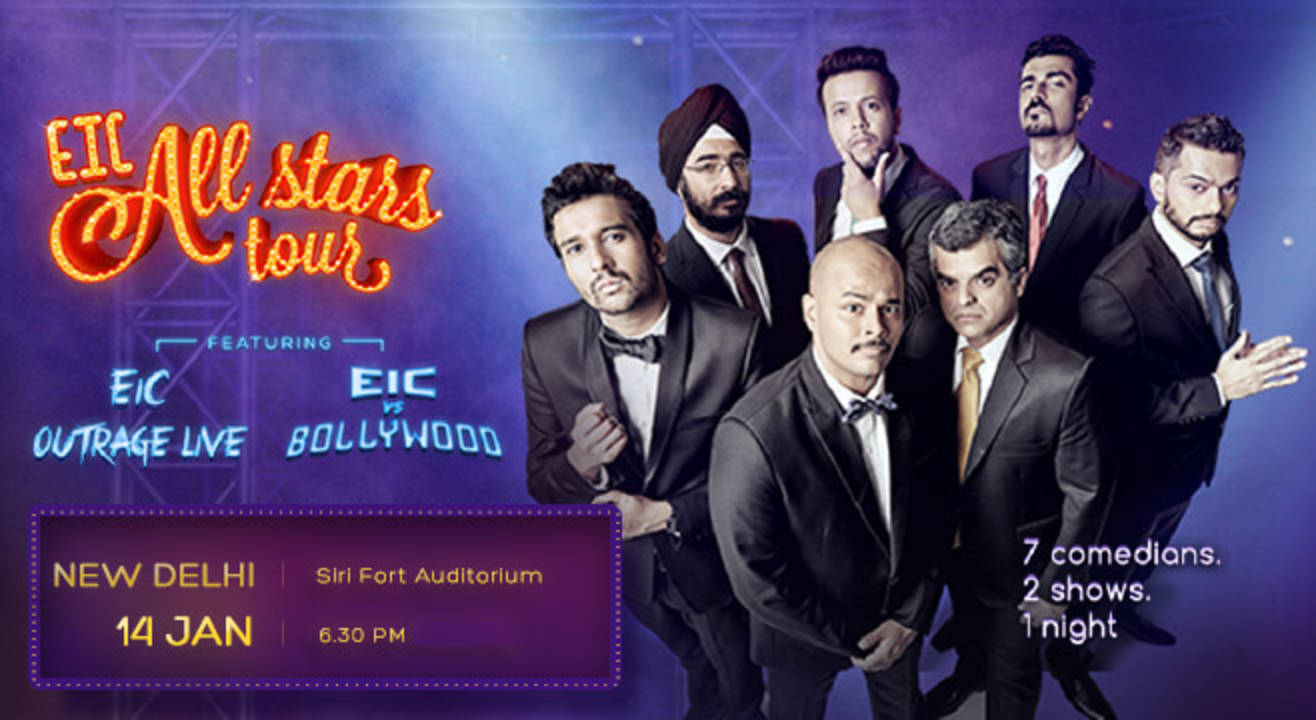 EIC All Stars Tour, Delhi
January 14 | 6:30PM
Siri Fort Auditorium I, Delhi
About
The EIC All-Stars double-header is the biggest live tour EIC has ever planned, and probably the most ambitious by an Indian comedy collective to date. For the first time ever, ALL SEVEN of East India Comedy's core members will be on stage together, touring across (at least) six cities, in some of the country's most prestigious auditoriums.
Keeping this a secret has been hard, but it's finally time. EIC's biggest YouTube property is going live! EIC Outrage will make its stage debut as part of the EIC All-Stars tour. It's a brand new show, filled with geeky statistics, crazy news debates, well-researched content and of course, jokes. All the ingredients that have made Outrage all the rage on the internet, with over 12 million views.
And that's just half of the show.
Also part of the All-Stars tour, EIC vs Bollywood returns, bigger and better than last year. Seven comics on stage means seven times the craziness. They'll be smacking Bollywood to Mohenjodaro and back – complete with stand-up, songs, severe celeb bashing, and the general juvenility that made last year's EIC vs Bollywood such a huge success with 20 sold out shows and 7 million views.
7 comics. 2 shows. 1 night. 0 regrets.
Get your tickets early, and come party with the All-Stars.
Terms & Conditions
Age group : 16+
Please carry a valid ID proof along with you.
No refund on a purchased ticket is possible, even in case of any rescheduling.
Security procedures, including frisking remain the right of the management.
No dangerous or potentially hazardous objects including but not limited to weapons, knives, guns, fireworks, helmets, lazer devices, bottles, musical instruments will be allowed in the venue and may be ejected with or without the owner from the venue.
The sponsors/performers/organizers are not responsible for any injury or damage occurring due to the event. Any claims regarding the same would be settled in courts in Mumbai.
People in an inebriated state may not be allowed entry.
Venue rules apply.
Please be at the venue 30 minutes prior to the show time.