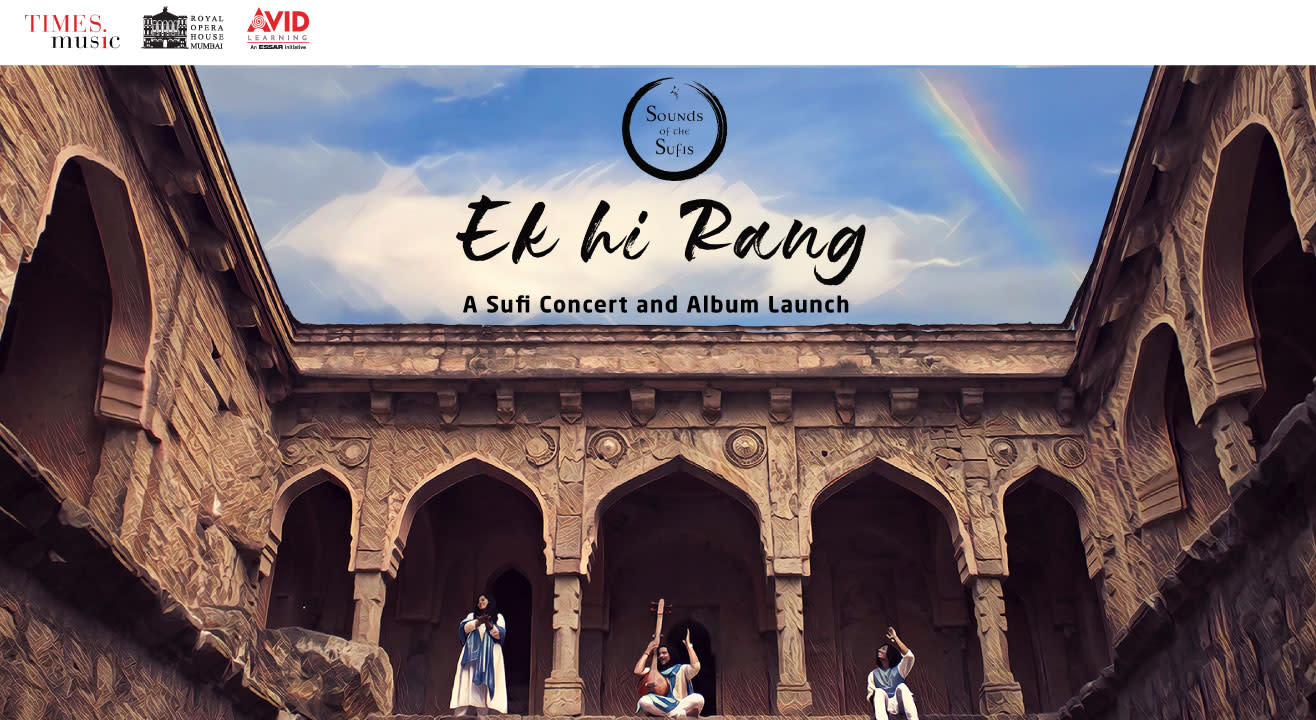 Music
Sounds of the Sufis : Ek Hi Rang - A Sufi Concert and Album launch
The Royal Opera House, Mumbai
About
The Sun and a Cave once struck up a conversation. The sun had trouble understanding what "dark" and "dank" meant and the cave didn't quite get the hang of the terms "light" and "clear" so they decided to change places. The Cave went up to the Sun and said, "Ah! This is beyond wonderful! Now come down and see where I have been living." The Sun went down to the Cave and said, "Gee, I don't see any difference."
In a world dank and dark with intolerance, Mysticism and Sufism allow for the light of the Sun to break in. Sufism allows us to look beyond the confines of religion.
Times Music, Royal Opera House, Mumbai and Avid Learning proudly present an evening celebrating the musical launch of Ek Hi Rang, by the band Sounds of the Sufis. Ek Hi Rang is touted as the first Sufi album that is by the people and for the people.
"Ek Hi Rang," say the band, "is a celebration of life. It is a celebration of you and I coloured in one colour, where there no longer exists a 'you' or an 'I'. The album invites you to leave behind the mundane and enter into a realm where we are all drenched in just one colour – that of unconditional love."
This powerful performance will cover the journey of Sufism from its inception in the 7th Century to its foray in India and subsequent spread in the form of the "Chishtiana Silsila" and will highlight the traditions that make Sufism such an integral part of our lives today. The band will perform songs from the album which will include original music, spoken word, personal episodes and poetry, some by the Bhakti Poets and Sufis like Hazrat Amir Khusrau, Jallaluddin Rumi, Kabir and Meera. The evening will also feature collaborating artists who have worked with the band to create unique sounds that are eclectic, soulful, and expressive.
Join us for a mystical evening filled with the soothing tunes and energetic beats of Sufi music!
Vocalist, Performer, Music Director, Music Producer, Corporate Trainer, and a Thinker; Anuraag Dhoundeyal's intensive training in Hindustani Classical music, since the age of 11, had a strong influence in his life. Since a young age, he started collaborating with world class musicians; from Rajasthani folk artists to Irish Folk bands to international Jazz bands, adding his unique flavour to each performance. In his own setup, The Anuraag Collective, one notices a blend of original and traditional compositions, with an eclectic confluence of compelling melodies and ornate harmonic arrangements; his mellifluous voice binding everything together.

Priyanka Patel's childhood love for narrating stories along with training in theatre and Bharatnatyam dance, ensured that she grew up to be such a dynamic performer on stage.

A Psychologist and a Storyteller since over a decade, Priyanka builds Emotional Intelligence through Storytelling, for corporates, creating happier workspaces with impactful business narratives. With a deep love for mythology and history, Priyanka preserves and nurtures traditional and folk stories through her company StoryDust India, rekindling the innocent love for stories amongst adults as well.

A drummer and a Tabla player, and one of the youngest, most sought after percussionists today, in India, Karan Chitra Deshmukh found a keen interest in percussions as he started first playing on every utensil he found in his house. Karan has been assisting and performing with Karsh Kale. He has assisted Ashish Manchanda and A R Rahman for Coke studio and MTV Unplugged. After his viral Game of Thrones Tabla cover, Karan continues to enthral audiences across the globe with the best of the indie and bollywood bands.
Times Music
Times Music, a division of The Times Group, is an Indian record label and music publisher. Headquartered in Mumbai, Times Music started operations in 1998 and has a catalogue of more than 21,000 tracks. Times Music is also the Indian sub-publisher for global music publishing firms Warner/Chappell Music and Peer music. Times Music was one of the early pioneers of remixes in India and was an early leader in the devotional and spiritual music genre. The label has also published regional, folk, Bollywood and traditional albums in multiple languages and has a strong regional presence.

Royal Opera House, Mumbai is widely touted as Mumbai's Cultural Crown Jewel and India's only surviving Opera House. The original idea for the space was conceived of in 1908, inaugurated in 1911 by King George V, and eventually completed in 1916. The design incorporated a blend of European and Indian detailing. The space became a cinema in later years before falling into disrepair and shutting by the 1990s. Fittingly, the space has been owned by the Royal Family of Gondal since 1952 and was eventually restored by conservation architect, Abha Narain Lambah under the leadership of His Highness, Maharaja Shri Jyotendrasinhji of Gondal. The Royal Opera House Mumbai, now one of the last remaining Baroque structures in the city, reopened after 23 years in October 2016. The building was included on the 2012 World Monuments Watch to raise awareness about its history and significance, and support preservation efforts. The building has since been recognized with an Award of Merit in the 2017 UNESCO Asia-Pacific Awards for Cultural Heritage Conservation. The restored facilities feature a 575-seater 3-level auditorium with an orchestra pit and state of the art technological upgradations, including acoustics, stagecraft, lighting and air-conditioning, alongside retaining the old world charm of the proscenium stage, the royal boxes and the magnificent regal chandeliers. Some more enhancements to the venue include a motorized screen, co-axial ceiling speaker system, Four-zone volume control and all round wifi access. Today, it stands as a key performance and creative hub in the city's cultural landscape, while being a premier heritage landmark. Facebook: MumbaiOpera Twitter: @MumbaiOpera Instagram: @mumbaiopera

Avid Learning, a public programming platform and cultural arm of the Essar Group, has conducted over 1000 programs and connected with more than 125,000 individuals since its inception in 2009. Driven by the belief that Learning Never Stops, AVID's multiple formats like Workshops, Panel Discussions, Gallery Walkthroughs, and Festival Platforms create a dynamic and interactive atmosphere that stimulates intellectual and creative growth across the fields of Culture & Heritage, Literature, Art and Innovation.