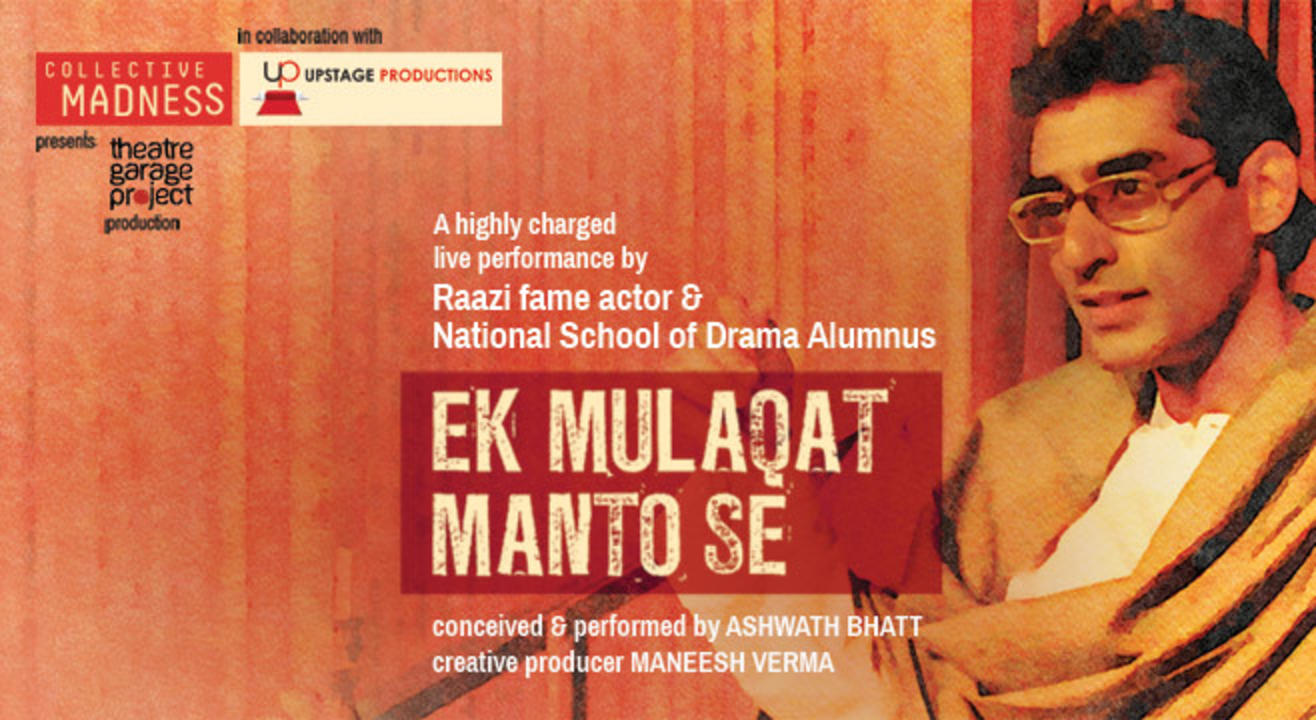 Theatre
Eq Mulaqat Manto Se
V Club, Vipul World, Gurgaon
About
Collective Madness, in collaboration with Upstage Production presents Theatre Garage Project production, Ek Mulaqat Manto Se. Conceived & performed by Ashwath Bhatt. Creative producer Maneesh Verma.


Meet Manto as he delves into his life, childhood, family & friends, facing persecution, self-ridicule, depression, being broke, helplessness, drinking, Hindi cinema, satire, irony, hypocrisy, sadness, strife and moral decay.
Saadat Hasan Manto is an Indo-Pakistani writer known for his irreverent writing, holding up a mirror to the society, especially in ugly times. He is hailed as one of Urdu's finest & most controversial writers. The performance is based on articles written by Manto and explores his life, times he lived in and the social changes he witnessed at the time of India's Partition. Ashwath Bhatt plays Manto who engages with the audience in person, trying to answer the biggest question - "Why I write what I write."

The texts used in the play are Manto, Main Afsana Kyun Kar Likhta Hoon, Khol Do, Kal Sawere Jo Meri Ankh Khuli and Deewaroon Pe Likhna. Begum Akhtar's ghazals have been used at a few places to highlight the pathos of Manto's life.

Manto has been running successfully for the last 10 years with more than 40 shows. Internationally, it has been performed at Hakaya Festival (Amman Jordan), Luton Mela & The Hat Factory (Luton), Norden Farm Art Centre (Maidenhead, UK), Nehru Centre (London), Indian Embassy (Berlin, Germany) and World Performing Arts Festival (Lahore, Pakistan).
Nationally, travelled to Jammu, Srinagar, Kolkata, Siliguri, Behrampore-West Bengal, Guwahati-Assam, Gangtok-Sikkim, Delhi, Madurai, Bangalore, Amritsar, Lucknow, Bareilly, Ahmedabad, Gurgaon-Haryana & Patna-Bihar.

Trailer - https://www.youtube.com/watch?v=uGjiu6iha4w&feature=youtu.be


About the Artists

Ashwath Bhatt worked with acclaimed filmmakers like Meghna Gulzar (Raazi), Mira Nair (The Reluctant Fundamentalist), Vishal Bhardwaj (Haider), Kabir Khan (Phantom), Oscar winner Danish Tanovic (Tigers), Rahul Dholakia (Lamhaa), Ajita Suchitraveera (Ballad of Rustom), Ashiq Abu (Gangster), Buddhadeb Dasgupta, etc. Upcoming films are A R Rahman (99 Songs), Nandita Das (Manto) and Abhijit Kokate (Rakkosh). Presently, he is shooting for Dharma Productions' Kesari with Akshay Kumar.
He was the first recipient of prestigious Inlaks Foundation Scholarship for Theatre/Acting. He is a visiting faculty to various prestigious institutions in India & abroad. He has worked with reputed theatre companies like Oxfordshire Theatre Company- Oxford, GYLPT- Greenwich, Flying Fish Theatre Company- Berlin, etc. He has done plays for BBC worldwide and has been part of a collaboration with National Theatre, Mannheim/Germany. He has acted under the direction of various Indian and foreign theatre luminaries and conducted workshops on various aspects of acting in England, Germany, France, Austria, Croatia, Czech Republic, Hungary, Slovakia, Jordan, Nepal, Pakistan, and India. He is on the selection panel of LAMDA in India as well as Inlaks Theatre India Awards which is his brainchild.
He is widely known for his work on 'Red Nose Clowning' theatre form in India. In 2007, he established the non-profit trust – Theatre Garage Project. The philosophy behind his work is "finding something in nothing."
He recently directed the play, 'Paladin,' based on the best-selling book 'When Breath Becomes Air' by Dr. Paul Kalanithi.


Why Manto?

Throughout his life, Manto faced a lot of criticism & persecution for his writing, his characters, his expression and choice of words. His famous response to all the criticism was "I don't write filth, I don't write obscenity, I only write what is there in your society!" Manto always fought and stood for freedom of speech & expression. His stories and perspective towards the social issues are still stand relevant. The group chose to perform Manto's articles because the bigger idea is to let the audience meet the real Manto, not just a controversial & obscene writer which is a normal perception of him.
Manto has written a lot about the India-Pakistan Partition. Since then, the world has moved on, but people are still stuck in the quagmire of ignorance, fear, communalism, and hate. The world would have been a much better place if it could learn from history. Neither Pakistan nor India deserves him. If Manto, who hated didacticism, were asked if he had a message for the people of the sub-continent, he would surely say, "let's make peace."


Testimonials

"Interesting would be an understatement to describe the play's singular method of rendition." - Sunday Guardian

"Play salutes the literary genius of Manto." - Asian Age

"Ashwath has an uncanny resemblance to Manto." - Deccan Herald

"Ashwath is a remarkable, serious actor, who works from within. There is never a moment of untruth in his work." - Mira Nair

"Ashwath is more than an actor; he's a chameleon - he has shown his ability to absorb and assimilate into his character that takes the performance to another level." - Rajan Patel, film-maker

"Ashwath is an artist of high quality and sensitivity. I experience Ashwath as someone who is dedicated to make theatre work alive and truthful." - Reinhard Horstkotte, artistic director, Red Noses, Germany
Venue
V Club, Vipul World, Gurgaon
V Club, Vipul world, near Tatvam Villas,, Sector 48, Sohna Road, Gurgaon, Haryana 122018