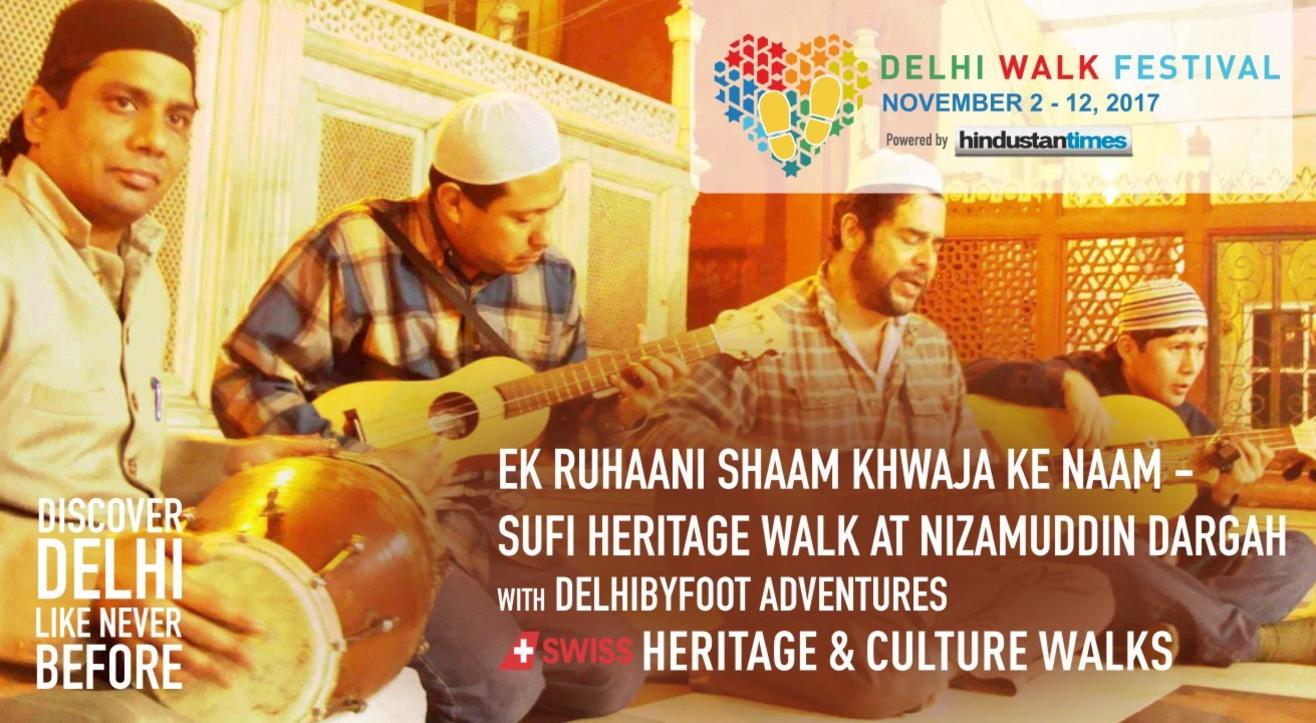 Culture & Heritage
Delhi Walk Festival - Ek Ruhaani Shaam Khwaja Ke Naam - Sufi Heritage Walk at Nizamuddin Dargah
Hazarat Nizamuddin Police Station
About
Welcome to the DELHI WALK FESTIVAL!
Put on your walking shoes – and join us.
Choose from Nature Walks, Ecology walks, Design Walks, Photography Walks, Alternative and Experimental Walks, Culture Walks, Heritage Walks, Art Walks, Music Walks and Food Walks.
Discover a city that is brimming with experiences that are rich, diverse, vibrant, inclusive, unique and unforgettable.
ABOUT THE WALK
This walk is a mixed bag. DBF will take you to the final resting places of the patron saint of Delhi, Mazzaar-e-Khwaja Nizamuddin Auliya. As we mingle and jostle with the crowds, you will find chaos, the mundane and experience the blend with the mystical. You will walk through lanes that the saint frequented and see history and feel the divinity. Meandering through lanes steeped in more than 750 years of history & divinity, which once saw the great Saint tread on them...where the living & breathing Sufi tenets of spiritual healing continue to teach us lessons of love & hope. People here sell kaftans & kebabs, flowers & 'ittars' (fragrances), masalas & mithaais. For lovers of classical Sufi music, this is a treat.
ABOUT THE WALK PARTNER
MOHD. MEHTAB, a 5th generation resident of Old Delhi, is a heritage conservation & community-projects activist, working to create awareness and a sense of pride in the shared ownership of Old Delhi's rich cultural & historical legacy among residents of his locality.
Contact Number of walk Leader-Mehtab 9212800220/9871181775
Wear comfortable walking shoes. Dress conservatively, keeping in mind that we shall be visiting a few religious spots. Shorts are not allowed.
Men and women must carry headwear as visits to shrines are involved.
Our city is choking on plastic waste, we wish to avoid adding further to the city's woes, hence please carry drinking water in your own bottles
Photographers, come with your kit. There is a lot to capture.

Venue
Hazarat Nizamuddin Police Station
Lodhi Rd, Near Sabz Burj, Nizamuddin West, Nizamuddin, Nizamuddin West, New Delhi, Delhi 110013