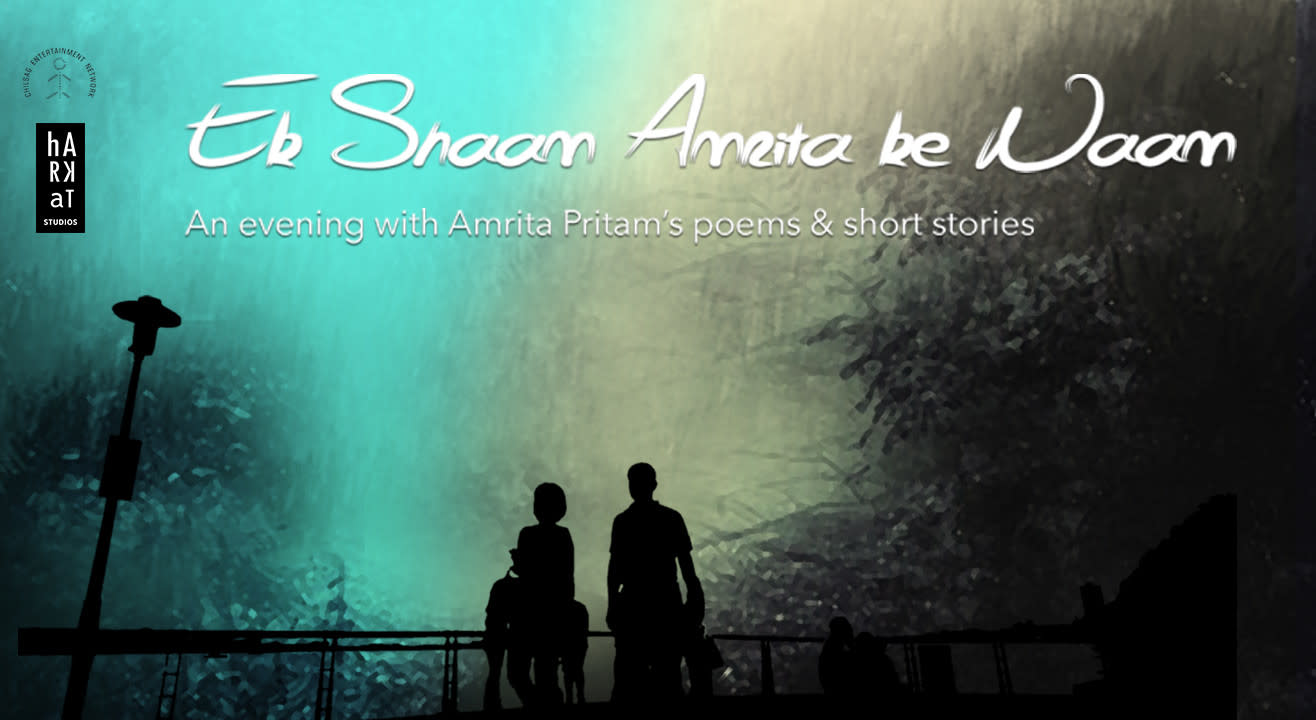 Harkat Studios, Versova, Mumbai, Mumbai
Step out and enjoy this event
Invite your friends
and enjoy a shared experience
Harkat Studios, Versova, Mumbai, Mumbai
Step out and enjoy this event
Invite your friends
and enjoy a shared experience
Invite your friends
and enjoy a shared experience
The eloquence of her works is such that none but her own words can do justice as they begin to diffuse the aura with their fierce and charismatic bloom. Watch four of Amrita Pritam's brilliant short stories interspersed with her poems, some of which once lingered on the lips of Gulzar and the Wadaali Brothers. These works of art will be narrated in a manner where actors, characters, storytellers, the music and 'mahaul' shall transport you to another place and time of fascination and epiphany.
About Amrita Pritam
Defining Indian literature at its best, Amrita Pritam was an iconic writer and poetess of the 20th century. She put the literature of Punjab for the first time on the map of the world. People recognize her for her acclaimed novel 'Pinjar', seen as a feature film on the Partition of Hindustan. But her love for literature expands further unrestricted by language, culture or theme.
Amrita Pritam is celebrated as a Romantic Progressive writer. Writing from a very young age, Amrita embodied universal values of justice and spirituality in her writings which are relevant to date. With Sufi poets and saints as her muse, she unveiled thoughts and reactions that were much ahead of her time. More importantly, she penned down her anguish on issues which were considered a social taboo. The bold and rebellious attitude in her writings overthrew worn out social norms, traditions and even the misogynistic definition of love. She became the voice of the Indian Woman. Even today, her works draped in the simplicity of life, echo unspoken truths. The ingrained textures of her characters, colloquial flavors of her stories and the fabrication of words capture mundane rural life as though they were always a part of us.
Catch the magic of Amrita Pritam performed live at Harkat Studios
Harkat Studios, Versova, Mumbai
HARKAT STUDIOS, BUNGALOW 94, FIRST FLOOR, ARAM NAGAR 2, VERSOVA, ANDHERI WEST, 400061-MUMBAI
GET DIRECTIONS
Harkat Studios, Versova, Mumbai, Mumbai
Step out and enjoy this event
Invite your friends
and enjoy a shared experience