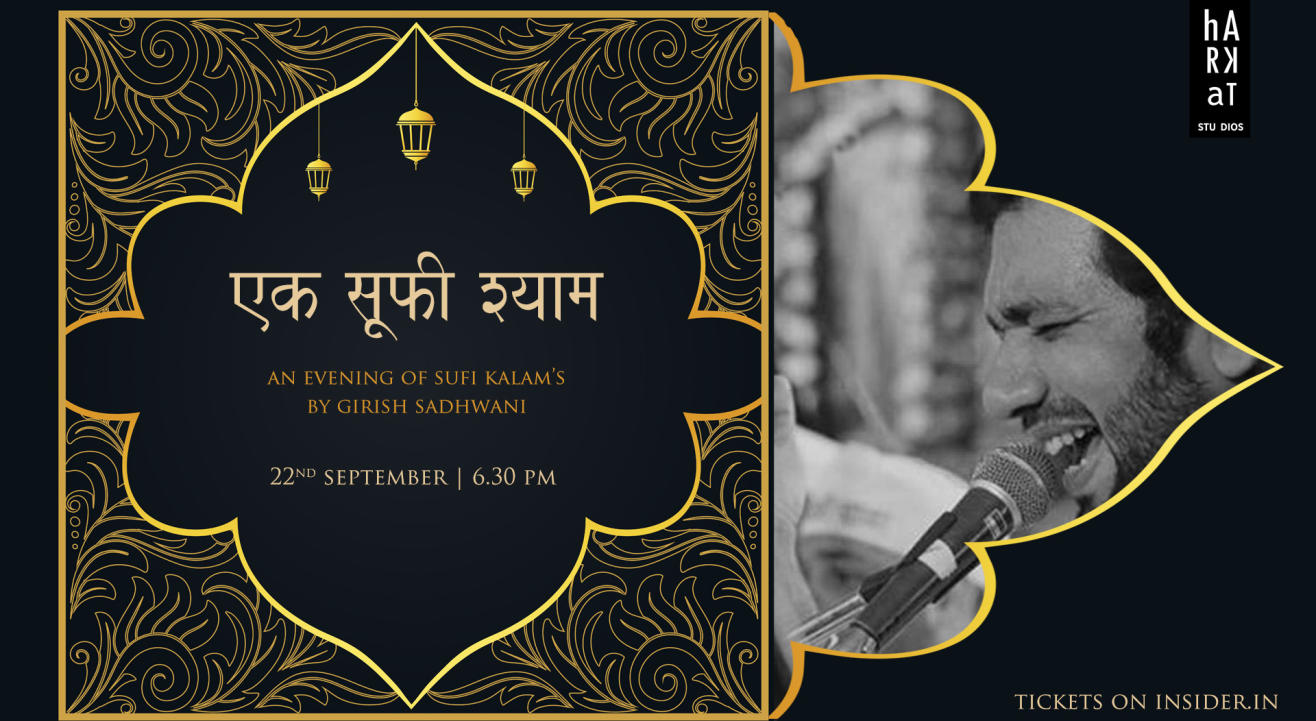 Music
Ek Sufi Shyam- An evening of Sufi Kalam's by Girish Sadhwani
Harkat Studios, Versova, Mumbai
About
About the evening:
We take you on a journey of love & devotion expressed through Sufi music where the destination is the ultimate merging of the soul with the divine. Girish's performances however have an entertaining edge which will keep you enthralled.
Girish Sadhwani has been mesmerising audiences with his music since the age of 10 & has now found his calling in #Sufism & he dedicates his music to his spiritual guide, his spiritual mentor, his Peer-o-Murshid Hazrat Sufi Jalaluddin Baasafa Aasvi.
About Girish:
Girish Sadhwani 'Sufi' is a trained singer Indian Sufi Singer. He is a follower disciple of Sufi Saint Hazrat Sufi Jalaluddin Baasafaa Aasvi. He has trained under Late Pt. Askaran Sharma & Anand Sharma for Indian classical music & Indian Voice Culture. He has also trained under Ms. Samantha Edwards for Western Voice Culture.
Being an adrent follower of Sufism Girish loves to perform all forms of Sufi music in Hindi, Sindhi, Punjabi & Saraaki languages.
Sufi music that contains right from traditional Sufiyana Kalaams of the likes of Ameer Khusro, Bulleshah, Sultan Bahu, Fareed, Hussain Faqir, Shah Latif, Sachchal Sarmast to contemporary Sufi writers like Naaz, Niyaaz, Niyaazi, Badar and Hyder, Sulemaan, Sikaayal and many more sung & composed by the likes of Nusrat Fateh Ali Khan, Aziz, Sabri Brothers, Abida Parveen & others.
Along with Sufiyana Kalaams Girish also likes to perform other forms of music such as Ghazal, Thumri, Bhajans- Kirtans & various such other forms of Music.
Girish recently performed at one of India's most prestigious music festivals ever "The Heritage Festival New Delhi".
**********
Date & Time:
September 22nd, 6.30 pm.
Location:
Harkat Studios, Bungalow #94, First Floor, Aram Nagar 2 (just behind Mata Mandir), Versova, Andheri West.
KINDLY NOTE OUR NEW LOCATION IS ON THE 1ST FLOOR AND NOT WHEELCHAIR ACCESSIBLE!!! WE'RE WORKING ON FINDING A SOLUTION.
Venue
Harkat Studios, Versova, Mumbai
HARKAT STUDIOS, BUNGALOW 94, FIRST FLOOR, ARAM NAGAR 2, VERSOVA, ANDHERI WEST, 400061-MUMBAI
GET DIRECTIONS