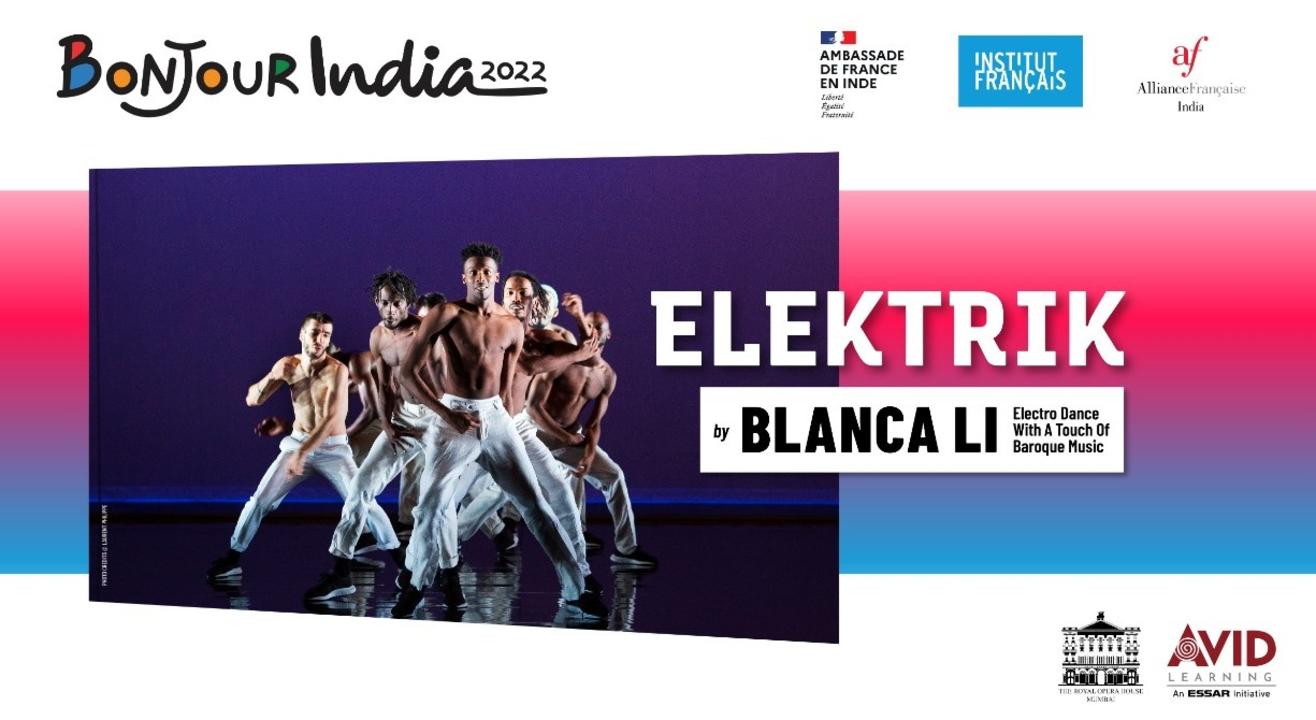 The Royal Opera House, Mumbai
Step out and enjoy this event
Event Guide
Live Performance
Enjoy a unique experience
Invite your friends
and enjoy a shared experience
The Royal Opera House, Mumbai
Step out and enjoy this event
Event Guide
Live Performance
Enjoy a unique experience
Invite your friends
and enjoy a shared experience
Event Guide
Live Performance
Enjoy a unique experience
Covid 19 Safety Measures
This event adheres to the following

Health & safety measures
Social Distancing
Temperature Checks
Face Masks Required
Sanitisation before the show
Organisers wear masks
Proof of Vaccination Required
Invite your friends
and enjoy a shared experience
Covid 19 Safety Measures
This event adheres to the following

Health & safety measures
Social Distancing
Temperature Checks
Face Masks Required
Sanitisation before the show
Organisers wear masks
Proof of Vaccination Required
A multi-sensory performance that will transport you into the graphic universe of these talented artists, creating optical illusions with their kaleidoscopic arm games, sublimated in an aerial and luminous choreography signed by one of the great masters of urban dance.
Ambassade De France En Inde, Institut Français en Inde, Alliance Française India, Alliance Française de Bombay, Avid Learning and Royal Opera House, Mumbai present ELEKTRIK by Blanca Li Company, a dazzling and offbeat creation where Blanca Li concentrates all the power and energy of electro dance with a touch of baroque music. The performance is a part of 4th edition of the Bonjour India fFestival, celebrating 75 years of cultural, literary and scientific partnership between India and France.
Electro is the dance of a generation that has continued to evolve, sharpen and enrich its gestures. Characterized by its mind-blowing arm movements invented in the 2000s in the suburbs of Paris. It has become synonymous with explosive but precise movements.
Join us for a joyful, funny and colorful concentration of talent that can be enjoyed with the whole family!
About Bonjour India 2022
France and India enjoy a substantive partnership at the core of which lie its peopleto-people relations, nurtured for decades through collaborations and exchanges. One of its manifestations is the regular rendezvous between our two countries, Bonjour India. This artistic, cultural, educational and social initiative is an Indo-French moment put together by the French cooperation network in India mainly comprising of the Embassy of France and its cultural service, Institut Français en Inde, the Alliance Française network and the French Consulates. www.ifindia.in/bonjour-india

About ELEKTRIK
ELEKTRIK is the brainchild of Blanca Li who is credited as being one of the greatest masters of urban dance. of the electro urban dancing style by Blanca Li after the show Elektro Kif (2009) and the film Elektro Mathématrix (2015). With eight performers who have become global references for electro culture and a soundtrack composed in part by Tao Gutierrez, ELEKTRIK represents a formidable concentration of talent in a cheerful and fun show that can be enjoyed with the whole family!

About Blanca Li
Blanca Li is a Director, Choreographer, and Filmmaker. Whether she is working with her own company (The Blanca Li Dance Company) or creating events & musicals; staging operas; directing feature films; preparing museum installations or working with circus artists, she creates and produces a multitude of projects. A passionate explorer of all that is new, of cultural mixing, and of constant reinvention; she is inspired by a wide variety of sources – dance, music, new technologies, theatre, cinema, opera, fine arts etc.
Born in Grenada, Blanca Li became a member of the Spanish national rhythmic gymnastics team at the age of 12. At 17, she moved to New York, where she studied for five years with Martha Graham and in other schools including Alvin Ailey's, Paul Sanasardo's, and at the Clark Center. Living in Spanish Harlem, she witnessed first-hand the development of hip-hop as it was emerging daily and simultaneously created the flamenco-rap group las Xoxones. When she returned to Spain, she founded her first contemporary dance company in Madrid, which was selected for the program of the Universal Exhibition of Seville.
Blanca Li was the first woman choreographer to join the prestigious Académie des Beaux-Arts of Paris, in 2021.
The Royal Opera House
Mathew Rd, Charni Road East, Opera House, Girgaon, Mumbai, Maharashtra 400004, India
GET DIRECTIONS
The Royal Opera House, Mumbai
Step out and enjoy this event
Event Guide
Live Performance
Enjoy a unique experience
Invite your friends
and enjoy a shared experience