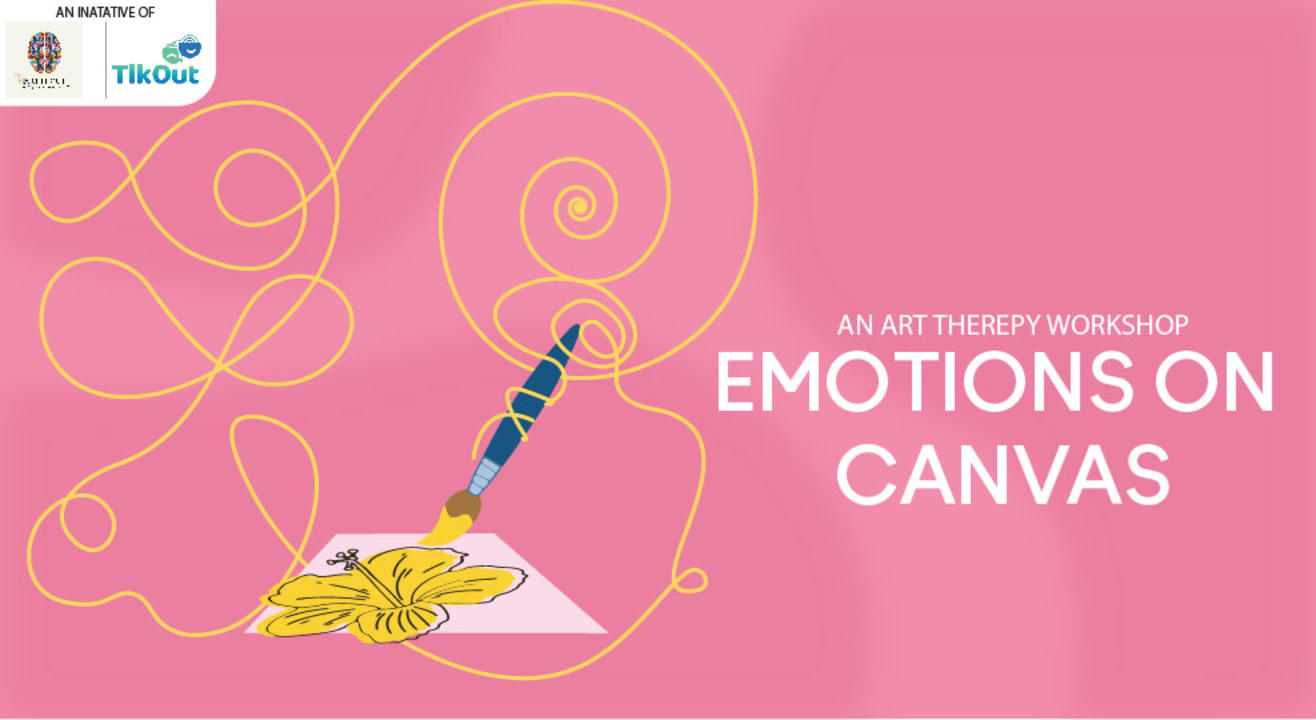 Emotions on Canvas: An Art Therapy Workshop
Enjoy this event from your home
Invite your friends
and enjoy a shared experience
Invite your friends
and enjoy a shared experience
About the Event
About the Workshop
How often do we come across situations where expressing yourself seems difficult if not entirely impossible? More often or not we get trapped in our own minds and find it difficult to understand our emotions, our triggers, our reactions etc. When expressing in words becomes difficult, using art as a means of self-expression comes handy. It offers a mode of self-discovery to foster happiness and emotional resilience.
"Emotions on Canvas" will provide you with a creative outlet to cope with the stress and anxiety of everyday life. It will tap into your subconscious mind to release the inner stress, process emotions better and find clarity and meaning in everyday life. Through fun and interactive art activities, you will explore self-expression and, in doing so, find new ways to gain personal insight and increase your happiness level. The best part about "Emotions of Canvas" is that it is specially curated for every individual irrespective of their expertise in art. We believe that every art is beautiful in its own way and tells a story so personal and so inspiring.
The Workshop Environment
This will be an interactive workshop with different art-based activities.
You will work in a creative and encouraging environment to destress and rediscover yourself
Participants from all professional backgrounds and age groups are welcome
No previous experience required
P.s. the workshop is most fun when you gran yourself a quiet corner and attend it with full concentration
Materials Needed
5 blank sheets of paper
a set of any kind of colours you like
About the Facilitator
Ms Aradhna, a Therapeutic Art Life Coach, believes that her role is to help people explore and express themselves authentically through art. She believes that through this process, people may find relief from overwhelming emotions, crises or trauma. They may discover insights about themselves, increase their sense of well-being, enrich their daily lives through creative expression, or experience personal transformation. She uses the power of art to expand self-understanding, to offer insight not available through other means, and to extend people's ability to communicate. She believes that finding personal meaning in one's images is often part of the art therapy process and that for some people, it is one of the most potent therapeutic qualities of art expression. It is a powerful way of knowing yourself better and leading a happier life.
About the Host
TlkOut is a peer-to-peer support platform available globally on the android and iOS platforms.
We connect those who are presently struggling and those who have struggled in past in a safe, judgment-free environment thus encouraging them to 'TlkOut' and feel accepted. We believe that people will be more inclined to share if allowed to connect with those who have walked their paths and hence help them feel supported and understood during stressful periods. Almost all of us go through stressful periods at different points in life. This ad-free platform allows you to learn from and be motivated by the journey of others. Additionally, we provide regular wellness tips and daily journal prompts to manage your mood better.
P.s. we do not replace therapy and treatment. Please do not use this platform to seek help in moments of crisis.
Things to Remember
Download & register on the Zoom Web Meetings app
Join the event using the meeting link and password
Connect via the link 5 minutes before the event begins
Use earphones/headphones for a better experience
A strong internet connection helps avoid any interruptions or disturbances during the event
Please fill in the additional information asked to help us better customize the experience for you
P.s. The link will be shared with you on February 13 morning via email and SMS
Disclaimer: This workshop excludes any liability of clinical cases who may require more serious help.