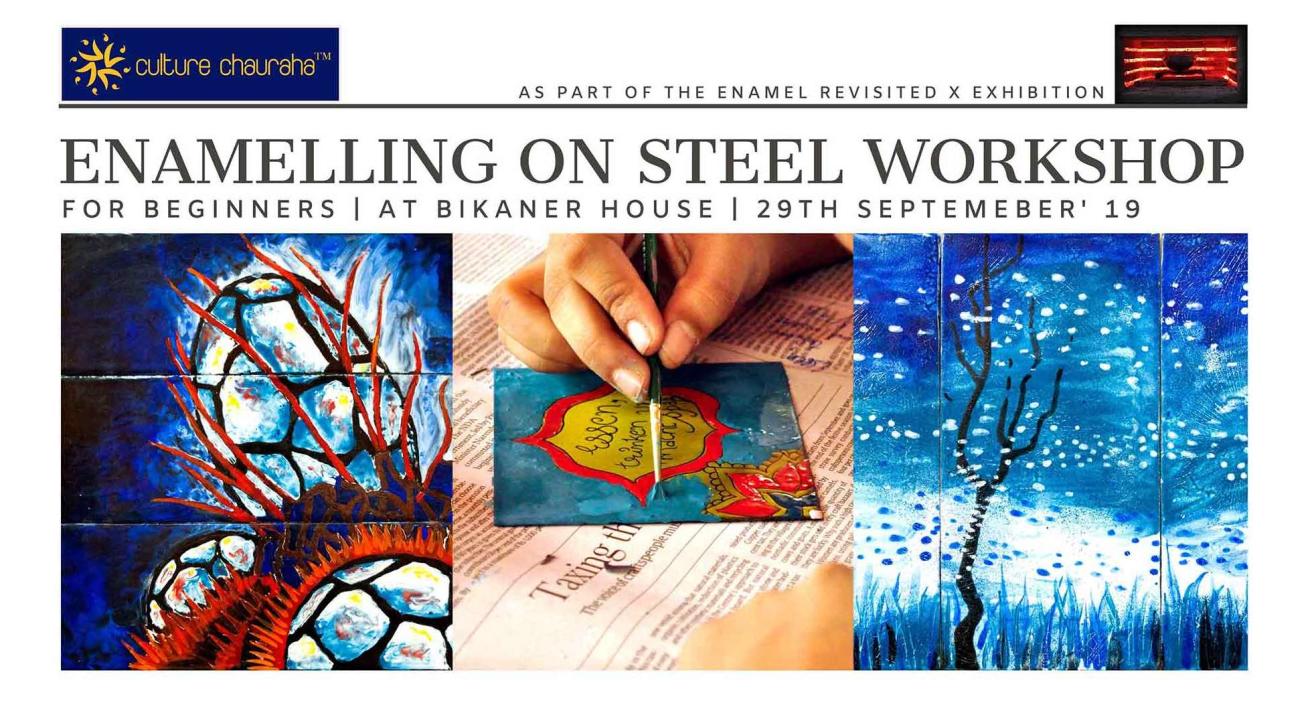 Art
Enamelling on Steel Workshop
About
What is Enamelling?
"Enamelling is the process of applying thin layers of finely ground glass to metal. Which when heated to a high temperature (800-850 degree Celcius), the glass melts and fuses with the metal."
It's one of the three ancient fired arts besides Pottery & Glass and due to the materials involved, it's perfect for Interiors & Exteriors.
Culture Chauraha is organising a one day workshop for beginners as part of the exhibition " Enamel Revisted X" with The Enamelist Society, India.
The medium has an inherent sheen and strength to it, which just enhances its tactile quality.
With our workshop, you'll get introduced to fusing glass with metal and produce an exquisite work of art. The one day workshop will give you a good idea as to the technicalities involved, the difference in material, knowledge about firing the glass and more. You'll be making your own designs, and we'll be guiding you about balance, harmony, composition etc.
It's great for children & adults interested in the arts, especially the ones who'd like to pursue arts professionally.
*For long term and advance courses please DM us.
Dates: 29th September' 19
Timings: Batch 1: 11 AM - 1 PM | Batch 2: 3 PM - 5 PM
Venue: Bikaner House, Pandara Road, Delhi
Age: 12 years - Adults
Fees: Rs. 2,000/- inclusive of all material per batch per person
Combined fees for both batches: Rs. 3,500/-
Seats limited. Advance booking mandatory.
Venue
Bikaner House
Pandara Rd, Pandara Flats, India Gate, New Delhi, Delhi 110011
GET DIRECTIONS