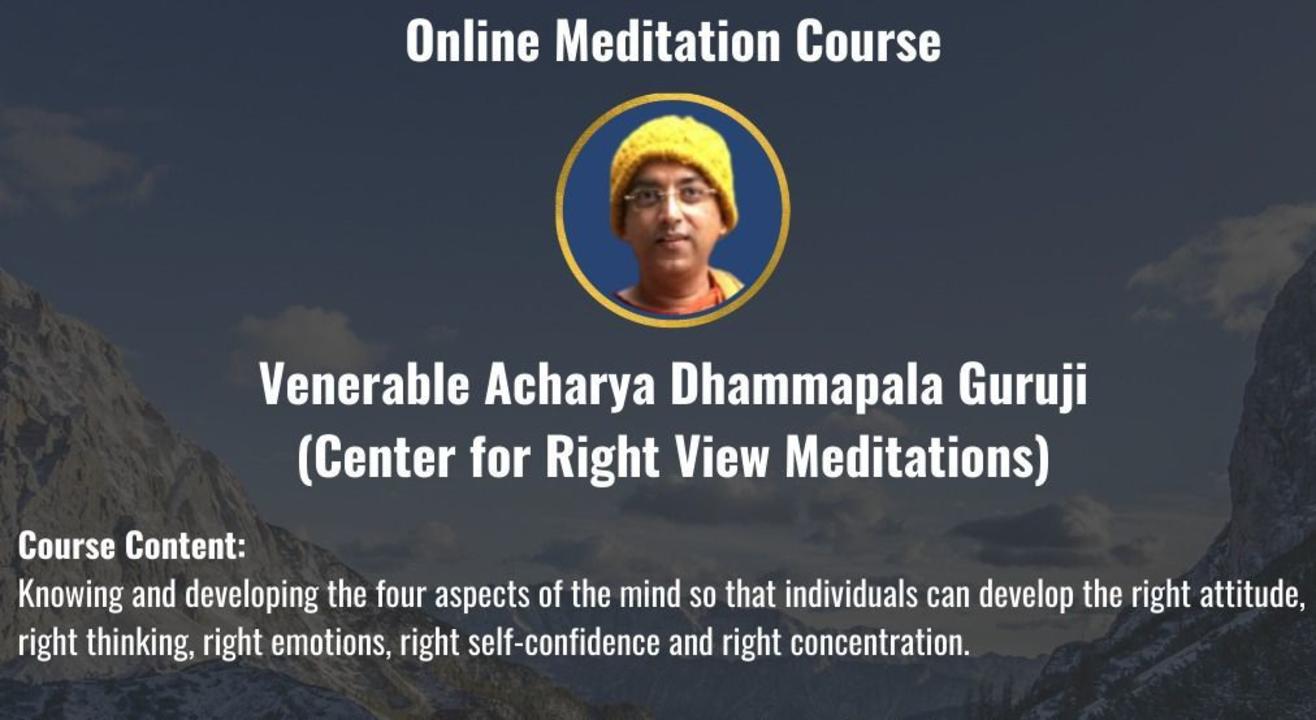 English Online Meditation Classes: Level 1 by Venerable Acarya Dhammapala Guruji (Center for Right view Meditations)
January 16 | 5PM - January 26 | 8PM
Enjoy this event from your home
Event Guide
Masterclass
Learn from an expert
Invite your friends
and enjoy a shared experience
English Online Meditation Classes: Level 1 by Venerable Acarya Dhammapala Guruji (Center for Right view Meditations)
January 16 | 5PM - January 26 | 8PM
Enjoy this event from your home
Event Guide
Masterclass
Learn from an expert
Invite your friends
and enjoy a shared experience
Event Guide
Masterclass
Learn from an expert
Invite your friends
and enjoy a shared experience
The course is about:
Knowing and developing the four faculties of the mind so that one can develop the right view, right thinking, right feelings, right confidence, right mindfulness, and right concentration.
This helps in:
🧘 De-stressing and letting go of worry, fear, anxiety, and other psychological issues.
🧘 Handling psychosomatic diseases like hypertension, diabetes, etc.
🧘 Developing positive-creative thinking and also holistic -realistic thinking.
🧘 Mind management and decision making.
It is a 10-day course. The course will be conducted in English
🔅 Date of commencement:
- Introductory Session: 16th January (5:00-6:00 pm IST)
- 9-day course (7:00-8:30 pm) with training by Bhanteji using Zoom:
July 18th - 26th
Please note: Old participants who have already completed the level 1 workshop of Dhammapala Bhanteji are not allowed.
No Fee Charged. It's a Free course (Voluntary donations are welcome)!
Deadline for Registrations: 15th January 9.00 PM
Register here: https://bit.ly/31EfMdK
Further Communication: Organizers will add you to a WhatsApp group once your application is accepted.
WhatsApp Message: For other details and registration:
Rohit (India) +91 97403 56978
Anirudh (India) +91 81060 56518
English Online Meditation Classes: Level 1 by Venerable Acarya Dhammapala Guruji (Center for Right view Meditations)
January 16 | 5PM - January 26 | 8PM
Enjoy this event from your home
Event Guide
Masterclass
Learn from an expert
Invite your friends
and enjoy a shared experience