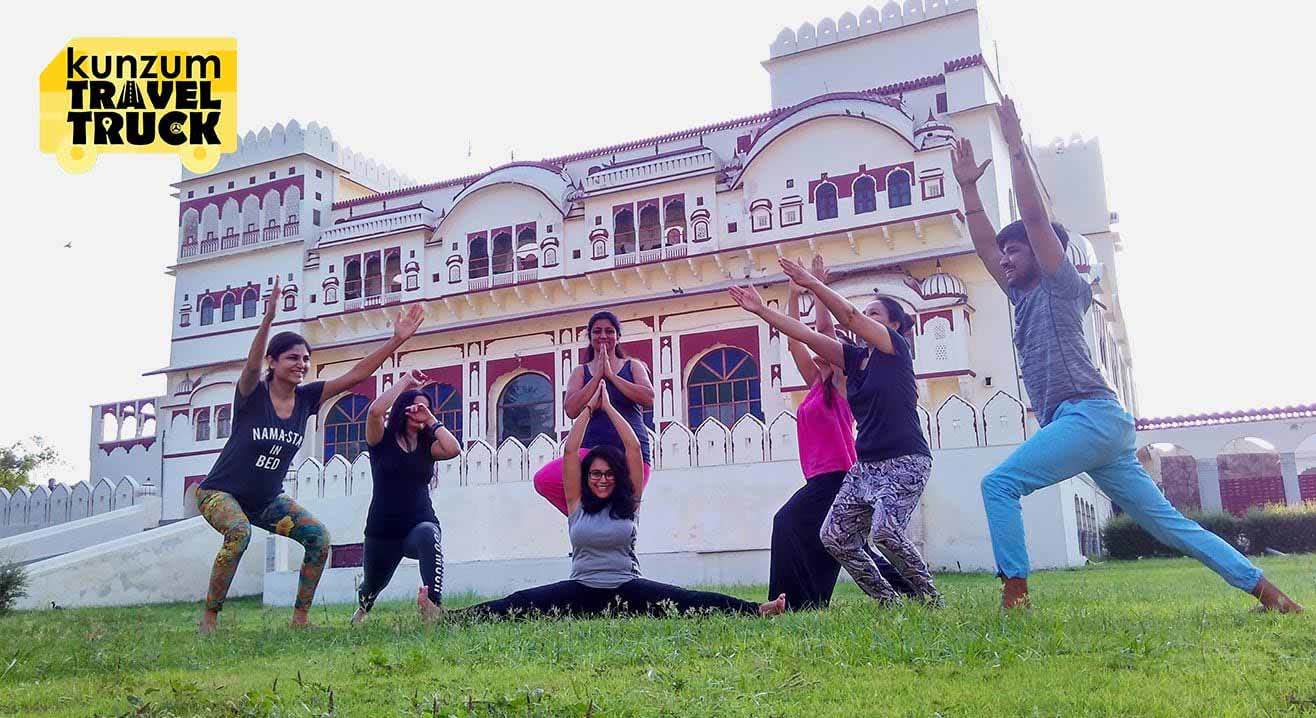 Adventure
Entrepreneur - Start Up - Off Site - Shekhawati & Rajasthan
About
The Kunzum Travel Café opened its doors to the world on June 12, 2010 – it has since become synonymous with the idea of a traveller community.
As Brand Kunzum, established earlier in 2007, completes a decade, we have introduced an idea that promises to be another game changer – we call it the Kunzum Travel Truck. Very simply, it is recreating the café on wheels. People would no longer just talk travel, but head out together too.
On journeys curated by experts. In vans that make travel fun and engaging – comfortable push back seats, unlimited bar, WiFi on board, funky interiors, LED screens, music systems and more. Trips have been scheduled every week taking you to places you may not have considered on your own. With service standards that will delight you.
In other words, the Kunzum Travel Truck would be the destination in itself. Where you will make new friends too. Hop aboard – book a journey at http://kunzum.com.
Want to book a truck for your family, friends, alumni and office colleagues?
We all like to head out with our private groups – why not do it in style in a Kunzum Travel Truck? We can suggest itineraries and you can express your preferences. Leave the rest to us – we will handle all research, curation, bookings and organisation of the trip.
About the Trip
It's time for ladies to head out on their own. For an off-site exclusively for women entrepreneurs curated by TiE SIGWE, Gurgaon Moms and Kunzum Travel Truck. To Shekhawati in Rajasthan from November 10 – 12, 2017. Excited? Read on.
The Idea Behind The Trip
It is time that girls took some time off to head out together and have some fun. But there is more to it. It is an opportunity for participants to network and bond with each other. And to learn from each other – since everyone have their own knowledge and experiences to share.
The following are being planned during the tour – the exact itinerary will be finalized closer to the date of travel.
Structured Networking and Knowledge Sessions where participants interact to derive value from one another.
Collaborative Business Guide where participants come up with an e-book of best business advice.
Best Travelogue Competition where we divide participants in teams for an account of their trip to Shekhawati.
Guided tour of some towns in Shekhawati including Mahansar, Fatehpur, Ramgarh and Mandawa where you will visit old havelis with their frescos and exquisite doors and windows, temples, historical structures, local craftsmen and traditional bazaars.
Sundowner on sand dunes over high tea and camel cart rides.
Folk Dance Evening with dinner and bonfire.
Traditional Rajasthani Lunch.
Transportation in Kunzum Travel Truck
Accommodation on twin / triple sharing basis
Lunch x 2, dinner x 2, breakfast x 2, sundowner high tea x 2
Activities listed.
Alcohol
Laundry
Shopping
Additional meals / snacks and other items of personal nature.
Dates: November 10 -12, 2017. We leave New Delhi at 6:00 a.m. on day one and return around 8:00 p.m. on the last day.
Accommodation: Mandawa Haveli, Mandawa, Shekhawati, Rajasthan
Travel: In the Kunzum Travel Truck, a 9-seater luxury van. The distance of 250 kms from Delhi will be covered in about 5-6 hours.
DRIVE / RIDE ALONG IN YOUR OWN CAR OR BIKE: Want to be a part of the trip but prefer to come in your own vehicle? Sure, no problem. Ask for rates for the same.
Refund of 50% to be given if cancelled at least 30 days before departure date.
No refunds will be possible otherwise but you are free to transfer your booking to anyone else.