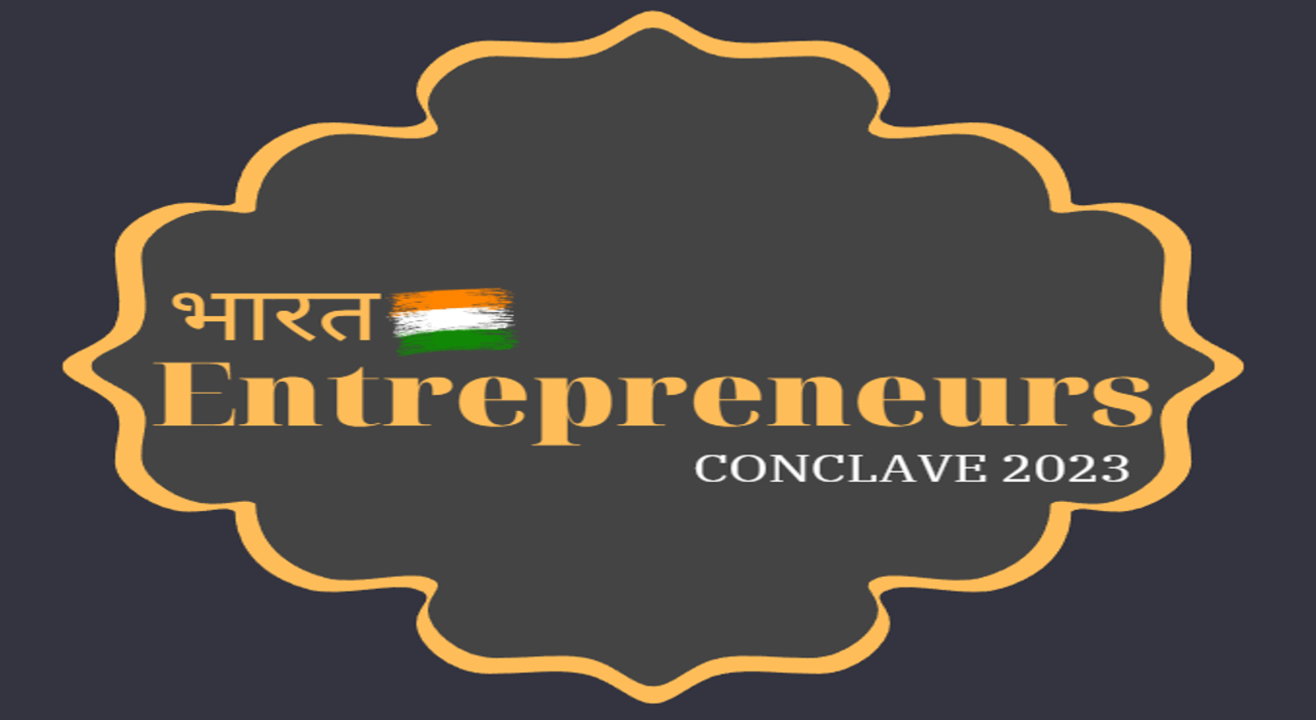 भारत Entrepreneurs' Conclave Hyderabad
Invite your friends
and enjoy a shared experience
भारत Entrepreneurs' Conclave Hyderabad
Invite your friends
and enjoy a shared experience
Covid 19 Safety Measures
This event adheres to the following

Health & safety measures
Invite your friends
and enjoy a shared experience
Covid 19 Safety Measures
This event adheres to the following

Health & safety measures
भारत Entrepreneurs' Conclave Hyderabad
This Conclave in 2023 is a Founders & Entrepreneurs meet that gives you access to a smart, confident & expert Investors, VCs and Consultants & other founders.
The event aims to address ecosystem requirements of Entrepreneurs like Funding, Business Networking, Industry trends & Insights and looks at connecting you to holistic solutions to today's business challenges.
The conclave is co-organized with Global Startup Summit 2023.
भारत Entrepreneurs' Conclave is powered by 3x events, Mojo Startup & Change Catalyst.
INDUSTRY INSIGHTS
▪ 8 hours or more of sessions with subject-matter experts from the industry.
▪ Experts and prominent speakers on a panel discuss the future.
▪ Directors CEOs decision-makers and founders offer their insightful opinions on current and upcoming business initiatives.
▪ Interesting panel discussions on current technological developments and international business trends.
▪ Senior leaders from various industries coming together to exchange expertise.
▪ Learn about industry insights directly from the source.
▪ Get the ability to meet with top decision makers business owners influencers and industry leaders individually.
▪ Unlimited opportunities for face-to-face interaction with potential clients.
SPEAKERS
PAST SPEAKERS
Mohit Sureka, CEO - Mojo Startup
Pritha saha Dutta, Founder - Change Catalyst
Prashant shah, Transformative Technologies Private Limited
Dilip Gopinath, Director & Country Lead Tech - Commercial Banking at HSBC
Raaghav Belavadi, CEO - Hype Luxury (US, UK, UAE & India) GoHype.in
Suraj Palled, founder and CEO of Bright Accounts
Joshua Salins, Founder - The Hobby Tribe
Aditya Kashyap, Managing Director - Cinedubs
Rico Pang, CEO & Founder of Un1ty Ventures | Co-founder and CEO of Sanctum Global Ventures (Dubai, UAE)
Ajay Banka, Angel Investor
Anshav Jain, Founder, MD - Bringle (UK & India) & Design Your UNICORN
Aravin G Namadev, Venture Partner - Banglore | ah! Ventures
Sampark Sachdeva (LinkedIn Creator), EO-SamparkSeSampark & Brand "U" 102,218 Followers
Chandralekha | @financewizardcl 519K followers Risk Consultant KPMG
Parth Shah | @motabhailikes 434K followers Founder Pitchvilla Pvt Ltd
Shashank Udupa | @shashank_udupa 203k followers Cofounder - Avalon Scenes
Himani Chaudhary @thehimanichaudhary 544K followers Financial Risk Consultant | Ex-Deloitte, Data Analytics | IIT Delhi, Certified Research Analyst
Vilma Mattila, Founder - 5ire.org (Dubai, UAE),
Sandeep Supal, Head of User Experience - Oracle,
Aditi Gupta, CEO & Founder of TECHTIP24,
Sanjay Jaswani
CA Jay Desai @ca.jaydesai 214K followers Practising CA
CA Mahima Vachhrajani 96K followers Senior Credit Analyst, NatWest Group
Vijay Nihal Chandani (484k) Founder Travinities
Ujjawal Pahwa (656k) Full time Content Creator | Entrepreneur | Company Secretary | Instagram 650K+ | Youtube 60K+ | CA Intermediate student
Tejas Joshi
BE PREPARED FOR LIVE STARTUP BATTLES
▪ You believe your startup is ready for funding don't you?
▪ Prepare your Investor Decks.
▪ Spread the word about your company & innovations.
▪ Get in touch with investors and industry professionals.
▪ Learn from the pros in your field.
▪ Generate buzz and connect with best startup founders in the country!
THE TARGET AUDIENCE
▪ Startups
▪ Individual Business, Professionals / Consultants
▪ CXOs, Directors, Founders, Presidents
▪ Influencers & Mentors
▪ VCs & Angel Investors
TOP AWARDS OF THE INDUSTRY
▪ Awards that are the most open in their field & truly based on genuine recognition of Power Startups.
▪ Get the chance to introduce your brand at this esteemed venue for maximum exposure.
▪ Give your startup a nomination for a chance to win a variety of prizes.
▪ Every winner is profiled in our post-event reporting.
CREATORS CLUB
It is a platform to connect create and network.
Creators Club is a podium aiming to bring together content creators in the area of finance and business under the same roof and recognise them.
TERMS AND CONDITIONS
Please carry a valid ID proof along with you.
No refunds on purchased ticket are possible even in case of any rescheduling.
Security procedures including frisking remain the right of the management.
No dangerous or potentially hazardous objects including but not limited to weapons knives guns fireworks helmets laser devices bottles musical instruments will be allowed in the venue and may be ejected with or without the owner from the venue.
People in an inebriated state may not be allowed entry.
Organizers hold the right to deny late entry to the event.
Venue rules apply.
Global Startup Summit 2023 has announced their events calender for Mumbai, Bengaluru, New Delhi, Dubai, Singalore, Johannesburg, Toronto & New York on their website.
Get more details on: www.globalstartups.club
For Partnerships Sponsorships Ticketing queries:
brands@globalstartups.club; partner@globalstartups.club
Support: +91 9819564031 | +27 610330844
Website - https://www.mojostartup.com/conferences
Instagram - https://instagram.com/bharat.entrepreneurs.conclave?igshid=YmMyMTA2M2Y=
Twitter - https://twitter.com/Conclave2023
Linkedin - https://www.linkedin.com/company/%E0%A4%AD%E0%A4%BE%E0%A4%B0%E0%A4%A4-entrepreneurs-conclave%C2%A02023/
Facebook - https://www.facebook.com/profile.php?id=100088767054447
Avasa
Hitech City Road, HUDA Techno Enclave, HITEC City, Hyderabad, Telangana
GET DIRECTIONS
भारत Entrepreneurs' Conclave Hyderabad
Invite your friends
and enjoy a shared experience