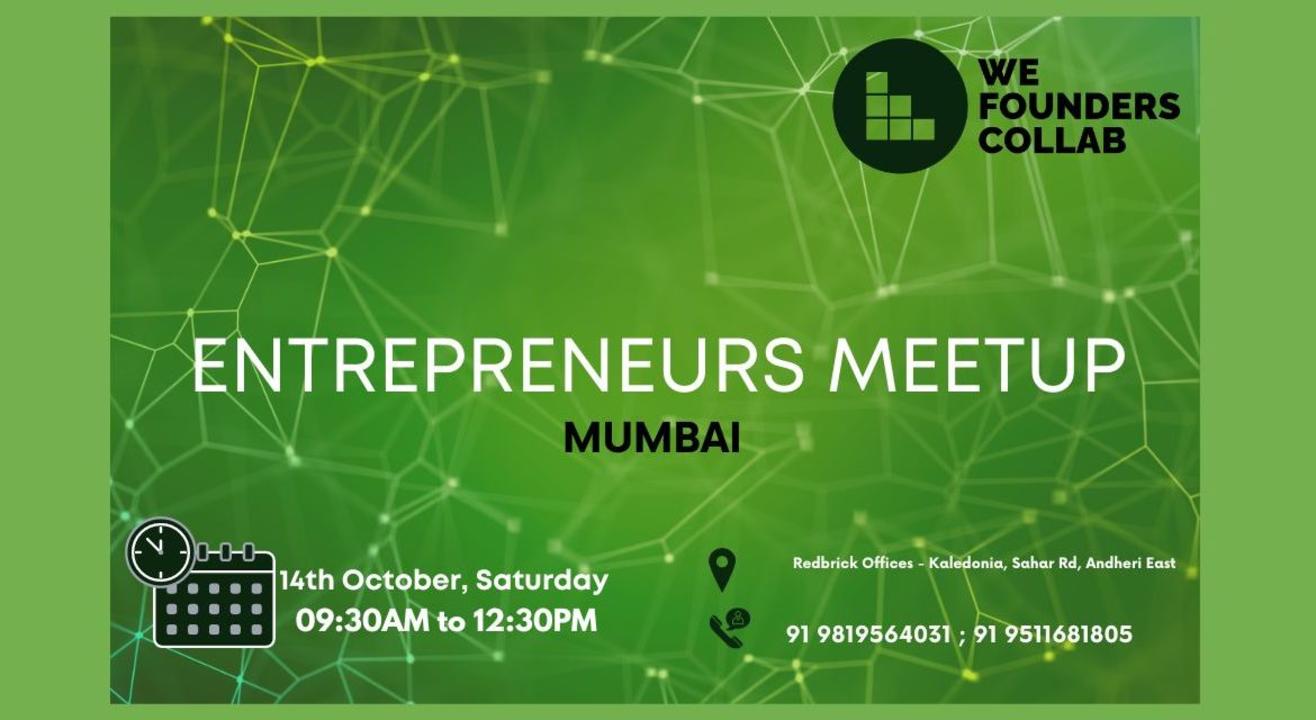 Entrepreneurs Meetup by We Founders Collab
Redbrick Offices - Kaledonia, Mumbai
Invite your friends
and enjoy a shared experience
Entrepreneurs Meetup by We Founders Collab
Redbrick Offices - Kaledonia, Mumbai
Invite your friends
and enjoy a shared experience
Invite your friends
and enjoy a shared experience
Entrepreneurs Meetup by We Founders Collab
Event Description Entrepreneurs Meetup powered by We Founders Collab is a vibrant gathering designed exclusively for entrepreneurs seeking networking opportunities and valuable connections. Join us to:
Curated Networking : Connect with like-minded entrepreneurs industry experts and Business Owners expanding your Business network and opening doors to new opportunities.
Inspiring Talks: Engage in insightful talks and Masterclass led by successful entrepreneurs gaining valuable knowledge and inspiration to fuel your entrepreneurial journey.
Elevator Pitch: Showcase your startup or business idea in our pitch sessions receiving feedback from a supportive community and potentially attracting investors or partners.
Collaboration Opportunities: Explore collaborative projects and partnerships with fellow entrepreneurs discovering synergies and fostering innovation.
Expert Workshops: Attend workshops conducted by industry experts covering topics such as business strategy marketing funding and growth hacking providing you with actionable insights and practical skills.
Interactive Sessions: Participate in interactive sessions and activities designed to promote engagement idea exchange and collective learning.
Refreshments: Enjoy refreshments and energizing snacks throughout the meetup fostering a relaxed and enjoyable networking environment.
Join us for the upcoming Entrepreneurs Meetup powered by We Founders Collab and immerse yourself in a supportive community of passionate entrepreneurs. Stay tuned for event dates venue details and ticket information. Unleash your entrepreneurial spirit and make valuable connections that can propel your business to new heights
The meeting is going to happen on 14th Oct 2023 at Redbrick Offices - Kaledonia, Kaledonia, 1st Floor, Sahar Rd, Navpada, Vile Parle East, Andheri East, Mumbai, Maharashtra 400069. The fees for the meeting are INR 499 only. You can join as a member soon after that!
For Partnerships Sponsorships Ticketing queries:
Support: +91 9819564031 | + 91 9511681805 |
#startups #event #networking #Mumbai #founders
Redbrick Offices - Kaledonia
Kaledonia, 1st Floor, Sahar Rd, Andheri East, Mumbai, Maharashtra 400069
GET DIRECTIONS
Entrepreneurs Meetup by We Founders Collab
Redbrick Offices - Kaledonia, Mumbai
Invite your friends
and enjoy a shared experience