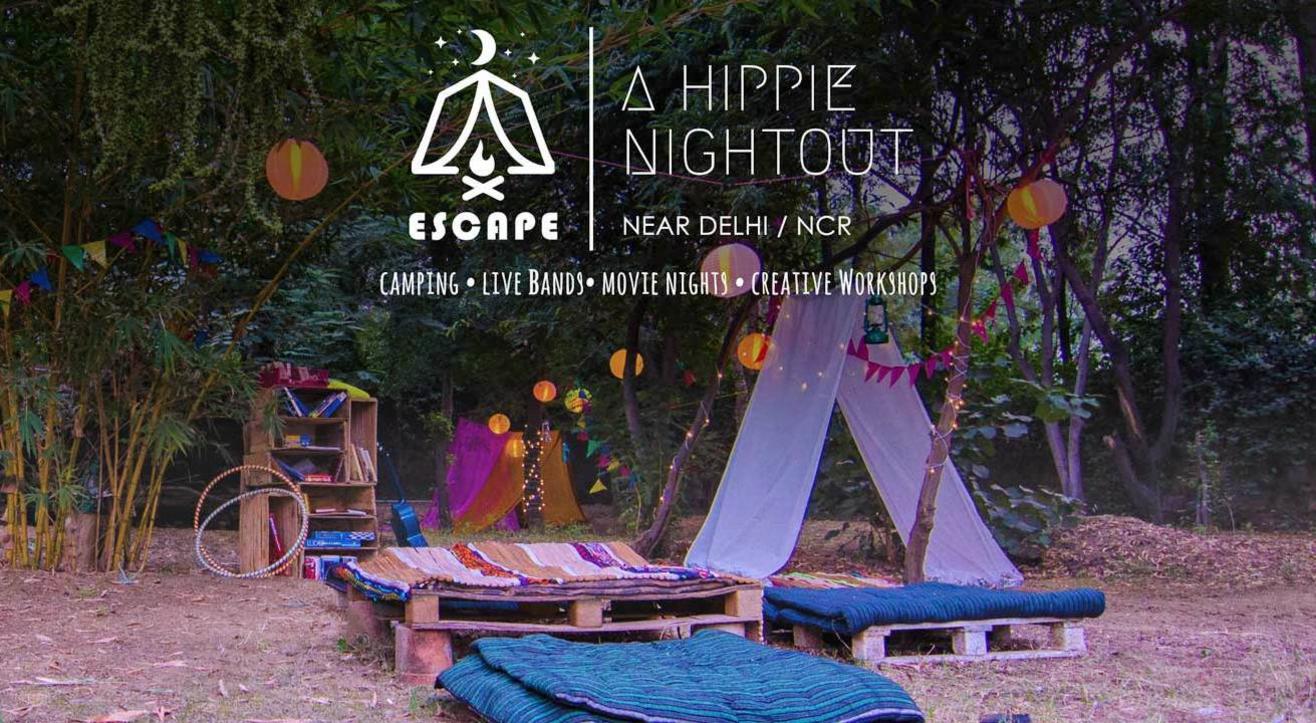 Camping
ESCAPE- A Hippie Night Out (Live band performance/ Movie Night)
About
With "The Escape," Triphopp.in wants you to spend a weekend without worrying about what happens on weekdays. They want you to forget your boring weekend tragedy and ESCAPE to a place where you can enjoy the calm of nature while you listen to a live indie-band, watch movies, catch up with like-minded people, attend creative workshops or just laze around in a hammock and read a book. All of this, at just a stone's throw away from the city (clock says 30 mins).


The campsite is precisely the excuse why you don't have to chase faraway mountains and forests to find that perfect place to pitch your tent. Located just off Sohna Road, it is a small village with mustard fields surrounded by the foothills of the Aravalis. With dim ball-lights hanging all around, hammocks, swings, a small library, hula hoops, and board games, the campsite is a spell-binding place in itself.


Tents are high quality and pitched in such a way, that you enjoy the calm of nature, and your privacy even though you are at a bustling campsite. They provide you with your camping essentials, a sleeping bag, and a munch bag. The campsite is equipped with well-functioning modern loos and showers. Still if you don't feel comfortable inside the tents, you can ask for luxury rooms as well. You can chose between tents and rooms at the time of booking.


Triphopp.in calls upon talented new indie bands, artists, stand-up comedians and poets to perform at their campsite during the evening. Besides this, they also organize movie nights, fitness/ yoga workshops, photography workshops and a lot more to fill your boring weekends with fun!
Day 1
Arrive at the campsite
Chill and grill (barbecue)
Creative evening /movie under the stars/live band performance
Dinner
Stargaze the night away
Now, that you have left your hectic schedule behind, its time to let go. Read a book, laze around in one of the hammocks, play board games with your friends, learn to make dream catchers or just take a walk around.

Day 2
Morning activities (Yoga/zumba/bhangra)
Breakfast
Visit the horse stables
Photo session
Accomodation in tents (twin sharing basis)
Barbecue
Bonfire
Dinner
Breakfast
Movie night
Camping essentials

Special Inclusions for the Christmas camp on December 23!
Live band
The weather: Since the campsite is located away from the city and amidst lush greenery, the weather is usually 3 – 4 degrees cooler than in the city.

Distance from Gurgaon City Centre: 30 kms

Location: Off Sohna-Road

Check In / Check Out: 03:00 PM on Day 01 to 12:00 PM on Day 02

The ideal attire: From October to March, the evening can get a little cold, so it is recommend you carry light woolens and sturdy shoes

The stay: You will be staying at the campsite, inside cozy dome tents. Its 02 people to one tent. Please do respect the belongings of others at the campsite and avoid damaging any articles, tents, etc. Sleeping bags will provided.

The washrooms: Triphopp.in has clean western style loos at their campsite with all the modern amenities, as well as common loos for both genders along with gender communal showers which have hot water.
Triphopp.in lets you meet like minded travellers, share your travel stories, follow travel bloggers and explore amazing getaways, places to eat and things to do near you.