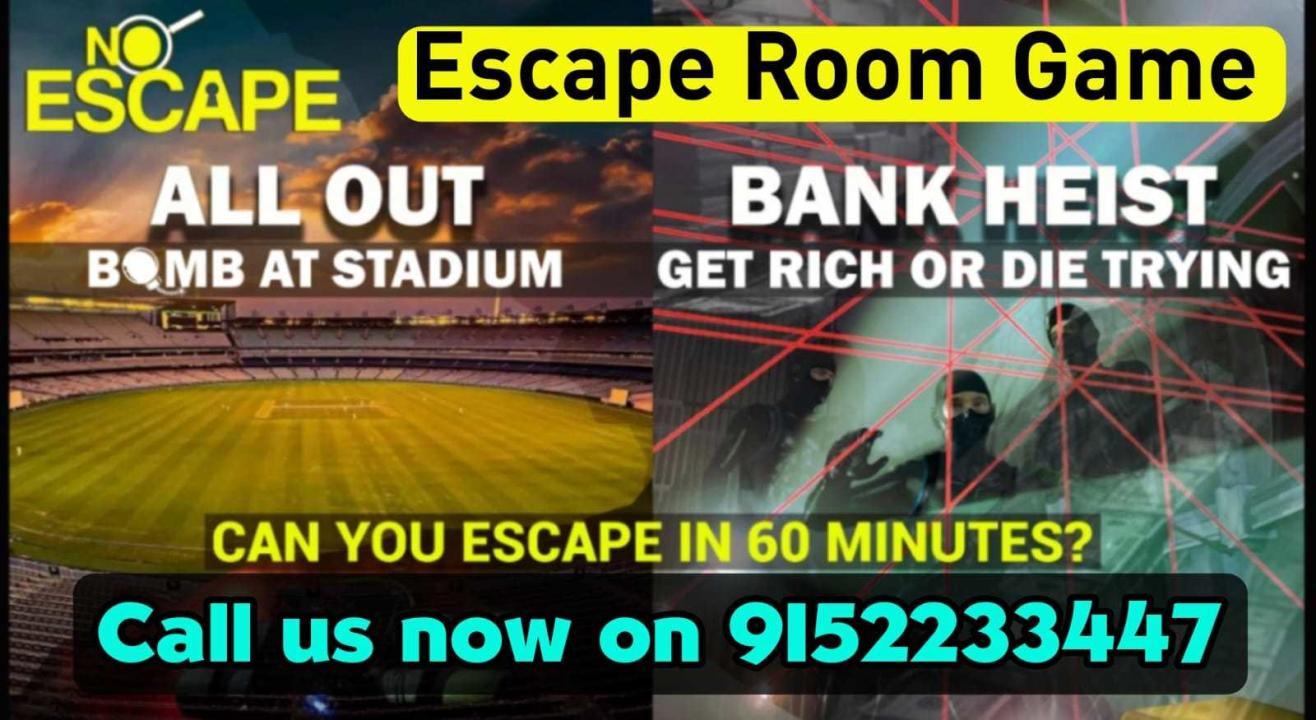 Escape/Mystery Room Games
January 8 | 12:32PM - February 28 | 12:32PM
Escape Room Mumbai, Mumbai
Step out and enjoy this event
Invite your friends
and enjoy a shared experience
Escape/Mystery Room Games
January 8 | 12:32PM - February 28 | 12:32PM
Escape Room Mumbai, Mumbai
Step out and enjoy this event
Invite your friends
and enjoy a shared experience
Invite your friends
and enjoy a shared experience
In the game No Escape, players are locked in an undiscovered location and have an hour to solve a series of puzzles in order to escape. Players must solve puzzles, uncover tips, and other challenges if they want to escape the room as fast as possible. It's also a distinct, adventurous, enjoyable, and entertaining experience for gamers of all ages.
If you have purchased the ticket one of our team people will connect you! For confirmation of the game and time if you are not connected, you can Whatsapp the ticket you purchased to 9152233447.
Game:
1) All Out (Time Bomb at a Stadium)
2) Bank of Spain (Money Heist)
It is essential to phone NoEscape Malad at 9152233447 to confirm the game after payment has been made; otherwise, the next available game will be given.
Scenarios:
1) All Out (Time Bomb at a Stadium) : The 2022 WC is between India and Pakistan with bets highly favor India winning. Bookies do not want to leave the results to fate and are ready to do whatever it takes even if it means blowing up the stadium.
Just before the game, you notice that one of your players is missing. Have the tactics started… Will this prevent India from winning the tournament or will the players stay focused and regain composure? Time is of the essence…
2) Money Heist: A team of con artists has to perform multiple heists. Their first heist is the Bank of Spain known to possess an uncrackable vault. Who will succeed in the battle between Ladronas Vs Policia?
This fun activity tests your observation, detective skills, ability to keep calm under pressure, and team skills through unique and challenging tasks. This activity is designed to be one of the most fun and challenging ways you will ever find to spend time / celebrate with friends or family. They guarantee many thrills, excitement, `a-ha`, and `why didn`t I think of that moments
.
Escape Room Mumbai
Shop no 7, Devrkur wadi, behind Evershine Mall, Malad, Mindspace, Malad West, Mumbai, Maharashtra 400064, India
GET DIRECTIONS
Escape/Mystery Room Games
January 8 | 12:32PM - February 28 | 12:32PM
Escape Room Mumbai, Mumbai
Step out and enjoy this event
Invite your friends
and enjoy a shared experience