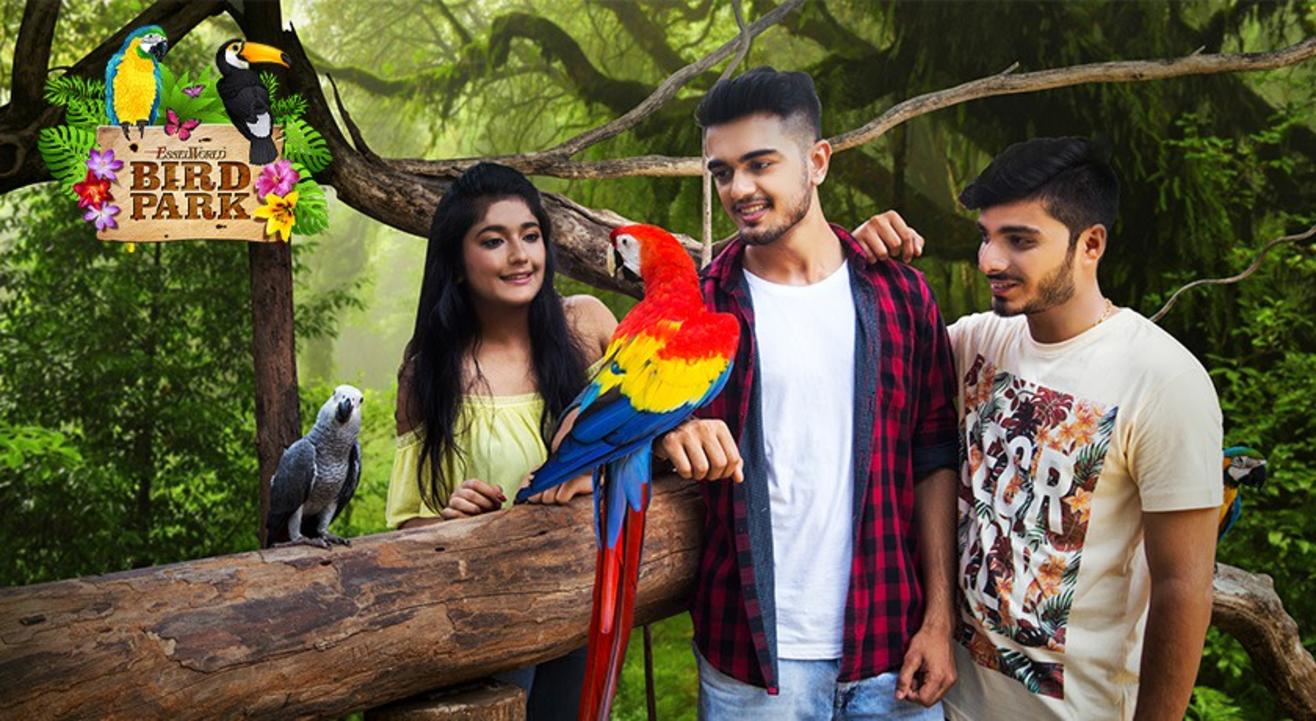 EsselWorld Bird Park, Mumbai
Event Guide
For Age(s)
Family Friendly
Invite your friends
and enjoy a shared experience
EsselWorld Bird Park, Mumbai
Event Guide
For Age(s)
Family Friendly
Invite your friends
and enjoy a shared experience
Event Guide
For Age(s)
Family Friendly
Invite your friends
and enjoy a shared experience
At EsselWorld Bird Park, we bring you the opportunity to observe and interact with what we think are the most fascinating creatures in the animal kingdom. We hold the title of India's first exotic and interactive bird park. To be more specific, we are a walk-in aviary spread over an acre where we provide the perfect rainforest habitat for over 400 exotic birds from 50 different species, making this place perfect for bird watching in Mumbai.
Full ticket price is applicable to Guest above height 2.5"
Guests below height 2.5" entry to the park is free
For any queries contact : +91 22 6953 7011
Email Id : customercare@esselworld.com
RULES & REGULATIONS AT BIRD PARK ESSELWORLD


PLEASE NOTE:
No bird feeding activity will be conducted due to maintenance of the enclosures inside the park.
The presentation is subject to cancellation with the rains and also if there's less than 20 pax.
List of Things/Items are NOT ALLOWED in Bird Park:
Outside food & eatables (sweets, chocolates, mints, mouth freshener, chips, tiffin box, etc.) *Note a provision is made for infants below 2 years of age. A separate feeding area is allocated to the mother. But all baby food will be kept at the ticket counter.
Medicines (emergency medicine can be kept at the ticket counter, a guest relations officer will assist you and get you your medications in case of an emergency).
Plastic water bottles (single-use plastics or reusable plastic bottles) * ONLY steel water bottles are permitted.
Cosmetics (lip balm, lip stick, moisturizer, insect repellent, perfumes, deodorant, tissue paper, wet wipes etc.
Sanitation kit (diapers, pads, hand sanitisers etc.).
Note: security personnel will check for the above items in your bags.
Outside food & eatables, water bottles, soft drinks and medicines are not allowed inside the park (exceptions: baby food, water bottle and diapers for infants below 2 years are allowed. Baby food must be used inside the souvenir shop. Our guest relationship executive shall guide you to a place to change diapers).
Baggage & sharp objects are not allowed inside the park.
Only money wallets and cell phones will be allowed inside EsselWorld Birdpark. (All bags to be kept at the baggage counter)
Management reserves the right to cancel/reschedule any interactive session or presentation. Everything in the park is the property of EsselWorld Bird Park. Please do not pick flowers, collect feathers, damage plants or catch the birds especially by pulling their feathers.
The pathway in some parts of the park can be slippery or uneven. Please watch your steps and be extra careful when walking in the park.
Some birds may have sharp claws and bills, while others can bite hard without warning. Respect them and do not touch, disturb, throw objects or shout at them at any time.
Do not attempt to feed the birds. Bird food is specially designed and human food may not be suitable for them and affect their health seriously.
Do not use flash photography and avoid flashing any shiny objects on them. It may blind, disturb or startle them.
Smoking and drinking alcohol are strictly prohibited.
Do not play music inside the park. Nature has a better melody to offer here. Listen to it. Carrying and throwing plastic inside the park is strictly prohibited. It might kill a bird.
Cooperate with guest relationship officers and ticketing staff and follow instructions.
Management reserves the right to ask a person to leave the park, in case of non-adherence to park rules, or disrespecting fellow visitors and Birdpark representatives.
Guests may be videotaped, filmed or photographed by Birdpark representative during the visit. Their admission to the park serves as the consent to use the image by Birdpark authorities.
If anyone breaks the rules in Birdpark, then he or she might attract a penalty up to Rs 500.


"The Park is our animals' home. So treat them with respect."
EsselWorld Bird Park
Essel world Amusement Park,Global Pagoda Road Gorai Village, Essel world Amusement Park, Borivali West, Mumbai, Maharashtra 400091, India
GET DIRECTIONS
EsselWorld Bird Park, Mumbai
Event Guide
For Age(s)
Family Friendly
Invite your friends
and enjoy a shared experience