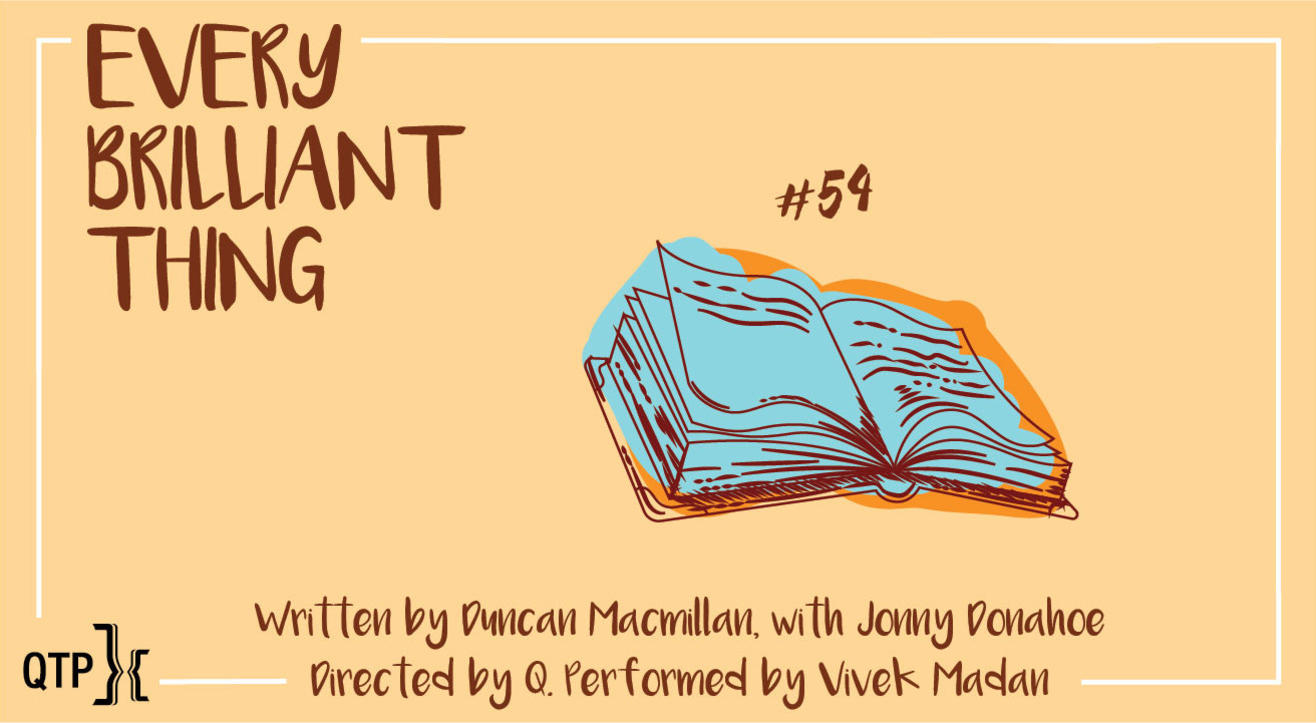 Performance
Every Brilliant Thing | Mumbai
Harkat Studios, Versova, Mumbai
About
He is seven years old. Mum's in hospital. She finds it hard to be happy. He makes a list to cheer her up.
1. Ice cream
2. Pillow fights
3. Staying up past your bedtime and being taken to a movie
4. The colour yellow
5. Gully Cricket
What would you put on your list?
Staged in an in-the-round setting, this moving and intimate piece invites you to share the joy found in everyday objects.
An uplifting play about love, life, family, mental health and a list of all the wonderful things in the world!
Biography of the Playwright – Duncan Macmillan
Duncan Macmillan is an award-winning writer and theatre director whose plays include Lungs, Every Brilliant Thing and 2071 (all published by Oberon Books). His play People, Places and Things transferred from the National Theatre to the West End in 2016)
Many of Macmillan's major plays take as their central theme a contemporary socio-political issue: Lungs explores parenthood, People, Places and Things addiction and recovery, and Every Brilliant Thing considers the issues of depression and suicide.
Macmillan has described his reasons for writing the play as to communicate to people "You're not alone, you're not weird, you will get through it, and you've just got to hold on. That's a very uncool, unfashionable thing for someone to say, but I really mean it. I didn't see anyone discussing suicidal depression in a useful or interesting or accurate way."
Biography of the Director – Quasar Thakore Padamsee
Quasar is a theatre-holic and lover of all things theatrical. Since 1999, he has directed and produced over 25 plays with QTP; including A Peasant of El Salvador, Project S.T.R.I.P., So Many Socks, Minorities and many others about contemporary social concerns. Internationally he has worked on Tim Supple's A Midsummer Night's Dream, and the aerial drama Mind Walking.
At present he is also serving on the committee of Tata Literature Live! He also works as a lighting designer, stage manager, conducts workshops and is a passionate crusader for the survival of theatre in the public consciousness.
Biography of the Performer – Vivek Madan
Vivek Madan is an actor and theatre producer based out of Bangalore.
In his theatre journey of just over twenty years, he has performed in plays like Martin Sherman's Bent, Robert Bolt's Man for All Seasons, Eric Idle's Spamalot and John Nicholson and Steve Canny's Hound of the Baskerville's among others. Apart from directing plays, Vivek has been Festival Director of Writers' Bloc 4 (2016) and the annual Ranga Shankara Theatre Festival (2018).
He is currently the Executive Director of Indian Ensemble and of Bhasha Centre, two theatre companies from Bangalore with a focus on research and training in the theatre. He dreams of setting up a theatre institute as an extension of this focus, in the not too distant future.
QTP is a theatre & arts management company that specialises in unique and engaging experiences for live audiences. For the last twenty years the company has been producing its own work as well as touring remarkable international plays from the US, UK, China, and Canada. Their productions include the critically acclaimed So Many Socks, the laugh riot The God of Carnage, the long running Khatijabai of Karmali Terrace and path breaking White Rabbit Red Rabbit.
They also manage Tata Literature Live! The Mumbai International Literary Festival, which takes place each November; and the youth theatre movement Thespo which is now in its 21st year.
The various India tours that they have managed include Foreign Body (UK, 2018), Brotherhood (Canada, 2017), Chi Udaka (Australia, 2016), HeLa (UK, 2014), Mind Walking (UK, 2011) and To The Death of My Own Family (USA, 2007). They were also instrumental in building international collaborations like Nirbhaya (2013), Gates to India Song (2013), and A Midsummer Night's Dream (2006-9).
1. Are tickets available at the venue?
Few tickets will be available on day of the show.We advise patrons to book in advance as these shows sell out very quickly.

2. Would I be allowed in in-case I am late for the show?
Sorry, given the design of the show, late entry is not allowed. We recommend that you arrive at least 30 minutes prior to start of show.

3. Can I go out and come back during the show?
Unfortunately, as the audience is seated on all four sides, there cannot be any coming-and-going during the show unless its an emergency.

4. Do we get specific seat numbers or is it free seating?
It is free seating and there is no specified seat numbers.

5. Will there be food and beverages at the venue?
Yes. Refreshments will be available for purchase at most venues. Depends from venue to venue. No food or drinks will be allowed inside the auditorium however.

6. Is parking available at the venue?
There is no parking at the venue. Limited street parking will be available.

7. Can I buy tickets using cash?
Yes, you can buy tickets in cash from the box office setup on day of show. But we cant gaurantee that tickets will be available. So do buy right away.

8. Will I be able to get a refund for the tickets if I do not attend the play?
No refund will be provided for tickets.

9. Can my tickets be transferred?
No, the tickets cannot be transferred.

10. Where can I read the ticketing `Terms & Conditions'?
All terms & conditions are mentioned in the T&C tab on the event page.
Venue
Harkat Studios, Versova, Mumbai
HARKAT STUDIOS, BUNGALOW 94, FIRST FLOOR, ARAM NAGAR 2, VERSOVA, ANDHERI WEST, 400061-MUMBAI