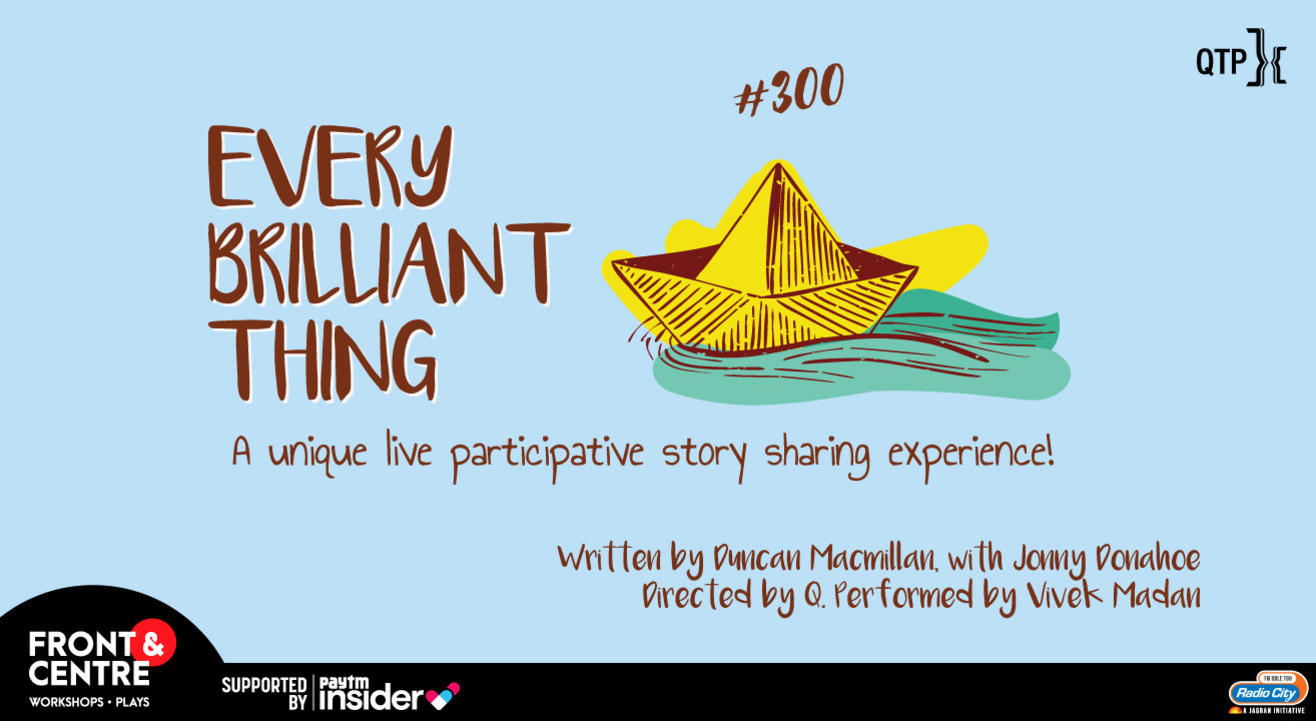 Every Brilliant Thing, The Digital Edition
Enjoy this event from your home
Event Guide
Digital Event
Watch on Zoom
Live Performance
Enjoy a unique experience
Invite your friends
and enjoy a shared experience
Event Guide
Digital Event
Watch on Zoom
Live Performance
Enjoy a unique experience
Invite your friends
and enjoy a shared experience
About the Event
Every Brilliant Thing is an uplifting story about love, life, family, mental health and a list of all the wonderful things in the world!
Presented as a live participative performance, this moving and intimate piece invites you to celebrate the joy found in everyday objects. A unique experience that encourages everyone present to meet and interact with each other and the performer and in doing so, take the story forward.
He is seven years old. Mum's in hospital. She finds it hard to be happy. He makes a list to cheer her up.
1. Ice cream
2. Pillow fights
3. Staying up past your bedtime and being taken to a movie
4. The colour yellow
5. Gully Cricket
What would you put on your list?
Trigger Warning: The story contains triggering and/or sensitive material. Mental health issues like depression and coping with the suicide of a loved one are part of the narrative.
Audience Participation: Please note that the sharing includes voluntary participation from the audience members. If you wish to attend, but would like to refrain from any kind of participation, please do let us know.
Post show conversation: There will be a short 15-20 minute opportunity to ask questions, share observations and responses, start a dialogue with professionals working in the field of mental health care. Everyone is welcome to join.
Duration: 80 minutes (no interval) + Post show conversation
Please register for this event with your Zoom email ID.
Credits:
Every Brilliant Thing
Written by Duncan Macmillan, with Jonny Donahoe
Directed by Q
Performed by Vivek Madan
Sound Design: Varrunn Bangera
Music: Kaizad Gherda
Light Design: Arghya Lahiri
Production Team: Rachit Khetan, Robbin Singh, Sanjay Bharadwaj, Srishti Ray
Creative Producer: Toral Shah
Executive Producer: Vivek Rao
A QTP Presentation
Biography of the playwright
Duncan Macmillan is an award-winning writer and theatre director whose plays include Lungs, Every Brilliant Thing and 2071 (all published by Oberon Books). His play People, Places and Things transferred from the National Theatre to the West End in 2016)
Many of Macmillan's major plays take as their central theme a contemporary socio-political issue: Lungs explores parenthood, People, Places and Things addiction and recovery, and Every Brilliant Thing considers the issues of depression and suicide.
Macmillan has described his reasons for writing the play as to communicate to people "You're not alone, you're not weird, you will get through it, and you've just got to hold on. That's a very uncool, unfashionable thing for someone to say, but I really mean it. I didn't see anyone discussing suicidal depression in a useful or interesting or accurate way."
About the director
Quasar is a theatre-holic and lover of all things theatrical. Since 1999, he has directed and produced over 25 plays with QTP; including A Peasant of El Salvador, Project S.T.R.I.P., So Many Socks, Minorities and many others about
contemporary social concerns. Internationally he has worked on Tim Supple's A Midsummer Night's Dream, and the aerial drama Mind Walking. At present he is also serving on the committee of Tata Literature Live! He also works as a lightIng designer, stage manager, conducts workshops and is a passionate crusader for the survival of theatre in the public consciousness.
About the performer
Vivek Madan is an actor and theatre producer based out of Bangalore. In his theatre journey of over twenty years, he has performed in plays like Martin Sherman's Bent, Robert Bolt's Man for All Seasons, Eric Idle's Spamalot and John Nicholson and Steve Canny's Hound of the Baskervilles and Duncan Macmillan and Johnny Donahoe's Every Brilliant Thing, among others. Vivek has been Festival Director of Writers' Bloc 4 (2016) and the annual Ranga Shankara Theatre Festival (2018).
As the former Executive Director of Indian Ensemble, he has produced the performances and tours of Muktidham, #supernova, Algorithms and tours of Kaumudi and Gasha, as well as two annual training programmes and their eventual showcases. He is currently the Executive Director of Bhasha Centre, and remains with Indian Ensemble as a trustee. He dreams of setting up a theatre institute in the not too distant future.
About QTP
QTP is a theatre & arts management company that specialises in unique and engaging experiences for live audiences. For the last twenty years the company has been producing its own work as well as touring remarkable international plays from the US, UK, China, and Canada. Their home productions include the critically acclaimed So Many Socks, the laugh riot The President is Coming, the long running Khatijabai of Karmali Terrace, the relevant A Peasant of El Salvador, the hilarious The God of Carnage and the fragile Wildtrack.
They also manage Tata Literature Live! The Mumbai International Literary Festival, which takes place each November; and the youth theatre movement Thespo which is now in its 22nd year.
Some of the international work they have brought to Indian audiences include Foreign Body (UK, 2018), Brotherhood (Canada, 2017), Chi Udaka (Australia, 2016), HeLa (UK, 2014), Mind Walking (UK, 2011) and To The Death of My Own Family (USA, 2007). They were also instrumental in building international collaborations like Nirbhaya (2013), Gates to India Song (2013), and A Midsummer Night's Dream (2006-9).