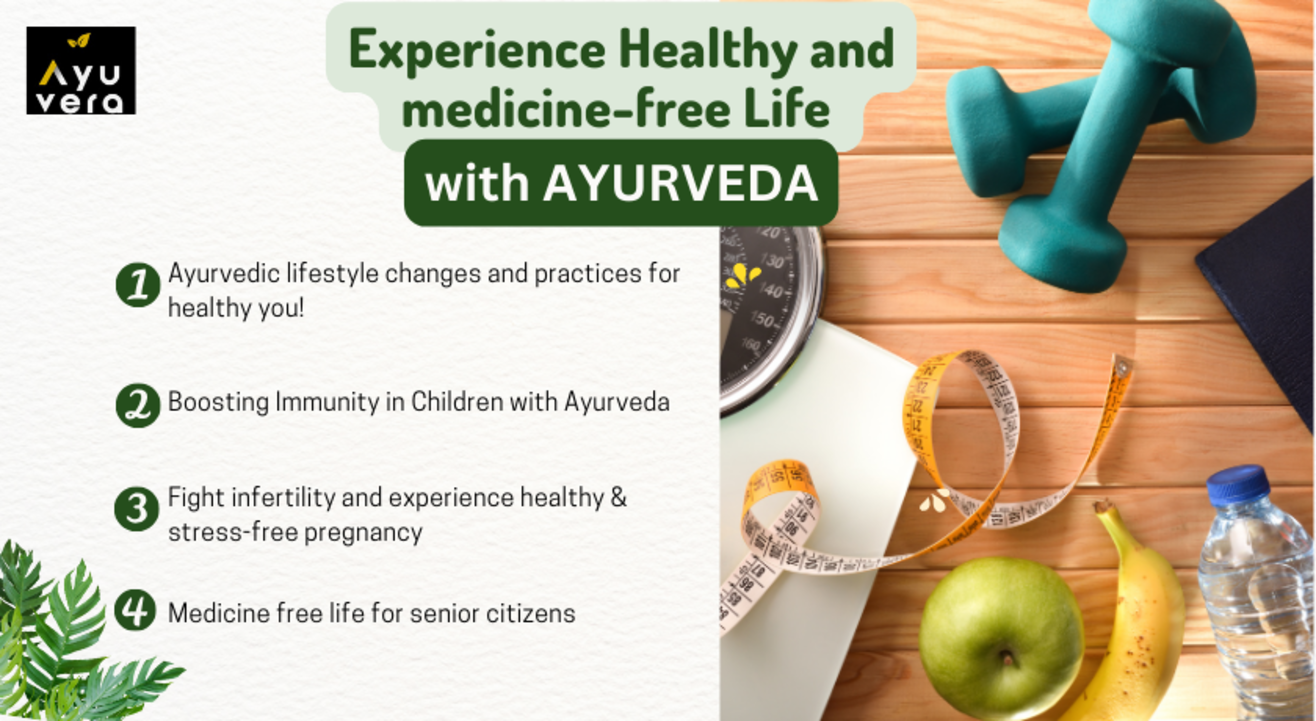 Experience Healthy and Medicine-free life with Ayurveda
Event Guide
Live Fitness
Workout with a pro
Invite your friends
and enjoy a shared experience
Experience Healthy and Medicine-free life with Ayurveda
Event Guide
Live Fitness
Workout with a pro
Invite your friends
and enjoy a shared experience
Event Guide
Live Fitness
Workout with a pro
Invite your friends
and enjoy a shared experience
Join us for an enlightening workshop on Ayurvedic practices that can transform your life for the better.
Discover the ancient wisdom of Ayurveda and learn how to align your mind, body, and spirit to achieve optimal health and well-being. Our expert Ayurvedic practitioner, Dr.Ajey Saswade(MD in Ayurvedic medicine) will guide you through the following:
1. Ayurvedic Practices for a Healthy You
Understanding your unique constitution (dosha) and how it influences your health.
Ayurvedic dietary principles for nourishment and balance.
Daily routines (Dinacharya) to promote vitality and longevity.
Practical meditation and yoga techniques tailored to your dosha.
By the end of this workshop, you'll have the knowledge and tools to embark on a journey towards a healthier, more balanced life.
2. Boosting Immunity in Children with Ayurveda
As parents, we all want the best for our children's health. In this workshop, we'll explore the power of Ayurveda in strengthening children's immunity naturally. Our expert Ayurvedic pediatrician will cover the following:
Ayurvedic dietary recommendations for children's growth and immunity.
Simple herbal remedies to prevent common childhood illnesses.
Lifestyle practices to support your child's overall well-being.
Interactive sessions on preparing Ayurvedic recipes for kids.
Join us to equip yourself with the knowledge and tools to ensure your child's health and resilience.
3. Fight Infertility and Experience a Healthy and Stress-Free Pregnancy
For couples struggling with fertility issues or those embarking on the beautiful journey of parenthood, Ayurveda offers valuable insights and solutions. This workshop will provide guidance on:
Understanding the Ayurvedic perspective on fertility and reproductive health.
Ayurvedic treatments and therapies for infertility.
Holistic practices for a healthy pregnancy and childbirth.
Techniques to manage stress and create a nurturing environment for conception.
Join us as we explore the wisdom of Ayurveda to support your fertility journey and pave the way for a stress-free pregnancy.
4. Healthy and Medicine-Free Life for Senior Citizens
Aging gracefully and maintaining good health is a common aspiration for seniors. In this workshop designed specifically for seniors, we will cover:
Ayurvedic strategies to promote longevity and vitality in your golden years.
Dietary and lifestyle adjustments for seniors to enhance overall well-being.
Managing common age-related health issues naturally.
Gentle yoga and meditation practices suitable for seniors.
We invite seniors and their caregivers to join us in discovering how Ayurveda can help you lead a medicine-free and fulfilling life.
Event Offerings: Healthy snacks, tea and coffee will be provided in the workshop. Additionally, each participant will receive a complimentary Ayurvedic book to deepen their understanding of these ancient practices and continue their wellness journey at home.
Dextrus
6th Floor, Peninsula Towers, Peninsula Corporate Park, Lower Parel West, Lower Parel, Mumbai, Maharashtra 400013, India
GET DIRECTIONS
Experience Healthy and Medicine-free life with Ayurveda
Event Guide
Live Fitness
Workout with a pro
Invite your friends
and enjoy a shared experience