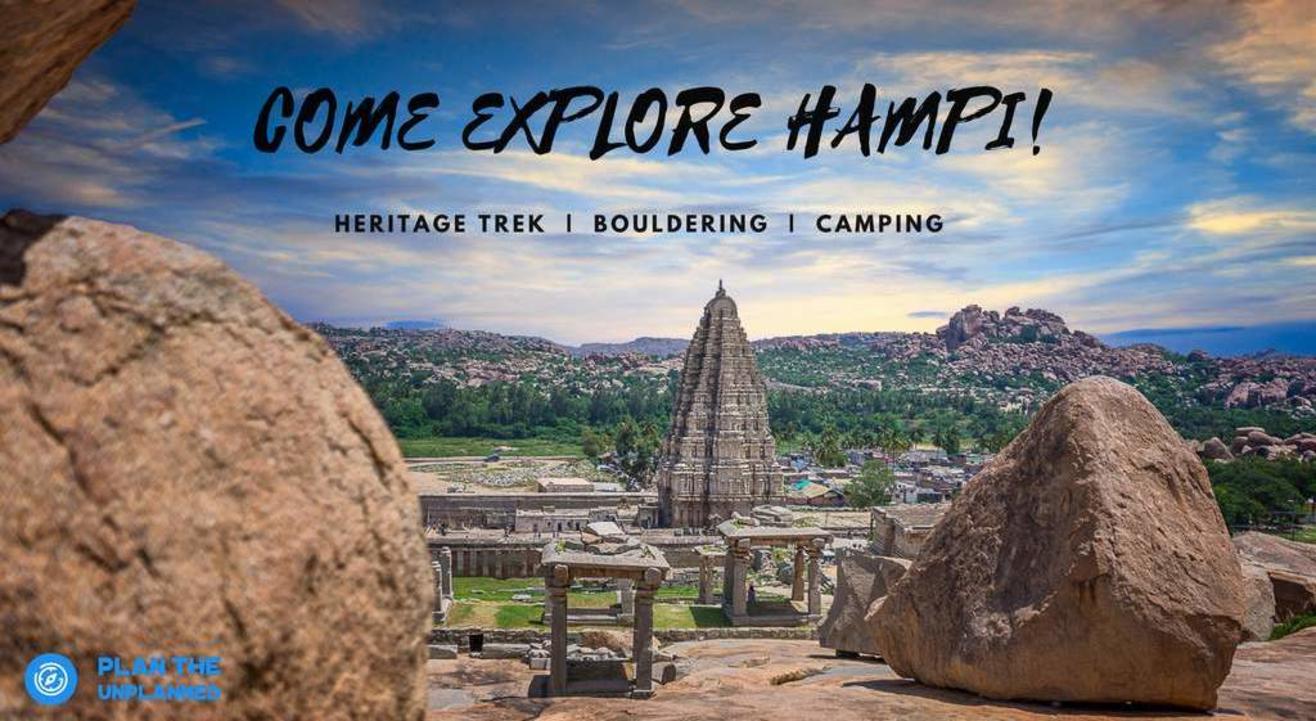 Explore Hampi - Heritage Hike & Camping | Plan the Unplanned
Invite your friends
and enjoy a shared experience
Invite your friends
and enjoy a shared experience
About the Event
Are you someone who enjoys beings surrounded by nature? Were you as a child always curious about history? Well, if the answer to all this is yes, you should be on your way to Hampi.
Plan the Unplanned bring to you a heritage hike and camping trip to Hampi. Two days of exploring these beautiful ruins, bouldering on rocks and just unwinding amidst nature.
About Hampi
Hampi is a World Heritage Sites as declared by UNESCO and is located on the beds of the Tungabhadra River. Hampi has a very rich history as it was one of the biggest and largest cities back in its day. It was even the capital of the Vijayanagara Empire. Currently, the city is divided into halves: the hippie island and the heritage sites.
Why should you be here?
If you have a part of you that is interested in history and wants to know how the old world worked, this is the place for you to be. With places such as Vittala Temple and the Virupaksha Temple, your entire curiosity will be sated. You will be surrounded by beautiful structures of architecture that have so many stories hidden within their stone walls. These sites due to their sheer beauty prove to be great spots for photography.
Do you enjoy being amidst nature? At Hampi, you can just do that. Embark on a fun-filled journey with the help of mopeds and see the beautiful panoramic views of the hippie island. Walk between boulders and marvel at the beauty of nature, while you ponder on the bigger questions in life.
So, join in because at Hampi you will find a blend of culture, history, panoramic views and a lot of fun! Don't Worry Be Hampi!
Don't worry Be Hampi! | Plan The Unplanned
Day 0
Depart from Bangalore by 8:30 PM

Day 1
Reach Hampi
Freshen up and have breakfast
Take your mopeds and go for bouldering
Explore hippie side of Hampi
Visit waterfall and Sanapur reservoir
Head back to Campsite
Dinner
Campfire at the rocks
Camping

Day 2
Explore Heritage Side of Hampi ( Virupaksha Temple, Lotus Mahal, Elephants Stable, Vittala Temple) via Auto
Lunch
Sunset at Matanga Hills
Leave for Bangalore at 7:00 PM
Dinner at Hospet (Self-Sponsored)
Reach Bangalore by next day morning 5:00 AM (approx)
Sharing basis accommodation in Tents ( 2 Men/3 Men).
Coracle ride Mopeds rent with fuel (1.5 litre)
Bouldering under Professional Guidance and Use of Equipments
2 Breakfast and 1 Dinner ( Veg Only )
Transportation ( To and Fro till Bangalore ) ( Non AC)
Experience that you gain
Ferry Ride
Lunch ( Day 1 and Day 2) and Dinner ( Day 2) Any kind of insurance Exploring Hampi on Auto ( Min Rs 150 – Rs 200 Max) Repair charges for mopeds caused due to accidents/misuse/negligence Anything not included in the inclusions above
If you cancel trek/plan before 7 days:
95% refund will be provided. (Payment gateway charges will be deducted)
If you cancel trek/plan before 3-6 days:
50 % of the actual amount of the trek. (Payment gateway charges will be deducted)
48 hours before the trek/plan:
No refund would be provided.
Plan The Unplanned is a travel based start-up for adventure junkies and people who are always ready to pack their bags and hit the road. PTU started its journey in 2016, and has organized several treks in South India like Kodachadri and Tadiandamol, as well as places like Kheerganga up North. The team consists of spirited, enthusiastic youngsters who aim to get more people to explore the outdoors.
8-10 people - Tempo Traveler
10+ people - Mini bus with push back seats