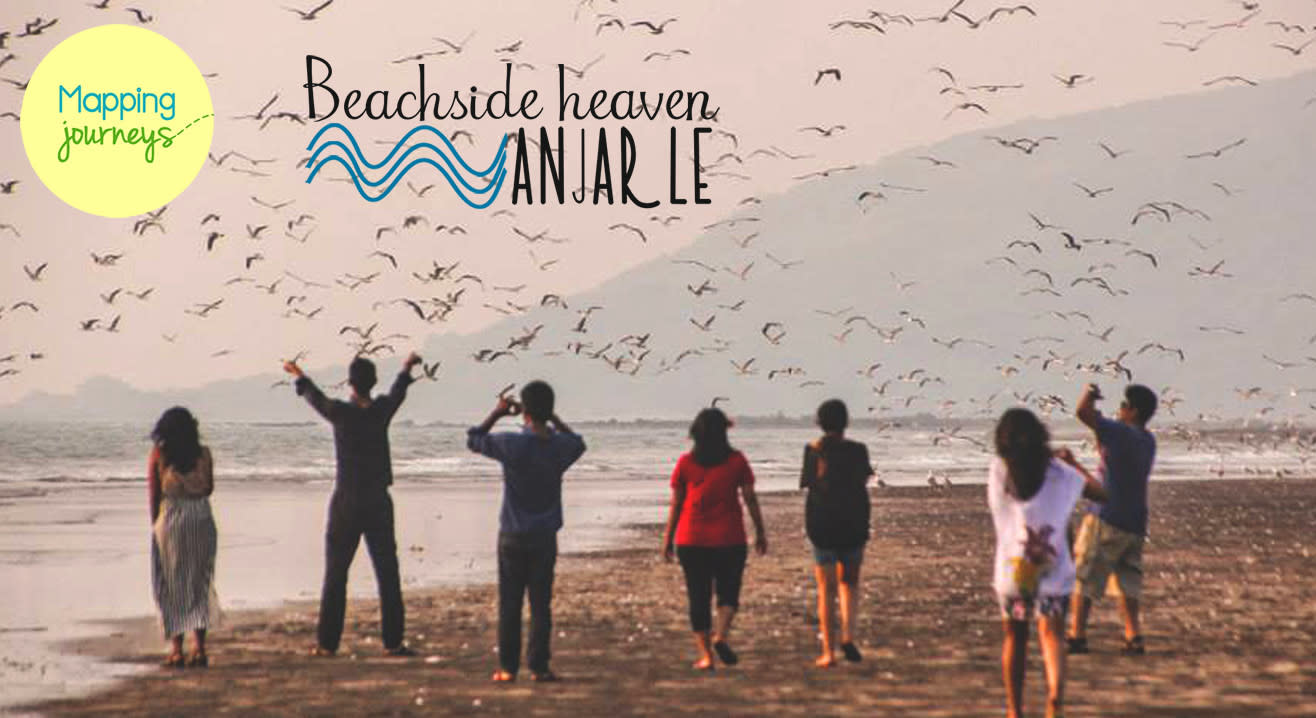 Explore
Exploring Anjarle & Konkan
November 11 - 12 | 10:30PM
About
Live your road-tripping dreams in a distant village by a secluded beach, away from the hustle-bustle of the city in the company of campfires, Konkani cuisine, and the waves. Tempting, right?
Anjarle is a village in the Dapoli taluka of Ratnagiri district in the Maharashtra state of India. It is a small port located near the mouth of Jog River, about 4 miles south of Aade and 2 miles north of Suvarnadurga. The nearest railway station is Khed, 110 miles to the south-east.
Apart from the nearby Ganapati temple, Anjarle is known for its unspoiled beach. It is also known for producing Alphanso mangoes and cashew nuts, which are available from April through May. Other products include watermelons, pickles, jackfruit chips and kokam sarbat from various places throughout the year.
Day 1 (Friday) - The long ride begins!
Bus Meeting Point:
10:30 pm: Dadar East near Pritam Dhaba.
11:00 pm: Chembur near Yogi Hotel.
11:45 pm: Vashi near Main Bridge.
12:15 pm: Kalamboli Mc D.

Day 2 (Saturday) - Sunrise at the beach!
05:00 am: Reach Anjarle, freshen up and head to the beachhh!
08:30 am: After greeting the waves, greet some delicious food for breakfast. Room allocation and rest.
11:00 pm: The day ahead has Beach Games, hammocks, hike, sunset, local sightseeing and lots of photographs.
09:00 pm: Dinner followed by campfire and some light music.

Day 3 (Sunday) - Explorations!
06:00 am: Wake-up to be greeted by a beautiful sunrise.
07:00 am: Check out and visit Harnai Port.
08:00 am: Ferry ride to Suvarnadurg, the fort by the sea. Visit the Fishes Auction at Harnai.
12:00 pm: Lunch at Harnai port
01:30 pm: Leave for Mumbai
09:30 pm: Reach Mumbai
Beaches: Anjarle is known for its unspoiled beach and less crowd.
Food: A great place to be at in terms of both Veg and Non-veg authentic Konkani cuisine.
Places: Harnai Port, Suvarnadurg, and obviously the beach.
Activities: There is a lot to do in the two days, with beach games, castle making, hiking and much more.
Comfort zone : Coming out from our closets to meet new people, share travel stories and ideas.
Non-AC transport to and from Mumbai.
Breakfast, Lunch and Dinner on Day 2.
Breakfast and Lunch on Day 3.
Accommodations in dormitory/homestay.
Campfire at the beach.
Ferry ride to Suvarnadurg.
Harnai Port Visit, local sightseeing.
Guide and Professional Expertise.
Safety and First aid.
Mapping Journeys team.
Meals during travel.
Personal expenses.
Insurance of any kind.
Medical hospitalization, evacuation, and related expenses.
Any item not covered under "inclusions".
10+ days prior to event - 20% of the total event costs would be deducted.
05+ days prior to event - 40% of the total event costs would be deducted.
03+ days prior to event - 60% of the total event costs would be deducted.
No refund would be provided before 2 days of the event.
Venue
Pritam Hotel, Dadar
Dharamputra, Survey No. 32, Pritam Estate, Dadar T. T, Mumbai, Maharashtra 400014