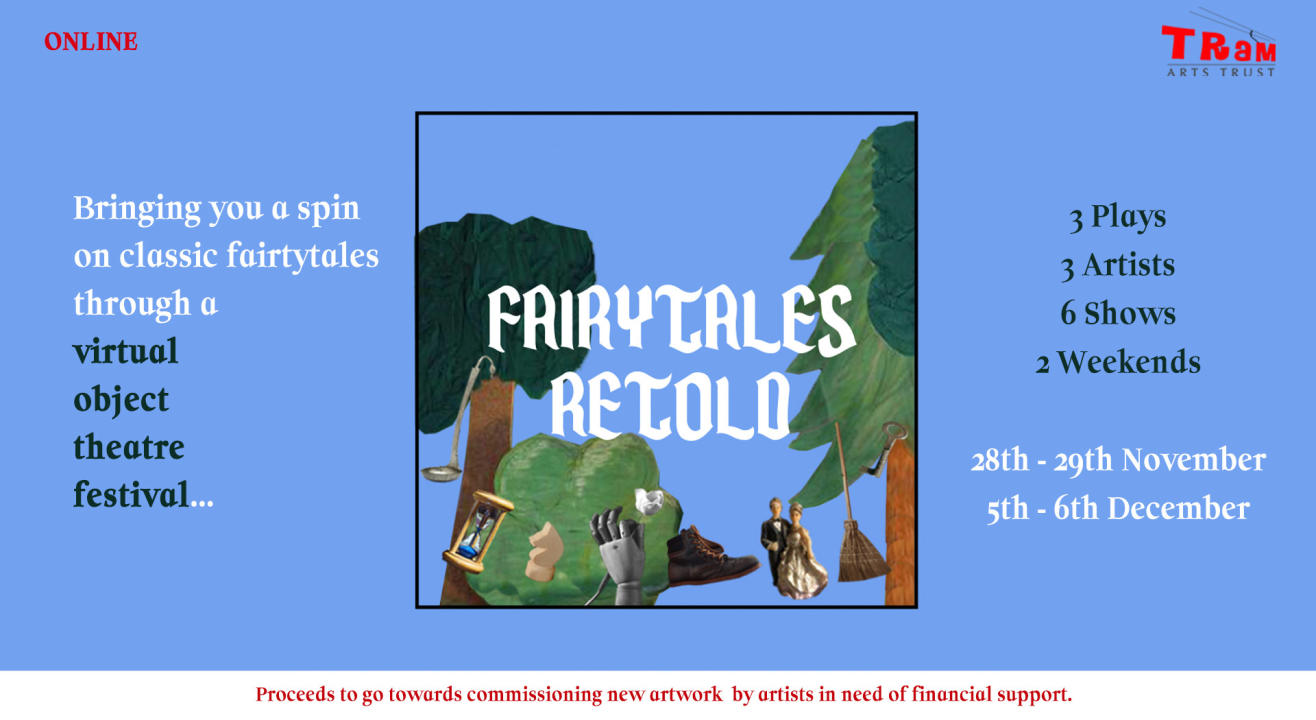 FAIRYTALES RETOLD - A Virtual Object Theatre Festival
Harkat Studios, Versova, Mumbai
Step out and enjoy this event
Invite your friends
and enjoy a shared experience
Invite your friends
and enjoy a shared experience
About the Event
~ Bringing you a spin on classic fairytales through a virtual object theatre festival ~ 3 plays ~ 3 artists ~ 6 shows ~ 2 weekends
THIS EVENT IS ONLINE ON ZOOM-LIVE
ABOUT THE FESTIVAL
Contemporary re-telling of classic fairytales with all the ordinary objects you can see in your home! What is the connection between the classic fairytales that we read in glossy, colourful books and our lives today, in the 'here' & 'now'?
This festival features 3 LIVE performances by 3 object-theatre artists ~ that travel into the hidden, unusual corners of classic stories like Cinderella, Snow-White, The Little Mermaid, Red Riding Hood & Rapunzel and find the threads that tie them to our lives today.
They not only re-tell the content from perspectives that are familiar, relevant & significant to us; but also re-tell them with today's objects that we all live with everyday, use everyday, and that are deeply part of our lives today ~ in performance techniques called object theatre & object puppetry.
You will feel the joys & pains of matrimony through your shoes! And feminism through shampoo bottles. Or environmental genocide through your broom & mop & toys! Scroll down to know more about each play.
Note# Proceeds from the festival will go towards commissioning new artwork by artists in need of financial support due to pandemic.
THE PLAYS
THE LIFE AND TIMES OF MR. PRINCE CHARMING
28th Nov, Saturday, 4pm | 6th Dec, Sunday, 11am
Age: 12+
Object Theatre & Object Puppetry
Story, Concept and Written by Abhishek Basak
Director: Abhishek Basak
Associate Director: Mansi Thapliyal
Lights, Sounds and Set Design by Abhishek Basak and Mansi Thapliyal
Synopsis: Dull. Insipid. Shallow. Clichéd. In the annals of fairy tale history, these are some of the words that have been hurled at the brave and adventurous Prince Charming. Relegated to a trope, this saviour of princesses, this literary cop out, has never really caught a break. But he is old now (and he is mean now). And he has come to tell you that there is more to him than the groans and yawns and curses that his arrival has inspired within every child aged 5-10. So here he is, looking back at his loves and his heartaches: his relationships with Cinderella, Snow white and Rapunzel. His story after 'saving them', centred upon the toils of domesticity, the itch for adventure, the seeds of patriarchy that have inspired his creation and how they sever every bond in his life. How they make him. Break him. So come? Listen? (Prince Charming has promised he will avoid as much self-pity as possible.)
Recommended Age:
THE MERMAID AND THE GOBLIN
29th November, Sunday, 4pm | 6th Dec, Sunday, 3pm
Age: 8+
Object Puppetry, Puppet theatre
Writer, performer, scenographer, puppet-maker: Dharanya Srinivasan
Synopsis: A dystopic world. Plastic pollution has encroached the ocean. Arial, the Little mermaid is now the only hope for the ocean creatures who are enslaved by Ursula - the mop, who is not doing her job of mopping and has now become even more powerful than ever! How does Arial do it? It's for you to see. Also see the entire ocean re-created in all its glory with ordinary home objects.
Recommended Age: 8+ years
THE HUNT
5th Dec, Saturday, 4pm | 6th Dec, Sunday, 5pm
Age: 10+
Object Theatre & Object Puppetry
Concept, performance & Direction : Sannidhi Surop
Technical support : Samrudhi Surop
Synopsis: This Object Theatre play explores and questions the trope of "The Big Bad Wolf" and delves into the nature of humans and animals. Are they similar or different? And how does fear shape the way we perceive the wolf? Set against the backdrop of the woods, the wolf's voice gives us an insight into impact the myths and stories have on animals.
Recommended Age: 10+ years
ABOUT TRAM ARTS TRUST
Formed in 2011, Tram Arts Trust is an Object Theatre Company based out of Mumbai & New Delhi. We build our artistic work in order to explore the world with 'theatre of objects'; To explore its vocabulary of telling stories through the most ordinary things; to create new, experimental, reflective and evocative theatre of objects; to explore this powerful medium within various socio-cultural-political contexts... And to spread the magic of this simple, yet deeply profound art form, in India! Tram's plays & workshops travel world-wide; include works for adults, children, family audiences, educators, arts based practitioners, and youth from varied backgrounds. Possibly India's first Object theatre company, Tram is dedicated towards practicing, excelling in & disseminating Object Theatre in India.
ABOUT OBJECT THEATRE
Theatre with Objects' or 'Object Theatre' uses the most ordinary things found in our homes, kitchens, gardens, streets, and every other surrounding as a mode of communication. Branching out of Puppet Theatre in the 1980's, OBJECT THEATRE at its core, upholds that every 'thing' has a value, energy, the power to evoke thought and emotion; thereby challenging all notions of sacrosanct & profane, of ordinary & premium. This simple, yet deeply profound art form enables us to uphold our belief in egalitarianism, enquiry, celebration, individuality & the collective. Objects in Tram's Object Theatre very often function as symbols, creating simple images replicated from life- actions to communicate larger ideas... and opening out the idea for the audience's perception.
Harkat Studios, Versova, Mumbai
HARKAT STUDIOS, BUNGALOW 94, FIRST FLOOR, ARAM NAGAR 2, VERSOVA, ANDHERI WEST, 400061-MUMBAI
GET DIRECTIONS