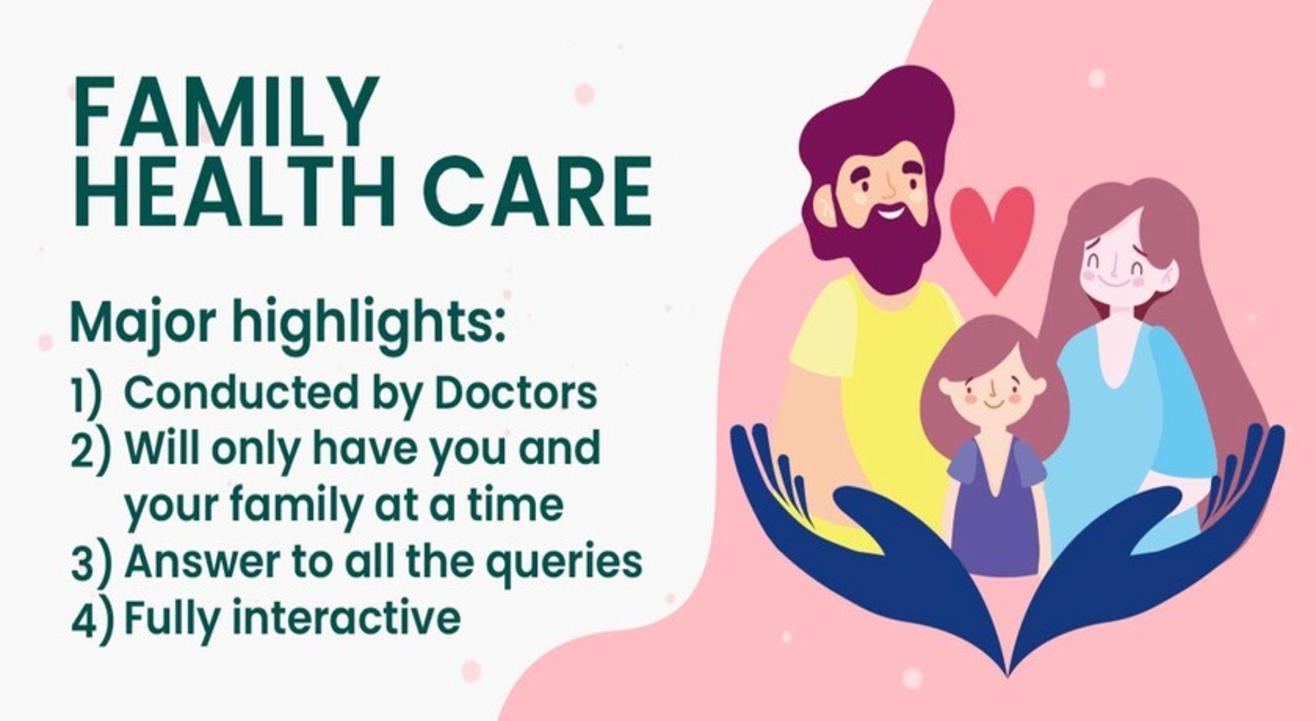 Event Guide
For Age(s)
Family Friendly
Interactive show
Be a part of the show
Invite your friends
and enjoy a shared experience
Event Guide
For Age(s)
Family Friendly
Interactive show
Be a part of the show
Invite your friends
and enjoy a shared experience
Event Guide
For Age(s)
Family Friendly
Interactive show
Be a part of the show
Invite your friends
and enjoy a shared experience
Introducing Family Health Care to ensure family's understanding and acceptance of these needs and problems and to plan and provide health and nursing services with the active participation of family members. Also, to help families develop abilities to deal with their health needs and health problems independently.
This session is for every family who aims to stay fit and who feels health in the most important part of their life.
The session is conducted by doctors to give you clarity on all the health issues from children to parents.
The sheer dilemma in which we live in will be burst by our doctors and they give you all the answers to your queries in the personalised session.
All members can attend it collectively or can connect on Zoom/Meet from across the country.
We aim to bring:
Family health awareness
Discussion on all diseases
Clarity on particular disease faced by someone
Do's and Don'ts
Detailed explanation and assistance
Major highlights:
Conducted by doctors
Will only have you and your family at a time
Answer to all the queries
Fully interactive
In this world full of diseases, precautions are very important!! Not for you but for the whole family.
Stay safe and Stay healthy.
Contact-9508781469
Event Guide
For Age(s)
Family Friendly
Interactive show
Be a part of the show
Invite your friends
and enjoy a shared experience