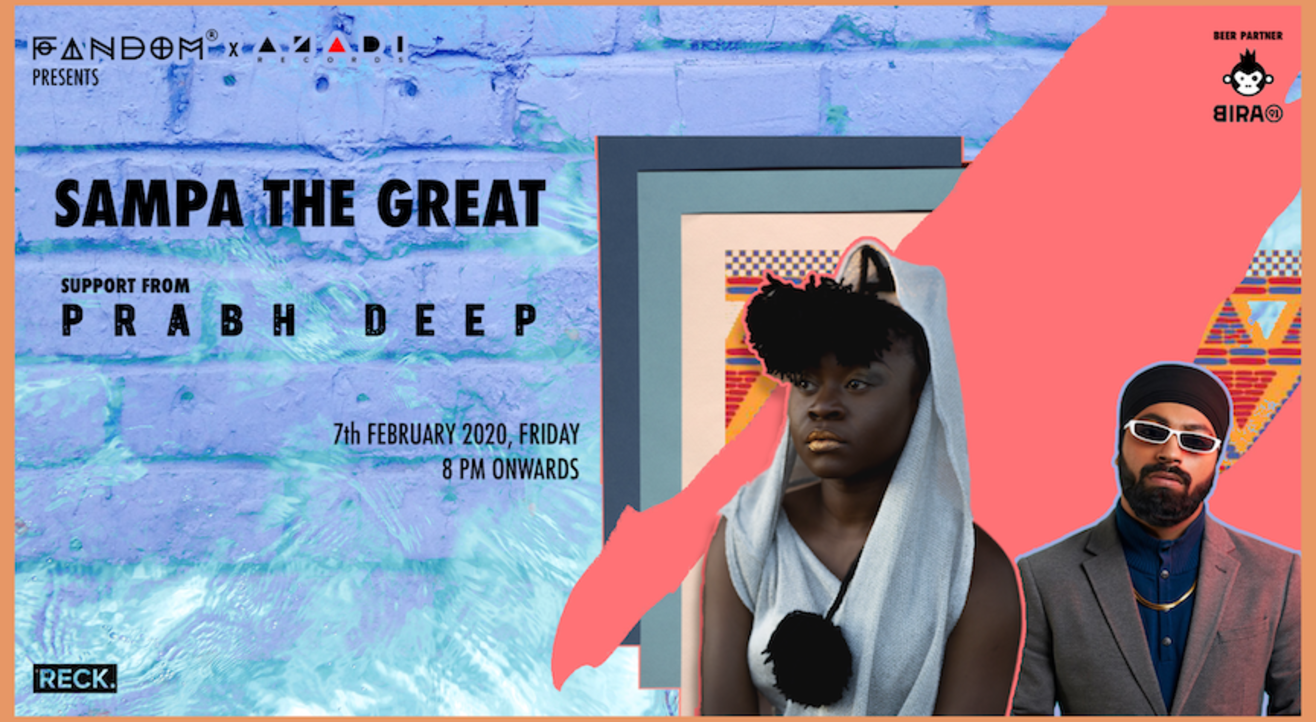 Music
Fandom x Azadi Records presents Sampa The Great (SA/ AU) & Prabh Deep
Fandom at Gilly's Redefined
About
★ Sampa The Great ★
The rise of Sampa the Great has been spectacular to watch. Having previously released two mixtapes in The Great Mixtape (2015) and Birds And The BEE9 (2017), the Zambian-born, Botswana-raised and now Melbourne based artist shared her debut album The Return, in 2019.
The Return sees Sampa delve into conversations of freedom, expression, heritage and displacement that have filled a four year journey towards finding home within herself. It is a walk beyond her journey to self-discovery, rather a formative climb to enlightenment and contentment fuelled by her experiences as an artist in Australia and the physical, spiritual and cultural influences of her ancestors and birthplace in Zambia.
Mixed predominantly by Stones Throw's Jonwayne and BoyBetterKnow' s go-to engineer MsM and Andrei Eremin (Grammy Nominated Engineer). The Return blends hip-hop, neo-soul, gospel, afrobeat and jazz and features productions by Silentjay, Kwes Darko (Slowthai) and Clever Austin (Perrin Moss of Hiatus Kaiyote) as well as collaborations with Ecca Vandal, Blue Lab Beats, Jazz-collective Steam Down and many more.
The fruits of Sampa The Great's back catalogue has accumulated over 33 million collective streams since her 2015 breakout The Great Mixtape, which was described by OkayPlayer as "an adventurous young mind-pushing out against all boundaries". Following that, Sampa released her HERoes EP and HERoes Act 2 EP, the latter being a collaboration with Estelle, Rahki and Red Bull Sound Select.
★ What is Fandom at Gilly's Redefined? ★
At Fandom, our new live venue, prepare to be blown away by sensational live performances. Our 500 standing capacity venue is fully equipped with a grand stage and a robust sound and lighting system. To find out who is performing at Fandom, just check out our Event Calendar!
★ What is Gilly's Redefined? ★
Gilly's Redefined is the next step in the gastronomic evolution of our signature resto-bars - Gilly's. We have kept in mind the years of feedback we've received from our guests, threw in some spices of inspiration and hard work, blended it with yumminess, and topped it off with top-notch entertainment throughout the week so that every day feels like the weekend.
We have carefully and lovingly curated 3 floors of unique experiences- Our vibrant restobar, Myu Bar and towering rooftop, The Terrace
Be it a working lunch, catching up with friends, a relaxing event with family … you can celebrate it here within one groovetastic destination because it's always a good time at Gilly's!
*Club rules apply.
Sampa The Great - Final Form
Venue
Fandom at Gilly's Redefined
1st floor of Gillys redefined, # 413, 100 Feet Road, 4th Block, Koramangala, Bengaluru, Karnataka 560034