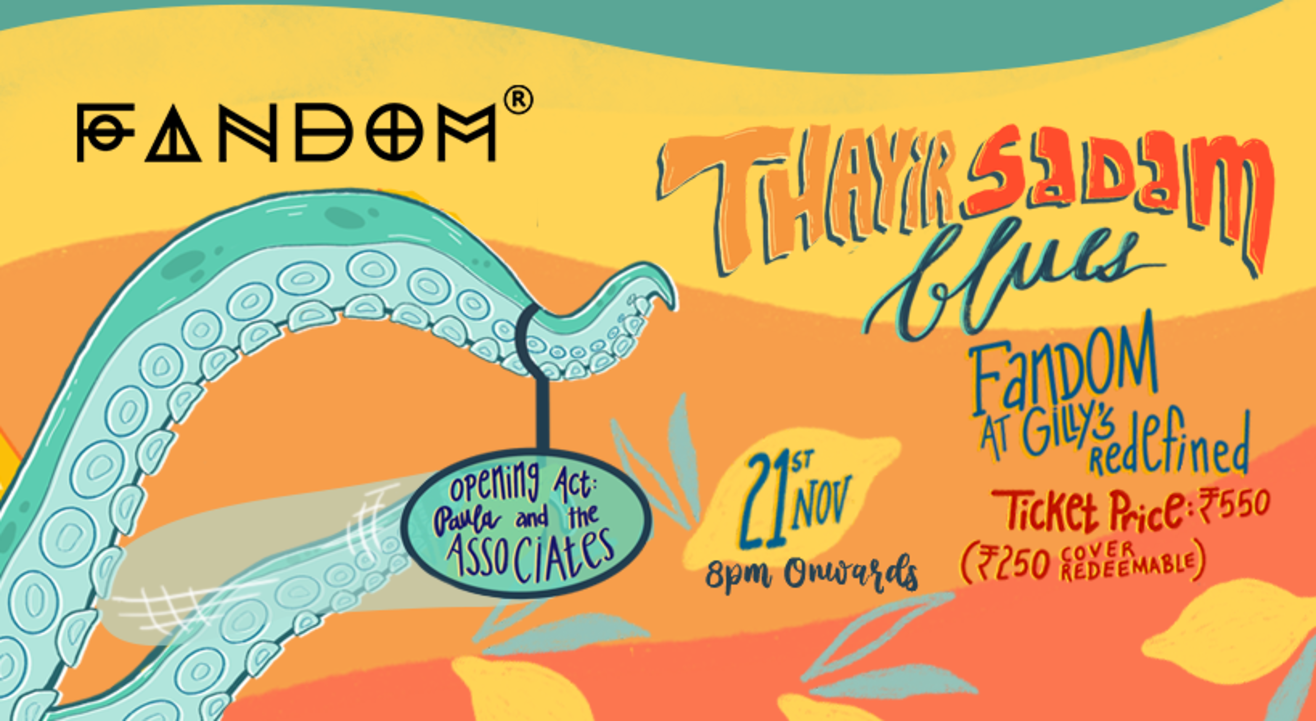 Music
Fandom presents Thayir Sadam Blues + Paula & The Associates
Fandom at Gilly's Redefined
About
Thayir Sadam Blues
Aditya Veera- Vocal
Allan Santosh - Keyboard
Ashwanth Vergis - Saxophone
Chlipher Chris - Guitar
Kenneth Gerald - Keyboard/Talkbox
Kaustub - Bass Guitar
Ranjani Ramadoss - Vocal/Saxophone
Ujjwal KS - Drums
Vijayganesh Pachnandhan - Guitar
Thayirsadam Blues are your friendly neighborhood Blues/Pop-Rock/R&B Band hailing from Bangalore led by frontman Aditya Veera. We are a 9 piece band Inspired by the elegant simplicity of Curd Rice (Thayir Sadam) , we bring you a soulful blend of acoustic, modern pop, rock, jazz, funk and reggae music with a bluesy touch to it. Our music is aimed at taking the listeners on an emotional roller coaster ride, creating a sonic cocktail of nostalgia, elation, melancholy and excitement. More than just being a band, they keep ourselves open to collaborative experiments with other talented artists, to take their audience on a diverse musical trip in our live shows. The band will play funk, blues, pop-rock, R&B.
With Aditya's powerful and dynamic vocals, Chlipher's funky riffs and Vijay's smooth guitar solos, Kaustubh's thumping bass, Ranjani's magnanimous abilities at vocal's, Ashwanth's saxophone solos, Ujwal's drumming to top it off with, and last but not the least Kenneth and Alan's magic on the keys –Thayirsadam Blues are your friendly neighborhood band whose music is synonymous to a live orchestral experience.
Their Influences: Coldplay, Eagles , Eric Clapton , Etta James , Bruno Mars , James brown , Frank Sinatra , Jamiroquai.
Expect a lot of pop-rock, R&B, blues in the form of a mini ensemble experience with some of our original music and covers featuring some of your favourite bands like Coldplay, Eagles, Commodores, Eric Clapton and Friends, Sinatra and Etta James in our own inimitable style.
Genre - Blues , Pop-Rock , R&B
Paula & The Associates
A Bangalore-based band full of nerds: Samudra Dasgupta on
rhythm guitar, Rishav Raj Agarwal on lead guitar, Kaustubh G R on bass, Bharath Y on drums and Ranjani Ramadoss on vocals and saxophone. And of course, the beautiful Paula.
What is Fandom at Gilly's Redefined?
At Fandom, our new live venue, prepare to be blown away by sensational live performances. Our 500 standing capacity venue is fully equipped with a grand stage and a robust sound and lighting system. To find out who is performing at Fandom, just check out our Event Calendar!
What is Gilly's Redefined?
Gilly's Redefined is the next step in the gastronomic evolution of our signature resto-bars - Gilly's. We have kept in mind the years of feedback we've received from our guests, threw in some spices of inspiration and hard work, blended it with yumminess, and topped it off with top-notch entertainment throughout the week so that every day feels like the weekend.
We have carefully and lovingly curated 3 floors of unique experiences- Our vibrant restobar, Myu Bar and towering rooftop, The Terrace
Be it a working lunch, catching up with friends, a relaxing event with family … you can celebrate it here within one groovetastic destination because it's always a good time at Gilly's!
Venue
Fandom at Gilly's Redefined
1st floor of Gillys redefined, # 413, 100 Feet Road, 4th Block, Koramangala, Bengaluru, Karnataka 560034