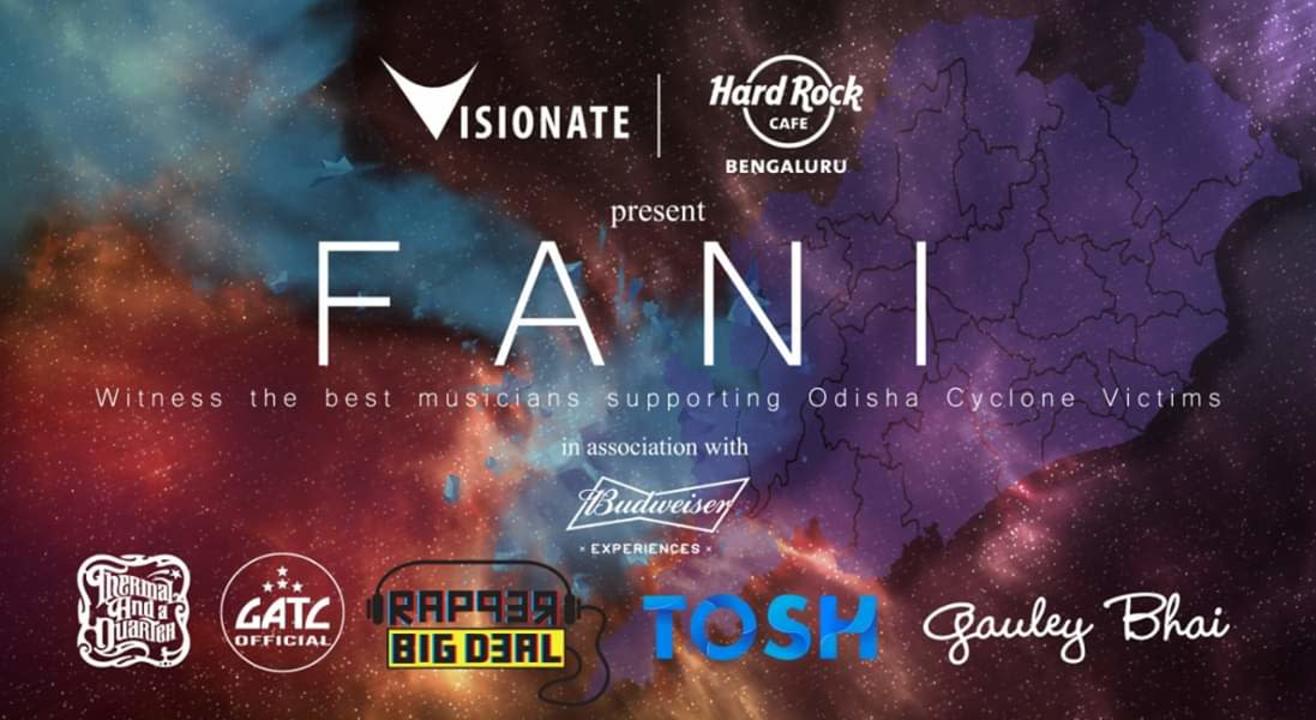 FANI - A Fundraiser Musical Night
Hard Rock Cafe (do not use), Bengaluru
Invite your friends
and enjoy a shared experience
FANI - A Fundraiser Musical Night
Hard Rock Cafe (do not use), Bengaluru
Invite your friends
and enjoy a shared experience
Invite your friends
and enjoy a shared experience
The Fani- Fundraiser Event Night will comprise of power packed Band Performances, RAP shows and Music Artists.
The entry charge is Rs. 499 and there will be a cover charge of Rs. 500 (completely redeemable on Food and Beverages)
The amount raised by the tickets will be donated to the Odisha Chief Minister Relief Fund to help the victims who are hungry, sleepless, without shelter and looking for our help. The Odisha Cyclone was the deadliest summer cyclone in 52 years which took away more than sixty lives, destroyed homes and shattered infrastructure. The total loss is pegged to be around twelve thousand crores and the cities, towns and villages are without electricity, drinking water, mobile network. The hot summer is adding to the pain and at this critical juncture we should show our humanitarian spirit by supporting the victims.
Each ticket that you buy will bring a smile on the face of a victim and will serve as a ray of hope to rebuild his/her life. We expect you to be a part of the event and show your support to rebuild lives of the victims.
Artist Line-Up And Description
Girish And the Chronicles
Girish and The Chronicles" is a Hard Rock band founded by the Lead Vocalist / Guitarist / Songwriter - Girish Pradhan, on the 18th of October, 2009 in Gangtok, Sikkim (India). Their originals draw inspiration from day to day struggles, war, interpersonal relationships, life onstage, backstage, offstage and reminiscing rock and roll experiences of the band. The track "Golden Crown" written for the Sikkim Football Association, feeding into the football craze in their hometown became a part of their playlist, much to the delight of football fans. While they were already performing "I Wanna Get That Lovin' Again" and "Ride to Hell" at gigs, these tracks were not recorded for a very long time. In mid-2010, their single "Yesteryears" was nominated and awarded a Silver Trophy, at the "Suncane Skale Festival, Montenegro, Europe. This gave the band's publicity a boost and triggered public awareness. They have played across various countries and continents at multiple shows and for various labels.
Thermal And A Quarter
Thermal and a Quarter has been a Bangalore rock band since 1996. At that time, they've released 7 albums, including the first Indian concept album and the first triple album from the continent. They've played in the USA, Europe and all over Asia and been featured on radio shows and in magazines across the world. Thermal And a Quarter's music is a sound of comfort with the western rock idiom in the same way that nearly everyone in Bangalore speaks at least a smattering of English. But it's not just rock. There's blues, funk, jazz, prog, maybe even some soul. Bruce Lee Mani, the face of Thermal and A Quarter is the only Indian guitar player to have won the Rolling Stone Magazine 'Guitar Player of the Year' Award twice – in 2009 and 2012. In 2011, Bruce also won the Leon Ireland 'Vocalist of the Year' Award.
Rapper Big Deal
He started rapping at the age of 17 after watching the movie 8 mile. Inspired by the rawness and the sheer power of the freedom of expression, he began to pen down his own thoughts in the form of rhymes. In the beginning it was more of a way to stand out and gain attention but things got serious when he started using rap as a tool to vent. His lyric predominantly focuses on uplifting lives and inspiring people to overcome everyday struggles. So he raps for that one kid with a dream in order to provide him enough inspiration to carry on and persevere regardless of the struggle that he faces. That is the reason WHY he raps.
Tosh Nanda
Tosh is a music composer, multi-instrumentalist, artist, performer, sound designer with many international & regional feature films to his credit and has composed music for news channels, games, advertisements & music videos. He is one among the pioneers to bring Epic Rock into the Indian music scene. Tosh came to Chennai pursue his Musical dream in 2007. After completing his sound engineering from the prestigious L.V.Prasad Film & T.V. Academy, he further carried his musical journey by getting into A. R. Rahman's K.M. Music Conservatory & over the years got great exposure and opportunity to work with the best in the industry. He then continued to work on numerous films, jingles, advertisements and independent music videos .He initiated his Socio-cultural campaign Uttisthata Jagrata in the year 2017.
Gauley Bhai
Gauley Bhai is a Bangalore based band, formed in 2017. Veecheet, Siddhant and Anudwatt are originally from Kalimpong, and Joe, from Calicut. This intersection of geographies and musical roots is the essence of Gauley Bhai's music. ' Joro'(fever) is their first album, a thematic exploration of love, identity and memory which launched on June 5th, 2019.
Hard Rock Cafe (do not use)
40, St Marks Rd, Shanthala Nagar, Ashok Nagar, Bengaluru, Karnataka 560001
GET DIRECTIONS
FANI - A Fundraiser Musical Night
Hard Rock Cafe (do not use), Bengaluru
Invite your friends
and enjoy a shared experience