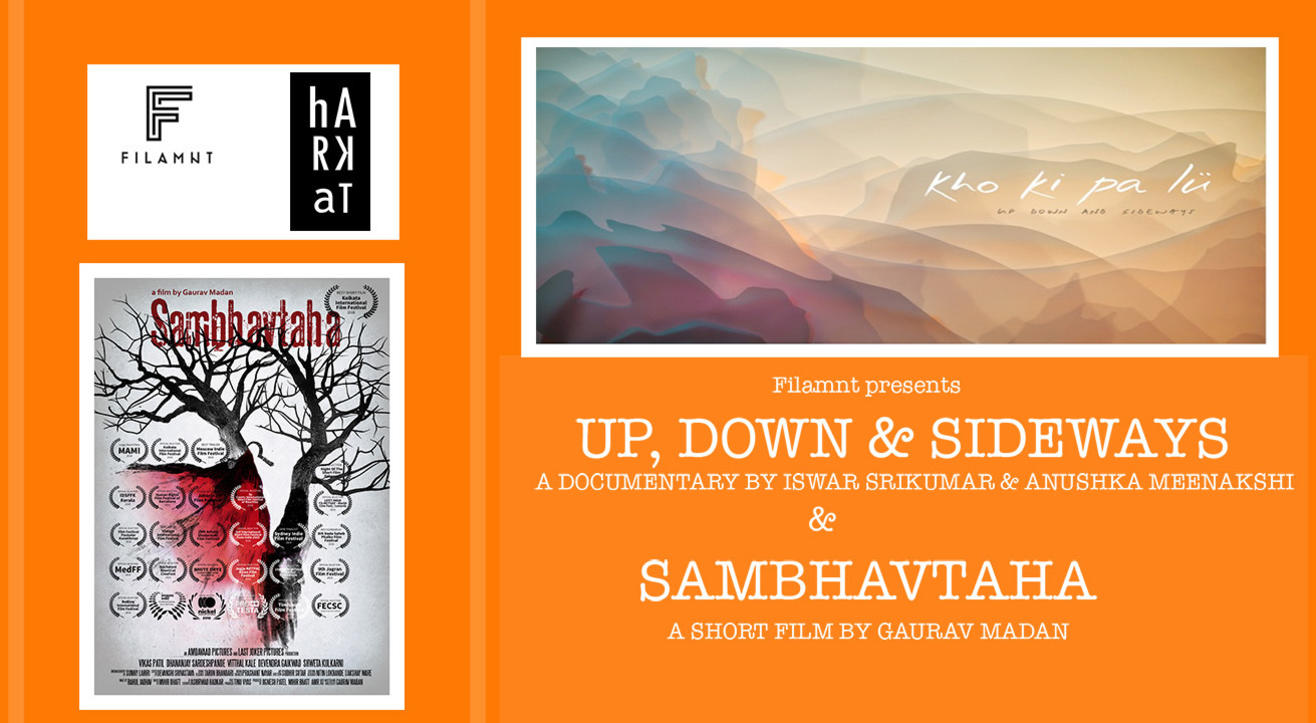 Screening
Documentary + Short Film Screening
Harkat Studios, Versova, Mumbai
About
Double Bill! 1 Feature + 1 Short film brought to you by Filamnt.
KHO KI PA LÜ [Up Down & Sideways]:
"If not for you, I have no other true love
When we work together the sun sets early
Without you, I am nothing"

Close to the India - Myanmar border is the village of Phek in Nagaland. Around 5000 people live here, almost all of whom cultivate rice for their own consumption. As they work in cooperative groups — preparing the terraced fields, planting saplings, or harvesting the grain and carrying it up impossibly steep slopes — the rice cultivators of Phek sing. The seasons' change, and so does the music, transforming the mundane into the hypnotic. The love that they sing of is also a metaphor for the need for the other - the friend, the family, the community, to build a polyphony of voices.

Stories of love, stories of the field, stories of a song, stories in song. 'Up Down & Sideways' is a musical portrait of a community of rice cultivators and their memories of love and loss, created from working together on the fields. It is the first feature film from the u-ra-mi-li project, a larger body of work that looks at the connections between music and labour.
The government is acquiring thousands of hectares of farmland to build a highway. Farmers are questioning the need. Most are agitating quietly, but some are threatening to commit suicide. This is the story of a farmer, Vinoba, who decides to take extreme action, but not take his own life. There is a rebellion brewing in his subconscious.

Runtime: 23 minutes
Language: Marathi with English subtitles
Kho ki pa lü / Up Down and Sideways TRAILER
Venue
Harkat Studios, Versova, Mumbai
HARKAT STUDIOS, BUNGALOW 94, FIRST FLOOR, ARAM NAGAR 2, VERSOVA, ANDHERI WEST, 400061-MUMBAI