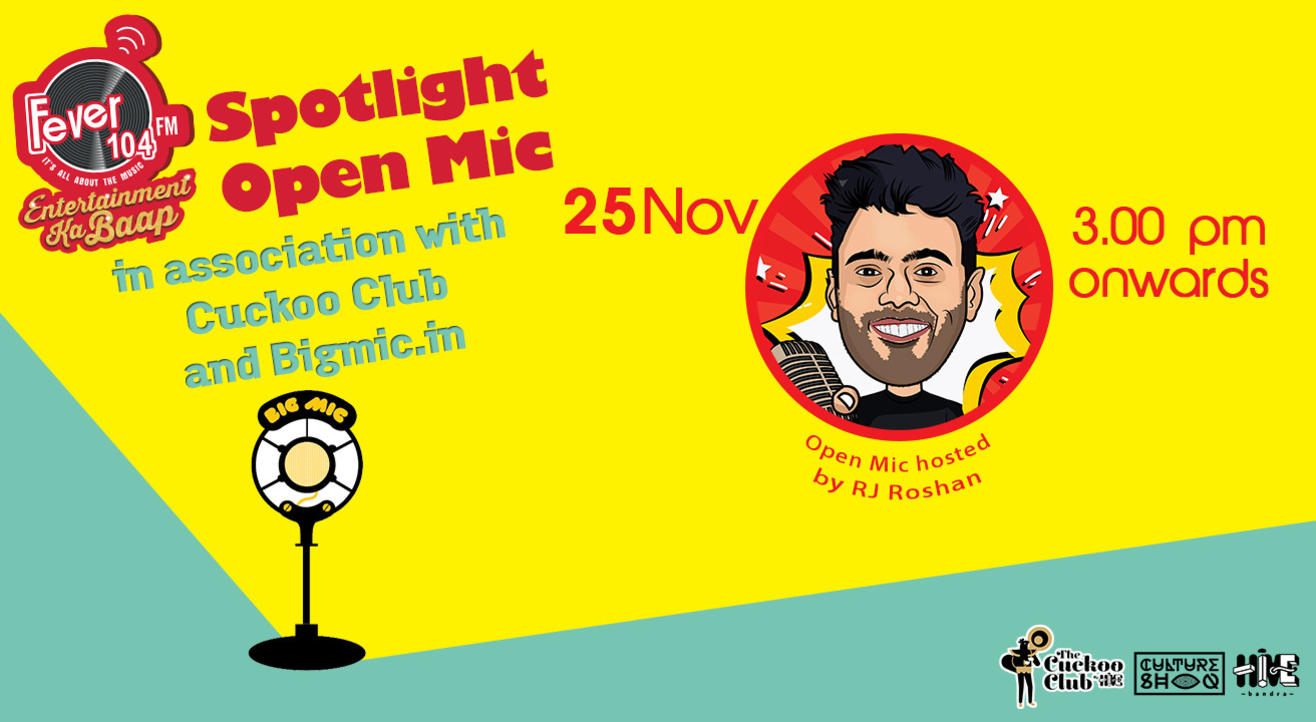 Fever 104FM Spotlight Open Mic in association with BIGMIC.in
The Cuckoo Club, Mumbai, Mumbai
Invite your friends
and enjoy a shared experience
Fever 104FM Spotlight Open Mic in association with BIGMIC.in
The Cuckoo Club, Mumbai, Mumbai
Invite your friends
and enjoy a shared experience
Invite your friends
and enjoy a shared experience
Indias longest running open mic is back with a special edition of your favourite weekly BIGMIC dose of raw unfiltered amateur talent across Poetry, Music and Comedy alike trying out fresh material in this special competition edition of the BigMic!! We're hosting a special Fever 104FM Spotlight show Open mic hosted by RJ Roshan. Roshan will be judging the event as well with the winner performing live on the Fever 104FM Spotlight show hosted by RJ Roshan.
Performers register on bigmic.in
About Fever 104FM Spotlight
A first in radio. RJ Roshan started Spotlight with the vision of showcasing outstanding talents. Curated talents from all walks of life (flautist, stand up comedian, singers, bar tender, poets, bands, beat boxers, etc) Giving a platform to these talents and mentoring them has been one of the high points of the show. It's only a year old, in which we have already featured 52 artists with fanfare and have grabbed attention of listeners. Some famous artists (now) were featured on the show before much before they went on to become stars. Likes of Rajeev Raja, Bombay Lokal, MJ5, etc. This Sunday, you have a chance to showcase your talent at Cuckoo Club and win the very same radio show "Spotlight" with RJ Roshan on Fever 104 FM.
The Cuckoo Club, Mumbai
5AA, Pali Hill Road, Next to Candies, Bandra West, Mumbai, India 400050
GET DIRECTIONS
Fever 104FM Spotlight Open Mic in association with BIGMIC.in
The Cuckoo Club, Mumbai, Mumbai
Invite your friends
and enjoy a shared experience