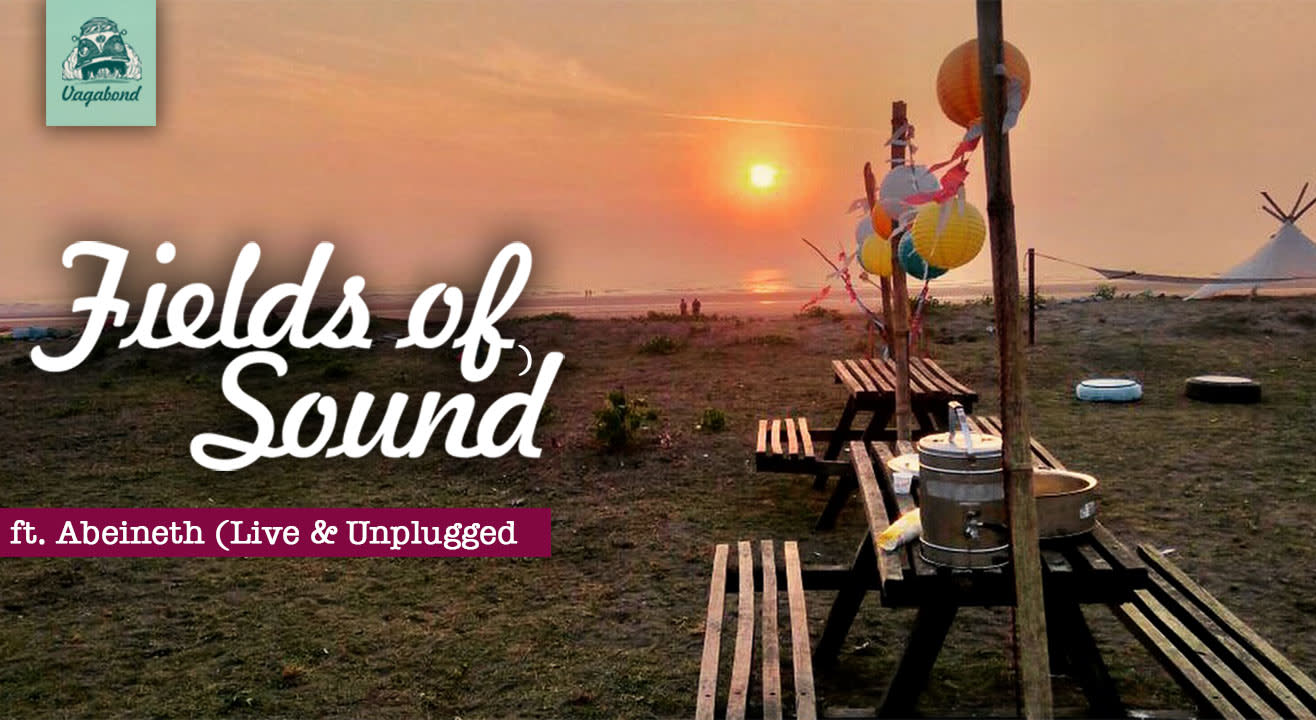 Explore
Fields of Sound ft. Abeineth (Live & Unplugged)
About
Does God exist? Do dragons exist? No one knows! All that you know is that weekends at the beach are delicious! And how do you make things extra tasty? By adding some ingredients that just elevate this experience further. This is easy, read on.


First, get a bunch of like minded dudes and dudettes who are looking to have a good time away from the mundane. These are the star ingredients of the whole scene. Now transport these people to a clean and secluded beach far, far away from the city. While both of these elements are combining and simmering and bringing out the excitement, boom! Add a dollop of the most perfect sunset. Now you are cooking!


Then, you add a big helping of an amazing artist playing a live set just for the occasion. So you are listening to the artist who is melting your hearts and the weather is getting chilly, the sky is garnished with stars and you sprinkle some succulent barbeque on top and all of a sudden you have this flavorful evening that's coming together.


So you are just chilling and having a good time and everybody is in their zone when out of no where you add some open mic to the scene. That's right! You guys as ingredients get to make things even more tasty. Now top that off with a hearty dinner and roasted marshmallows and turn up the heat with a roaring campfire. Fields of Sound is now simmering in its own juices and is slowly turning out to be one of the best weekends of your life.


The next morning is Makar Sankranti, so obviously this dish needs some kite flying at the beach and finally a lil garnish of a piece of history when you visit the mesmerizing Revdanda Fort.


The left over memories that you guys take back will remain fresh for a lifetime.
Do you smell what daddy's cooking? Woooooo! Meow! World wide peace!


Further queries, contact: +91 9819765950, +91 9867952811
13th - 14th Jan
Meeting point- Mandwa Jetty at 2:30 PM (Day 1)
Departure point - Mandwa Jetty at 1:30 PM (Day 2)
Transport (Mandwa Jetty > Revdanda Beach > Mandwa Jetty)
Meals: High tea, barbeque, dinner, breakfast
Accommodation: 3/4 man sharing tents with mattress & pillows
Entertainment: Live music gig ft. Abeineth, open mic, campfire, roasted marshmallows, kite flying, visit to Revdanda fort, football, cricket.
Transport from Mumbai to Mandwa Jetty and back.
Expenses incurred by individuals over and above provisions by Vagabond Experiences.
Visit to any place not listed in the itinerary.
Extra pair of clothes, toiletries (towel, toothbrush, toothpaste, etc.), cap, insect repellent (Odomos spray/cream), personal medication (for eg. inhaler), music instruments (optional), slippers, long pants, long T-shirts/shirts, socks, warm clothes.
The beach you will be camping at is super secluded. No civilization or presence of humans as far as the eyes can see. So carry your swimwear if you'd like to. 10 slots of 5 minutes each will be given to the open mic registrations. Register ASAP! Please contact Vagabond to inquire about availability of seats and to register for the trip.
A Vagabond Experience isn't just one where you pack your bags and go visit a place outdoors. It's more than that. At a Vaga' experience, you meet new like-minded people and create bonds in comfortable social spaces that would last you a lifetime. By facilitating the understanding and appreciation for community living, they help you take a trip not only outwards but inwards too. Vagabond leads treks, camps, river rafting trips, backpacking trips to Himachal and musical experiences all year round.