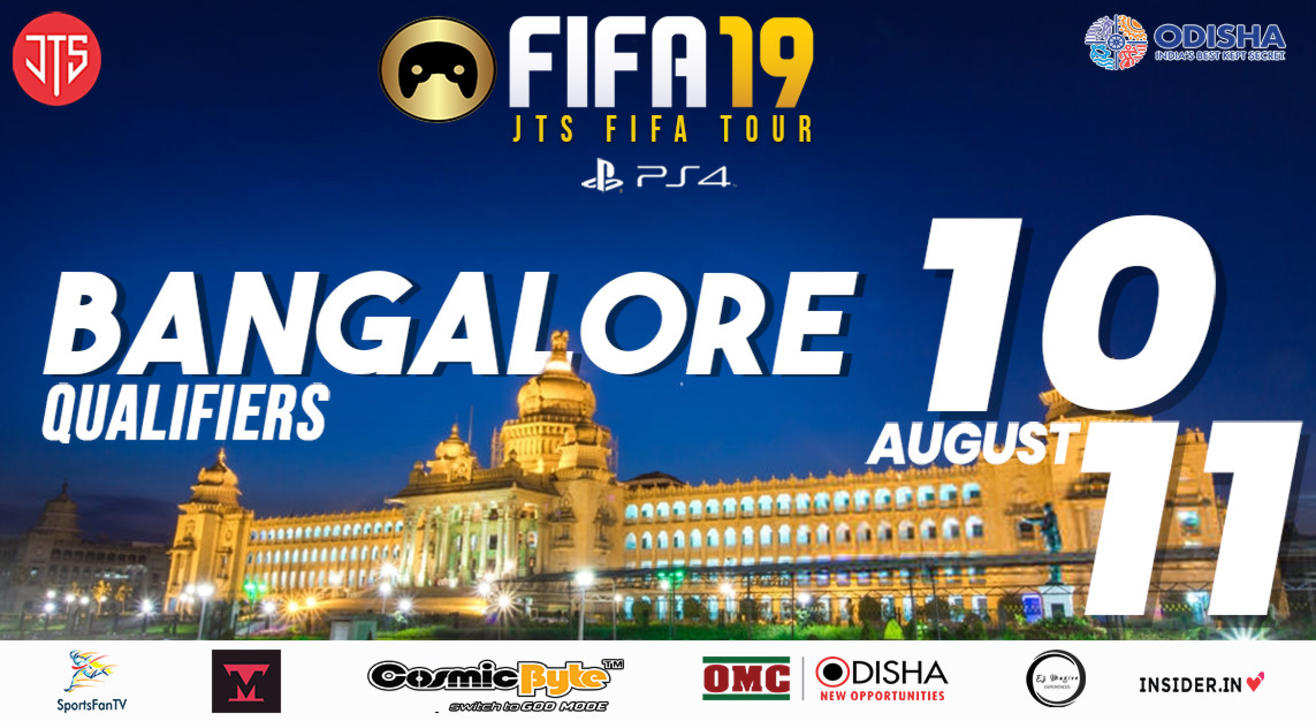 Sports
FIFA 19 WORLD TOUR | Bangalore Qualifier
League of Extraordinary Gamers (LXG), Bangalore
About
BIGGEST E-GAMING TOURNAMENT OF FIFA-19 IN INDIA


To all the FIFA gamers,
Get your passports ready. We are giving away a fully sponsored exotic trip to Morocco. Contest in India's first of its kind, biggest e-sports tournament and see FIFA 19 off. Win cash prizes & goodies and enjoy the mega experience.
Ticket inclusions
Additional information:
JUST THINK SPORTS Presents - FIFA 19 WORLD TOUR (Total Prize Pool Up to Rs. 10,00,000)
Qualifier -
Dates: 10th AUGUST 2019
Venue: League of Extraordinary Gamers
Entry Ticket - Rs. 600-800 (Solo 1v1)
Structure:
Single Elimination Format (Saturday 11 AM till Sunday 7:30 PM) -
Player plays against each other , loser gets eliminated
Match will be of 5 Minute Half till Quarters .
Quarters are 6 Minute Half.
Semi Final and Final are 6 Minute Half .
Semi will be two leg matches (Home and Away )
Final will be Single leg match .
If both the players wants same team then there will be a toss to decide who will take the team . Both players can't take the same team
Game Settings:
Difficulty Level: World Class
Half Length: 5 minutes till Quarters, 6 Minutes in Quarters,6 Minutes in Semi-Final and Final.
Specific Controller Setting Exceptions: Legacy Defending prohibited
Commentary Volume: on
Music Volume: 0
Time/Score display: On
Camera: Tele Broadcast
Radar: 2D
HUD: Indicator
FIFA Trainer: OFF
Goalkeeper Switching is not allowed
Custom tactics are allowed
Custom formations are disallowed
Injury OFF
Till Quarters : Matches will be single match knockout. If the result is a draw, then extra time and decide on penalties.
Custom formations are not permitted. Custom tactics and set pieces are available, however, JTS (organizers) can decide to turn them off at any point in its absolute discretion.
A player can pause the game to change strategy and players only when the game is stopped (ie: offside, touchline, fouls etc). Exceptionally players can pause the game each time one of his players is sent off and his strategy
In case of any conflict, the decision of Just Think Sports is final and binding. Rest of the game settings to remain default
Re-entry TBD ( Only on venue )
Tournament Prize Pool.
The Top 4 players will be awarded cash prizes as per the prize pool.
Good Luck everyone and Play Fair!
Venue
League of Extraordinary Gamers (LXG), Bangalore
#15, Ground Floor, 12th Cross, HAL II Stage, Domlur, Double Road, Indiranagar, Doopanahalli, Indiranagar, Bengaluru, Karnataka 560008