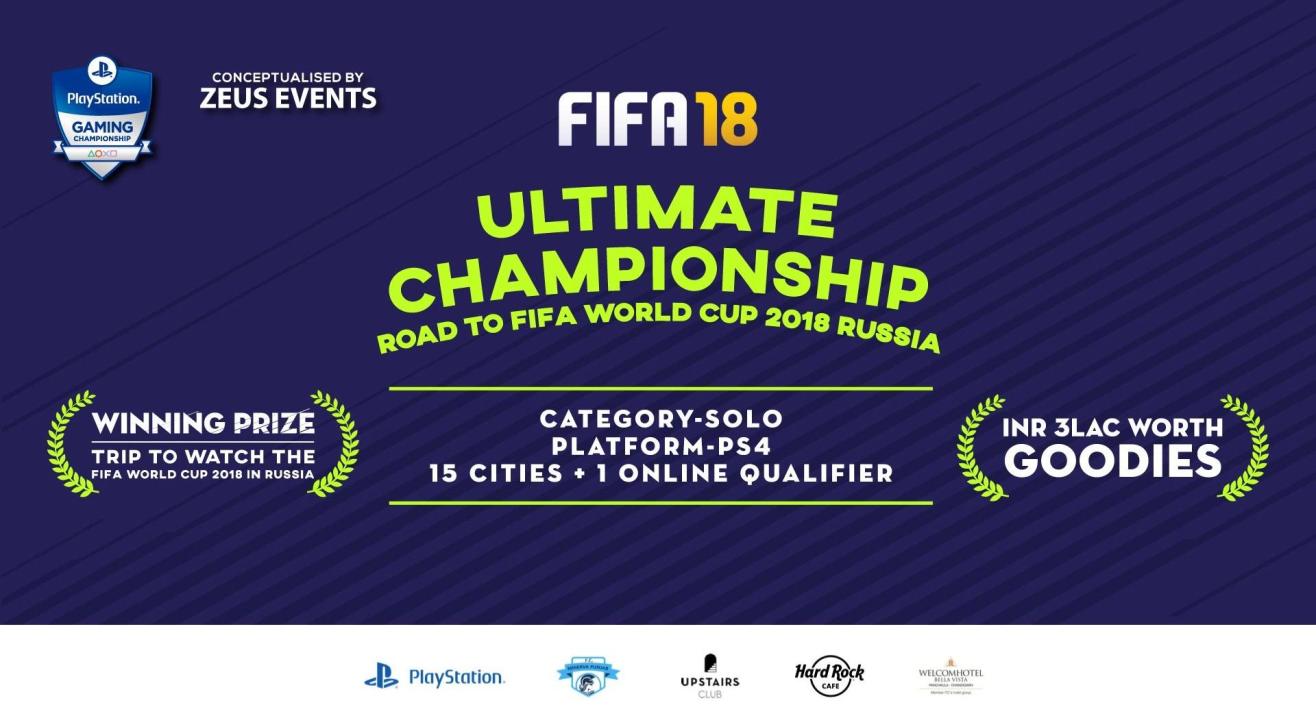 Games
FIFA Ultimate Championship, Chennai
April 14 & 15 | 11AM - 8PM
About
FIFA Ultimate Championship will be India's one of a kind offline + online gaming event to be held in 15 cities. The finals will be held in Chandigarh and the winner + 1 guest will get a trip to watch the FIFA World Cup 2018 in Russia.
Difficulty Level: Legendary
Half Length: 5 minutes

Defending-Tactical
Time/Score display: On
Camera: Tele Broadcast
Radar: 2D
FIFA Trainer: OFF
Goalkeeper Switching is not allowed
Custom tactics are allowed
Custom formations are not allowed

Extra Time-No extra time, penalties in case of a draw.
In case of any conflict, the decision of Zeus Events is final and binding. Rest of the game settings to remain default
Solo winner + 1 guest
2 economy return flights from Delhi to Moscow/Saint Petersburg or any of the qualifying cities conducting official FIFA World Cup Matches.
Hotel stay
1 group stage match ticket for FIFA World Cup 2018
Visa fee
Pls note-Food/meals and local travel/commuting is not included in the winning prize
FIFA Match Tickets are subject to availability and if the tickets are not available then Zeus Events is only liable to pay INR 2 lac to the winners (Solo 1.3 lac and runners up 70k)
It is not necessary to have a passport to enter in the tournament and the winner can choose to collect cash as the winning prize
Air tickets, hotels and FIFA World Cup match tickets will be booked after the grand finale.
Medical insurance is required to travel to Russia and if the winner does not have one, then they will have to buy it before applying for Visa
The grand finale will take place in Chandigarh on May 19/20 and winners of city qualifiers will be given complimentary travel and hotel to attend the event. (Only railway expenses will be paid)
Zeus Events will not be liable in case of any injury, death to any of the participants and/or the winners travelling to Russia.
Q-What is format of the tournament?
A-Group stage followed by knockouts
Q-Will the controllers be provided at the arena?
A-Yes and you can bring yours as well
Q-What time will the matches start?
A-11 am to 8 pm
Q-Bought tickets on Insider/Paytm, what to do next?
A-All participants are required to reach the venue at 11 am.
Q-Can I pay on the spot entry fee?
A-Yes
Q-How are the groups fixed?
A-Random draw
Q-How many matches will I play?
A-At least 2

Venue
Arknemesis Gaming India
Lower Ground Floor, Ispahani Centre, 123/124, High Rd, Thousand Lights, 600034, Nungambakkam, Chennai, Tamil Nadu 600006