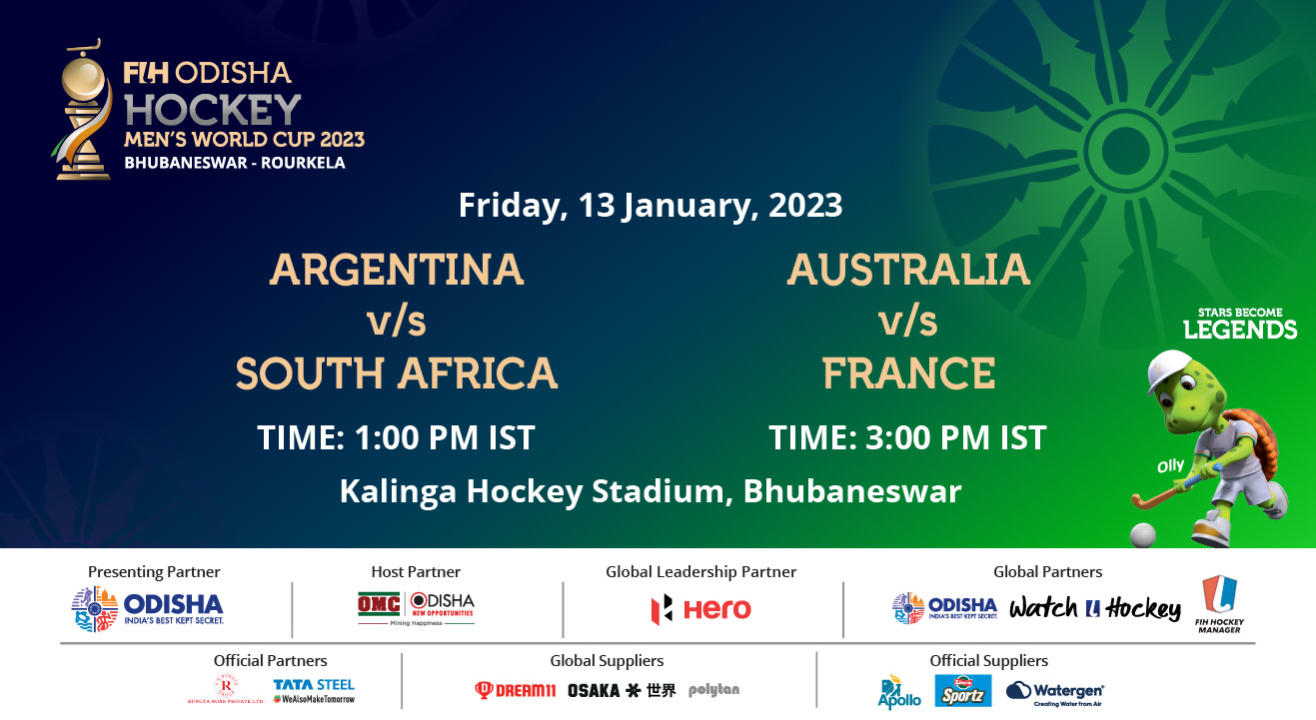 FIH Odisha Hockey Men's World Cup 2023 Bhubaneswar-Rourkela: Bhubaneswar - Day 01
January 13 | 1 PM (IST) Onwards
Kalinga Hockey Stadium, Bhubaneswar
Invite your friends
and enjoy a shared experience
FIH Odisha Hockey Men's World Cup 2023 Bhubaneswar-Rourkela: Bhubaneswar - Day 01
January 13 | 1 PM (IST) Onwards
Kalinga Hockey Stadium, Bhubaneswar
Invite your friends
and enjoy a shared experience
Invite your friends
and enjoy a shared experience
Venue: Kalinga Hockey Stadium
Matchday: 01
Lineup:
Argentina v South Africa: 1 PM (IST)
Australia v France: 3 PM (IST)
Box Office Location - The Customer can collect the tickets from: Bhubaneswar Box Office location – Reserve Police Line Ground, Opp to Gate No 8
Re-entry allowed only within stadium premises. Once the spectator leaves the stadium main gate, re-entry will not be allowed.
Hockey does not get better than this, the competition to be crowned World Champion! Counted as the pinnacle of the sport, the Hockey Men's World Cup is organised by the International Hockey Federation (FIH).

Held every four years, the best international teams from around the world compete in some of the most entertaining hockey. The hockey world is ablaze with a dizzying assortment of competitions. None, however, has come close to the World Cup since its inception in 1971.

During the 15th edition of the tournament to be held in Odisha, many new stars will emerge and some will become living legends.

The FIH Odisha Hockey Men's World Cup 2023, Bhubaneswar-Rourkela, will take place from January 13 to 29, 2023.

Kalinga Hockey Stadium
Nuasahi, Nayapalli, Bhubaneswar, Odisha 751012
GET DIRECTIONS
FIH Odisha Hockey Men's World Cup 2023 Bhubaneswar-Rourkela: Bhubaneswar - Day 01
January 13 | 1 PM (IST) Onwards
Kalinga Hockey Stadium, Bhubaneswar
Invite your friends
and enjoy a shared experience