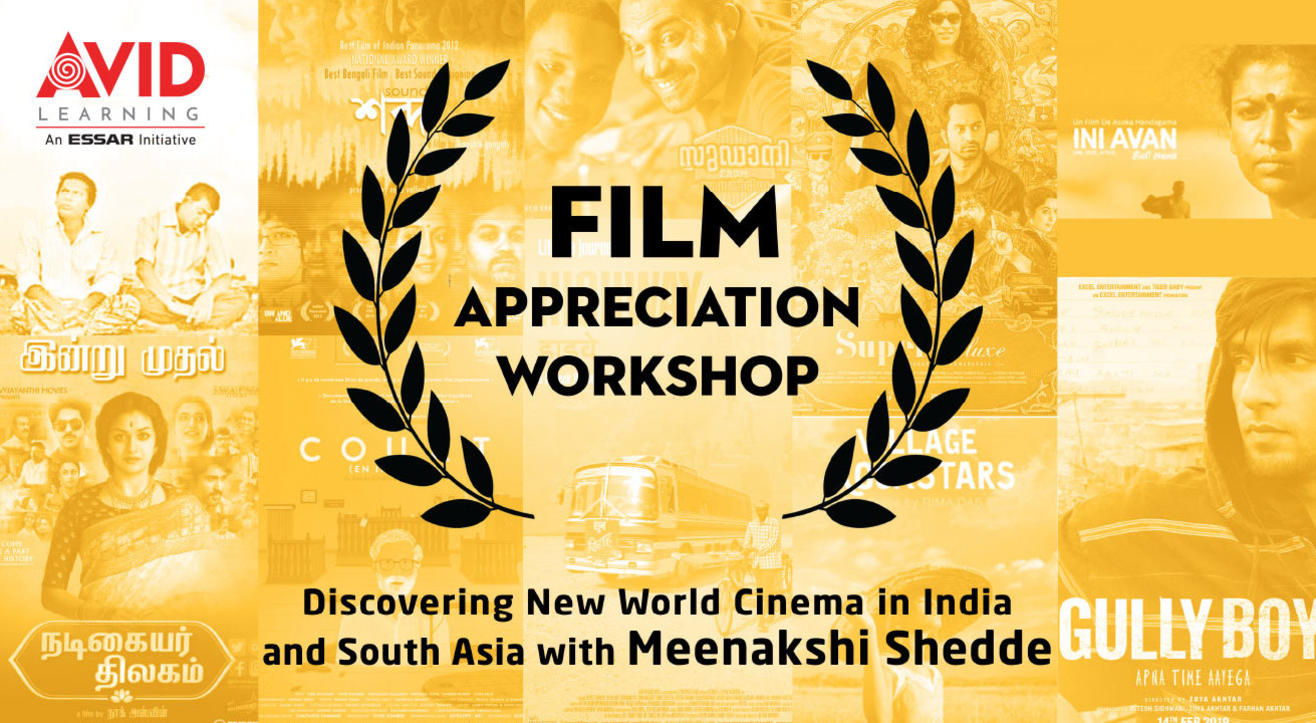 Learn
Film Appreciation Workshop with Meenakshi Shedde
Essar House, Mahalaxmi, Mumbai
About
Avid Learningpresents an #AVIDWORKSHOPwhich will explore the essentials of film appreciation, and emphasise how Indian and South Asian films must rightfully claim their place in world cinema, as they are regularly selected at top film festivals worldwide. Even though India makes films in an incredible 42 languages and dialects, people still think of Bollywood when you say Indian cinema. And if you ask any Indian which countries make world cinema, he/she will mention many countries, but never Indian cinema. Yet, Indian films in many regional languages, including films Hindi, Malayalam, Tamil, Marathi, Bengali, Assamese and more, are at international film festivals worldwide, and thus part of world cinema. Earlier, they could mostly be seen only at festivals. But with the emergence of digital new media platforms such as Netflix and Amazon Prime Video and Hotstar, these films are gaining popularity with wider audience access, transforming their future.
Avid Learning presents a third Film Appreciation Workshop: Discovering New World Cinema in India and South Asia with Meenakshi Shedde.
Workshop Highlights include:
* Conceptual frameworks of film appreciation
* Discussion on internationally acclaimed regional films, screening of trailers
* Examining the impact of digital and new media platforms on regional films
* Screening and analysis of Reema Sengupta'sshort film Counterfeit Kunkoothat was at the Sundance Film Festival, USA
* Q/A with Alankrita Shrivastava, writer-director of Lipstick Under My Burkha(80 film festivals) and Reema Sengupta, director of Counterfeit Kunkoo(short), that was at the Sundance Film Festival and 100 film festivals in all
Join us for an enlightening film appreciation workshop that will examine new world cinema in India and South Asia!
About the Instructor
Meenakshi Shedde is India and South Asia Delegate to the Berlin Film Festival (since 1998) and independent film curator, based in Mumbai. Winner of India's National Film Award for Best Film Critic, she has been on the jury of 20 international film festivals, including Cannes, Berlin and Venice. She has been India/Asia/ International Curator/Consultant to the Berlin, Toronto, Locarno, Busan, British Film Institute (BFI London), Dubai, IFFI-Goa, Kerala, Mumbai and Colombo Film Festivals and Kochi Muziris Biennale. A filmmaker, she has also been Mentor on Script Labs and Film Critics' Labs worldwide. A senior journalist, she freelances for media worldwide, including Variety, Screen International, Sight & Sound, Film Comment, Cahiers du Cinema and Midday, and has written for/edited 17 books, mainly on cinema.
About AVID
Avid Learning, a public programming platform and cultural arm of the Essar Group, has conducted over 1000 programs and connected with more than 125,000 individuals since its inception in 2009. Driven by the belief that Learning Never Stops, AVID's multiple formats like Workshops, Panel Discussions, Gallery Walkthroughs, and Festival Platforms create a dynamic and interactive atmosphere that stimulates intellectual and creative growth across the fields of Culture & Heritage, Literature, Art and Innovation.
Facebook: www.facebook.com/Avidlearning; Twitter: www.twitter.com/Avidlearning; Instagram: @avidlearning
Venue
Essar House, Mahalaxmi, Mumbai
Essar House, 11 K K Marg, Opp Race Course,, Mumbai, Maharashtra 400034