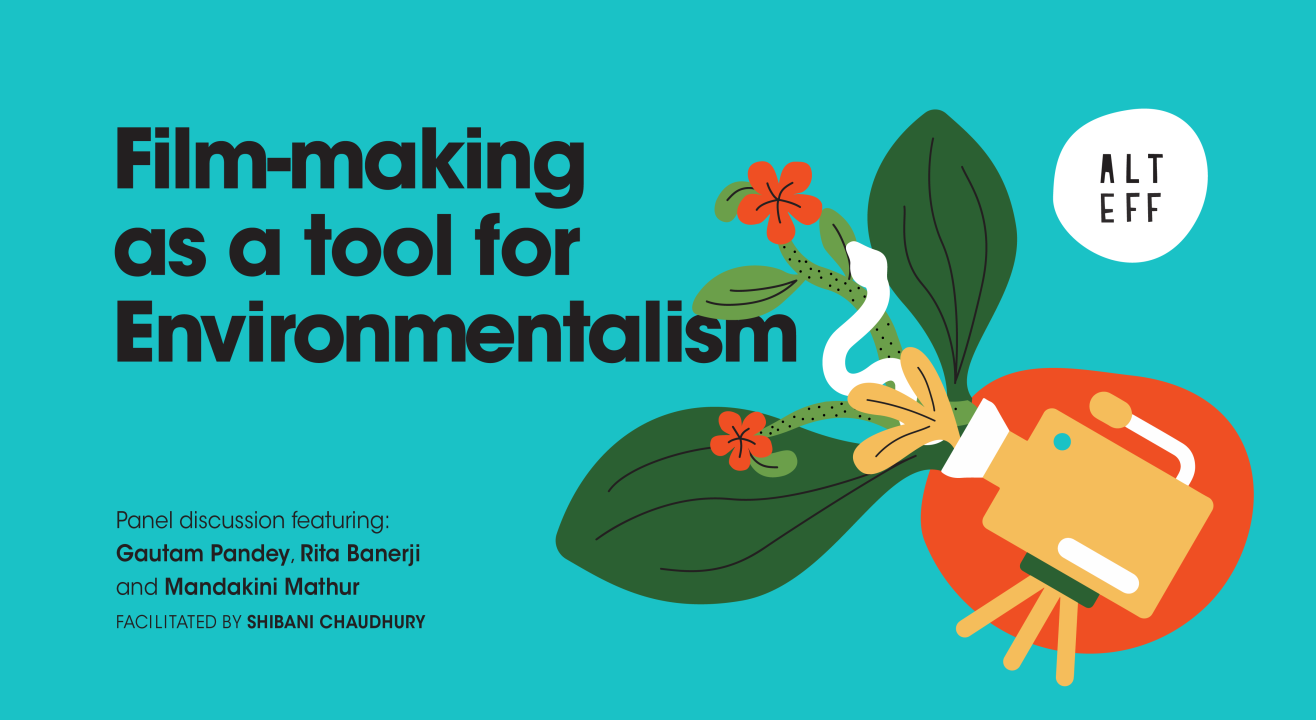 Filmmaking as a tool for Environmentalism
Event Guide
Digital Event
Watch on Zoom
For Age(s)
Family Friendly
Live Performance
Enjoy a unique experience
Invite your friends
and enjoy a shared experience
Event Guide
Digital Event
Watch on Zoom
For Age(s)
Family Friendly
Live Performance
Enjoy a unique experience
Invite your friends
and enjoy a shared experience
About the Event
The medium of film has long become a popular tool to mesmerise, inform and move audiences on environmental issues. Box office hits like Wall-E (2008), An Inconvenient Truth (2006), Chasing Ice (2012) and Erin Brokovich (2000) demonstrate the variety in storylines created to not only capture viewers' interest but also their emotions. Looking at the climate crises we're in, it's obvious that facts alone are not enough to get us to jump off the couch and act.
But how effective and impactful are environmental films really? What do we even consider as "making an impact"? Do we need to both shock and entertain to get viewers to care for the environment? How have environmental films evolved and how can they set themselves apart today, when hobby filmmaking takes place on an iphone?
ALT EFF presents Rita Banerji (Founder of Green Hub Project), Gautam Pandey (Director, Riverbank Studios) and Mandakini Mathur (Chairperson and Founder of Devrai Art Village in discussion on these topics and your questions! The conversation will be facilitated by Shibani Chaudhury (Executive Director, Dusty Foot Foundation).
Sign up for free now.
Time: 4:00PM - 5:00 PM on Sunday, 6th of September.
The session will include a Q&A, open to the audience.
Read on..
All Living Things Environmental Film Festival (ALT EFF) is a platform that inspires and mobilises communities to take action towards co-creating a sustainable future, locally and at large. Through the films (which include but not limited to climate change, biodiversity, habitats, geography, urban life, food systems, energy, sustainability, wildlife, exploration, conservation, social justice, connections and challenges between people and place, protection and restoration of wild places), ideas exchanged and activities undertaken, ALT EFF will showcase the beauty of the planet, create awareness about critical issues and inspire viewers to envision and shape our possible futures.
The inaugural ALT EFF is set to take place in Panchgani on 5-6th December 2020. The festival itself will be 100% zero-waste, and follow sustainable practices, such as a cradle-to-cradle approach, net positive emissions, and active community integration. These practices will be made open source for other events to learn from, and follow.
For more information about ALT EFF, check: www.alteff.in
instagram: @alt.eff
Write to us at: info@alteff.in
The Speakers:
RITA BANERJI is the founder & director of the Green Hub Project (A North East Network - Dusty Foot Initiative), which looks at leveraging the power of youth in conservation action and social change through the power of the visual medium. She has been one of the leading environment filmmakers in India, having been part of three Panda award winning films, also known as the Green Oscar at Wildscreen Festival. This includes 'Shores of Silence - Whalesharks in India' and 'The Wild Meat Trail' . In 2017 she was awarded the National Geographic – CMS Prithvi Ratna Award for contribution to the environment through films and the RBS Earth Heroes award in 2018. She was inducted as an Ashoka Fellow in 2019.
Instagram: @greenhub_india
www.greenhubindia.net
MANDAKANI MATHUR is the founder of Devrai Art Village, Panchgani; she did her MPhil in Cinema Studies from the Sorbonne, Paris. She makes documentary and feature films on themes around Indian culture , spirituality and Nature. She interacts with school children using filmmaking and theatre as a means of creative expression and exploration. She has also created audiovisual resource material for teaching English communication skills for vernacular medium schools based on her stories. Her vision for Devrai Art Village was to connect with Nature and celebrate creativity. The inspiration for this endeavor also stems from her strong belief of the necessity to sustain adivasi livelihood and support a heritage, rich in indigenous art and highly skilled craft.
www.devraiartvillage.com
GAUTAM PANDEY, Director of Riverbank Studios, is one of India's accomplished wildlife filmmakers. He studied film in Canada and has won several national and international awards for his films including the National award. Beyond awards Gautam lives with a passion for the wild. Born into a family of nature-enthusiasts his passion for filmmaking started at an early age and he is now focused on using film as a medium to bring about awareness about wildlife and combine the genres of natural history and conservation films. Two of his films are on air on Animal Planet and Discovery, Gyamo - Queen of the Mountains and Looking for Sultan. Both films have been awarded internationally and recognised for their conservation message.
Instagram: @riverbankstudios
www.riverbankstudios.com
SHIBANI CHAUDHURY, Executive Director, Dusty Foot Foundation is a development strategist, filmmaker and youth trainer. Since 1991, Shibani has been part of several award winning films along with colleagues Mike Pandey and Rita Banerji, and subsequently worked in various capacities in different locations across India, including working with wildlife, communities and conservation as Head - Communications and Campaigns, IFAW-WTI. Post 2010, she was Executive Director, SRUTI-Society for Rural, Urban & Tribal Initiative (http://sruti.org.in/), an organization committed to empowering marginalized people on issues of natural resource management, small-holder agriculture, gender equality, among others. Subsequently, she has worked independently, helping re-vision and restructure the PVRNest Childscapes programme for children at risk around the Delhi-NCR. She has also worked on several independent assignments and films in recent years.
Instagram: @dustyfoot_india
www.dustyfootindia.com