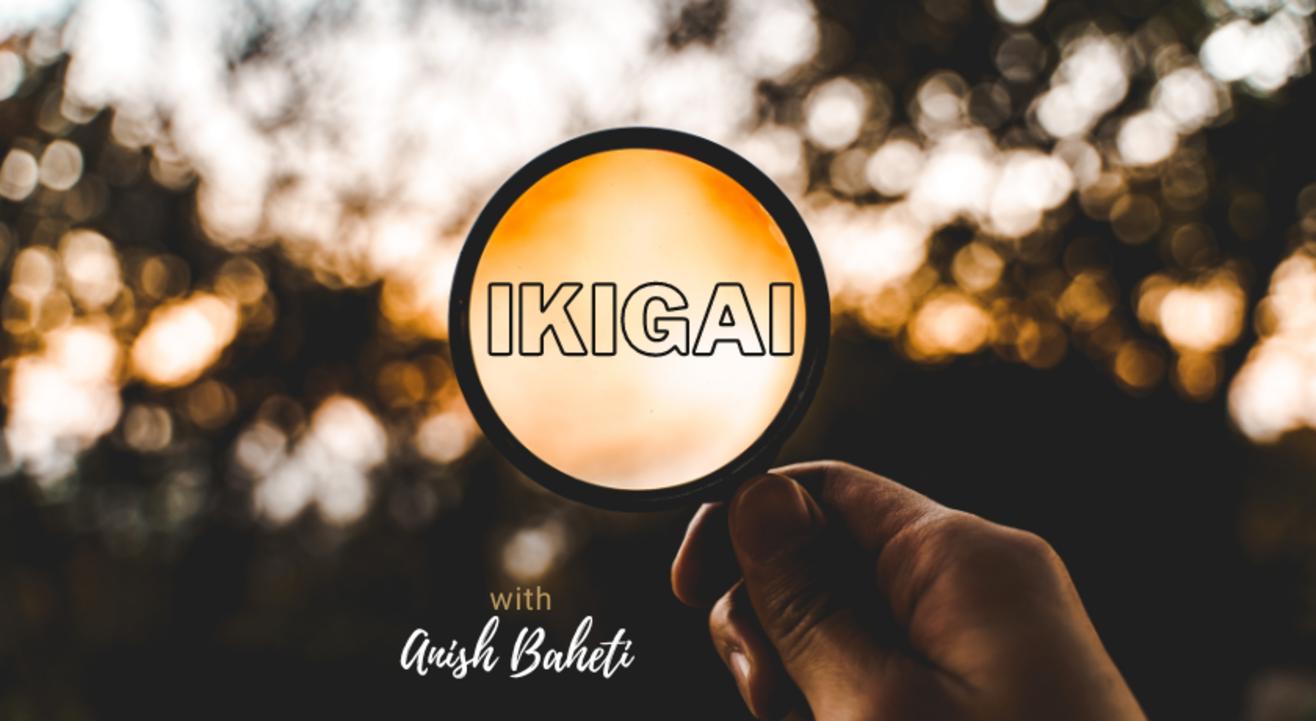 Find your Ikigai (access it anytime, anywhere)
July 4 | 1:31PM - July 4 | 1:31PM
Event Guide
Digital Event
Watch on Insider
Invite your friends
and enjoy a shared experience
Find your Ikigai (access it anytime, anywhere)
July 4 | 1:31PM - July 4 | 1:31PM
Event Guide
Digital Event
Watch on Insider
Invite your friends
and enjoy a shared experience
Event Guide
Digital Event
Watch on Insider
Invite your friends
and enjoy a shared experience
Ikigai Quest: Discovering Your True Calling (access it anytime, anywhere)
Ikigai (生き甲斐) is a Japanese concept referring to having a direction and finding joy in life through purpose. According to Japanese culture, every single person on this planet has an Ikigai — a reason for being. So there you have it you have an Ikigai and let's 'unpack' it together.
Are you ready to embark on a transformative quest to unlock your true calling and live a life filled with meaning and fulfillment? Look no further than "Ikigai Quest," an immersive on-demand video course designed to guide you on a profound exploration of your personal ikigai.
"Ikigai Quest: Discovering Your True Calling" takes you on an inspiring journey of self-discovery and empowers you to uncover the unique combination that makes your heart sing. Through a thought-provoking lesson, practical exercise, and insightful guidance, this on-demand video course provides you with the tools and insights to connect the dots and find your true purpose.
Experience the freedom of on-demand learning, allowing you to immerse yourself in the course material at your own pace and convenience.
Who is the target audience?
This session is for anyone who has a desire to learn and apply strategies that might change their current circumstances both personally and professionally.
Anyone who wants to discover their life's purpose
Key details
Language: English
Content: Instruction video and the main course video
Approach: Approx. 12 minutes main video which takes you through the 3-step process. Pause and play to get the most out of this experiential video course. View it multiple times.
Fee: INR 399
Mode: On-demand video course. Anytime anywhere as many times as you want.
Testimonials:
"Anish I really enjoyed the Ikigai session as it helped me be more self-aware and guided me to see through the path towards my bigger vision. It also helped me to understand how taking baby steps can lead me there. Thank you so much!!" I would recommend this session to anyone and everyone who wants to learn better ways to connect with life and themselves. Thank you, Anish!" - Brittney Akpobiyeri, USA
Amazing, inspiring, and encouraging! Feeling reignited to pursue my passion and live unfettered from a place of joy!! Thank you, Anish, for this experience--I am excited to see what unfolds and how I soar! – Annalisa from Texas, United States
"I would recommend this session to anyone and everyone who wants to learn better ways to connect with life and themselves. Thank you Anish!" - As reviewed by a past participant
Remember, you have gifts that are begging to be put to good use.
What happens once you register: Instant access once payment comes through. You can access this course multiple times as long as you are logged into this platform.
Speaker: Anish Baheti
2x TEDx Speaker | Award-Winning Author | Ikigai Coach | Keynote Talks | Podcast Host | Educational Influencer | Awakener
Anish Baheti is an accomplished speaker and purpose coach who has a talent for simplifying complex ideas and inspiring individuals from all walks of life. As a founder of Train My Brain® and Concepts Coach®, Anish has led thousands of engaging and energizing sessions, leaving a lasting impact on individuals in the fields of education, corporate, entrepreneurship, and sports. Anish's experiential learning deck of 52 cards makes interactions with the audience meaningful, and he enjoys helping participants connect the dots with his practical strategies that can be applied both personally and professionally.
Anish holds a Chartered Accountant degree from ICAI, an MBA from the University of Technology, Sydney, and a Certified Life Coach from Australia and a Certified Brain Mapping Practitioner from the UK. He has won numerous awards, including the Outstanding Leadership Award in Las Vegas, USA, the Education and Training Award in Australia, and a spot on the BW Education 40Under40 list in 2020. Train My Brain® was also awarded the Best Companies Award in Dubai UAE in 2022.
Anish's signature program, The Life Deck®, utilizes 52 cards to guide participants on a journey of self-inquiry and self-realization, empowering them to lead a life by design rather than by default. Another exciting program he offers is The Numbers Deck®, which teaches Accounting to Non-Accountants in under 90 minutes, using a deck of 52 cards as a fun learning tool. Anish's engaging style and passion for making complex concepts easy to understand make him a sought-after speaker and coach.
Disclaimer:
Train My Brain® reserves the right to cancel or postpone the workshop in case of any emergency. No refunds on tickets once purchased. Pre-payment and pre-registration are required. The participation fee is non-refundable/ non-adjustable against any other program of Train My Brain. Attending the workshop or on-demand video courses means you have read and agreed to the Terms and Conditions listed on our website www.trainmybrain.in
Use of any information or materials provided by Train My Brain during the course is entirely at the receiver's/ availer's own risk, for which the Train My Brain shall not be held liable. It shall be the responsibility of the Participant/Attendee to ensure that any content or performance available through this course meet their specific requirements. The Participant/Attendee acknowledges that such information and materials may contain inaccuracies or errors and the Train My Brain is expressly excluded from any obligation or liability caused due to such inaccuracy or error to the fullest extent permitted by law.
Find your Ikigai (access it anytime, anywhere)
July 4 | 1:31PM - July 4 | 1:31PM
Event Guide
Digital Event
Watch on Insider
Invite your friends
and enjoy a shared experience