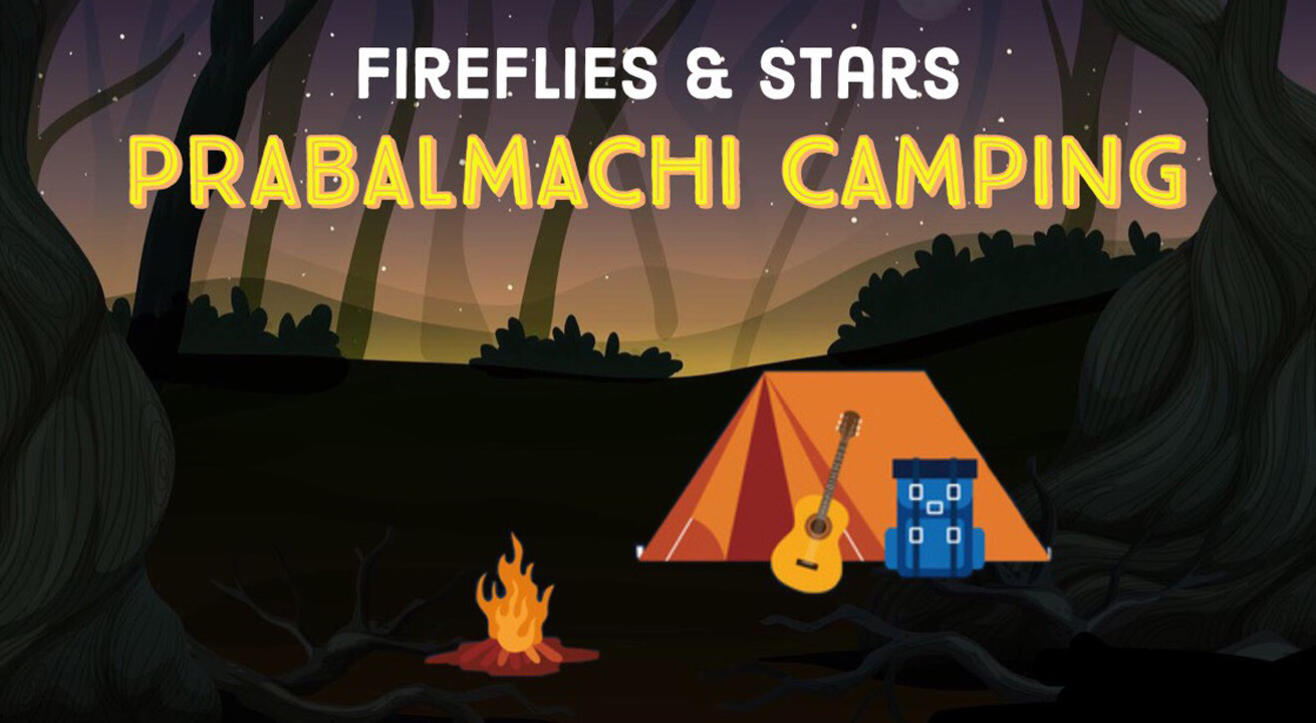 Camping
Fireflies & Stars Prabalmachi Camping by Bhatakna
About
Type: Hill Fort
Height: 2320 Feet above MSL (Approx)
Grade: Easy
BaseVillage: Thakurwadi
Region: Panvel
Fireflies:
Fireflies or lightning bugs are structured with specialized cells in their abdomen which emit light. This process is called bioluminescence and is shared by many other organisms, mostly sea-living or marine organisms. Pre-monsoon climate is the ideal period for fireflies and glow-worms for mating, they light up to attract their mate. Hundreds of fireflies gather together on a tree displaying their bio-luminescent lights in the dark nights.
Prabalmachi
imagine a thousand twinkling lights in the forest. Enchanting right? Now imagine witnessing this phenomenon live. One of the most brilliant spectacles put on by Mother Nature at Prabalmachi, before the onset of the monsoon. This is, of course, the annual mating congregation of fireflies who descend upon this plateau to start a wonderful beginning. Their bioluminescence creates magical patterns in the dark and makes you dream with eyes open. But the magic doesn't end there. Indulge in setting up your tents, make your own barbecue as you sing under the moonlight and the starlit sky around bonfires while relishing in locally cooked food and experiencing the warm hospitality of the locals of Prabalmachi. In the morning, descend with memories or challenge yourself for an adventure as you can hike up the thrilling Kalavantin Durg or the mighty Prabalgad.
DAY 1 - Saturday
06:00 pm Meet at Panvel Station
06:15 pm Move towards Thakurwadi (Base Village) in our transfer vehicle
07:15 pm Start trek towards Prabalmachi after a brief session
08:45 pm Reach campsite at Prabalmachi and get Refresh
09:30 pm Prepare for a night under the sky, have delicious local cuisine for dinner, let the Arijit Singh in you come out, play a few games, share stories (especially ghost stories), make new friends and enjoy the campfire.
11:30 pm Off to the tents for a sound sleep (For those who are very sleepy.Day Ends

DAY 2 - Sunday
07:00 am Wake up call, get refreshed by a hot cup of tea and breakfast
08:00 am Move towards Kalavantin Durg, for those who would like to trek. Others can enjoy their morning at Prabalmachi
09:30 am Reach the pinnacle, bask in the majestic view from the top, take selfies with an amazing background
10:00 am Start the descend towards Prabalmachi
11:00 am Reach Prabalmachi, Campsite
11:30 hrs Start to descend towards Thakurwadi (After a mandatory group pic!!!)
12:30 hrs Reach Thakurwadi, say your goodbyes with a promise to meet again, leave for Panvel in our transfer vehicle. This brings us to the end of our trip, Or rather just the beginning.
Transportation from Panvel to Base village to Panvel by private vehicle.
1 Breakfast- Sunday
1 Dinner - Buffet (Veg/Non-Veg) (Saturday)
Tent 2 People Sharing Basis. (Blanket, Mattress)
Adventure Equipment
Toilet Facilities
Basic First Aid
Guide and expertise charges.
Forest Entry Fee
extra meals cold drinks.
water bottles
anything not mentioned above
confirmation only after full payment
On first come first serve basis, so please Register at earliest and book your tents in advance!
booking is non-refundable.
NOTE: entry will be confirmed only after
Bottle of Water (at least 2 liters)
Identity Proof
Ready to eat food like plum cakes, dry fruits etc.
Torch
Jackets and woolens as it would get cold in the evening and morning.
Cap, Camera
Good Trekking shoes
Personal care stuff, ORS, medicines which you require usually
A haversack to put all the things in, please do not carry
sling bags or jholas
50 % refund if notified via phone conversation 3 days woolens the event date.
No refund if the cancellation requested is less than 3 days. No show No Refund.
Event Tickets cannot litres to another
Date against cancellation.
Event Tickets cannot be transferred to another the person against cancellation.
Rules and Regulations - General
Note: No drugs are allowed at the campsite. If you have seen handling, consuming or appear under the influence of any illegal substances we have the right to deny you entry and ask you to leave the premises
Venue
Panvel Railway Station
Railway Station, Sector 18A, Forest Colony, New Panvel, Navi Mumbai, Maharashtra 410206