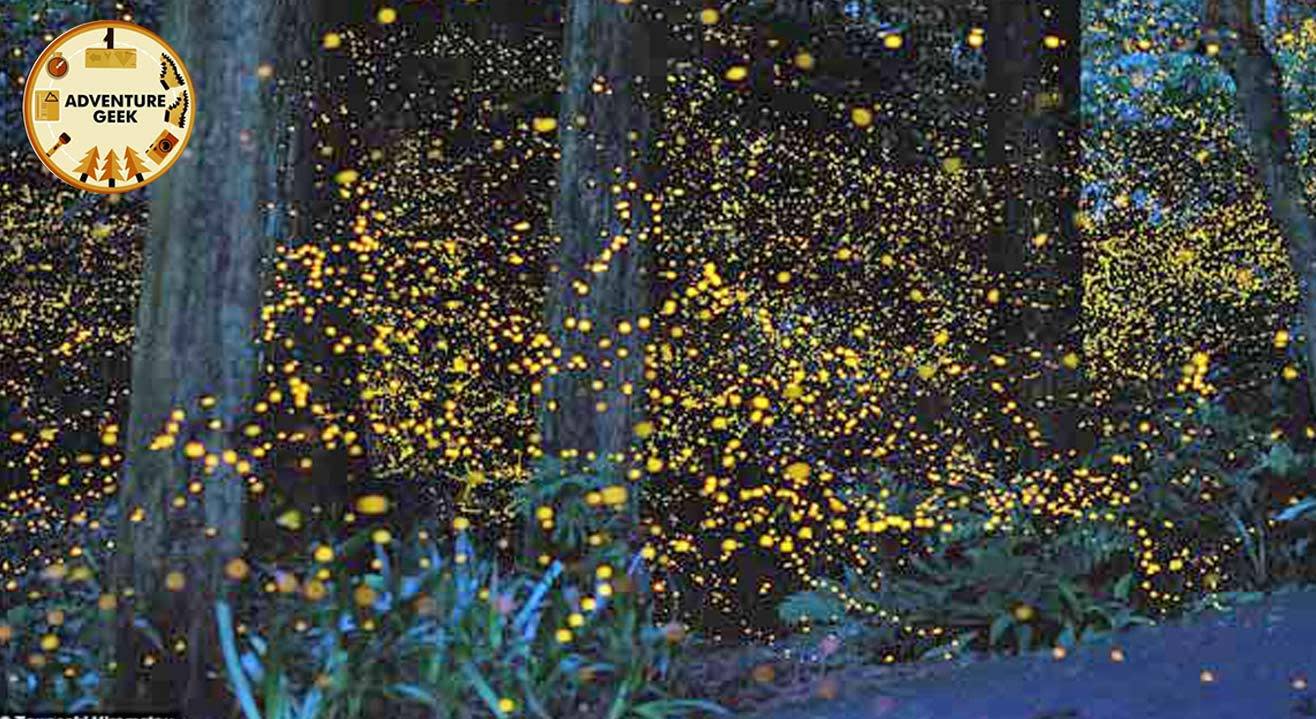 Fireflies Special Trek to Peth (Kothaligad)
May 21 | 4:30PM - June 5 | 6:00PM
Step out and enjoy this event
Invite your friends
and enjoy a shared experience
Fireflies Special Trek to Peth (Kothaligad)
May 21 | 4:30PM - June 5 | 6:00PM
Step out and enjoy this event
Invite your friends
and enjoy a shared experience
Invite your friends
and enjoy a shared experience
Fireflies are sometimes called lightning bugs. Many a child have spent summer evening chasing them. And may be you 've wondered how and why are these insect able to light up.
The answer is that Fireflies contain an organic compound in their abdomens called luciferrin. As air rushes in to the abdomen, it react with the luciferrin. A chemical reaction gives off the familiar glow of a firefly. This light is sometimes called "cold – light" because it generates so little heat. The fireflies can regulate the air flow in to the abdomen to create the pulsating pattern.
Some experts think the firefly's flashy style may warn predatorsof the insect's bitter tastes. On the other hand, some frogs don't seem to mind. They eat so many fireflies that they themselves begin to glow. Males fireflies also light up to signal that desire for mates – and willing females attract the mates with flashes of their own.
But not all the flashing of fireflies is motivated by romance. While each fireflies species has it own pattern of flashing, some females imitate the pattern of other species. Male land next to them – only to be eaten alive. So the next time you see a firefly keep in mindthats it flickering isn't. Just a unique & sometimes deadly languages of love.
Kothaligad is more commonly known as the fort of Peth because the village of Peth is situated at its base. The pinnacle of the Peth can be seen from the village. It looks like a filed surface. On reaching the top of the fort, we see caves carved in huge rocks. The first one is the cave of Goddess, besides which is awater cistern and the last one is the specious Bhairoba cave.A flat floorand well-sculpted pillars are specialty of the cave. Along the Bhairoba cave, steps are carved leading the pinnacle.
Four–Five potholes and some cannon balls are scattered in the fort. Kalwawantinicha Mahal, Nagfani, Siddhagad, Malanggad, Chanderi, Prabalgad, Manikgad, and Matheran all these surrounding historical places are visible from top of the fort Peth.
10 June 2017 Saturday
Meeting Point For Mumbai:- Karjat railway Station at 8.00 am.
Catch the 4:30 pm cst-karjat fast local. People who live on slow track station please come ur nearest station
Time table are as follows:-
Karjat Fast local
CST :16:30 Hrs
Byculla :16:37
Dadar : 16:43
Kurla : 16:50
Ghatkopar : 16:54
Mulund : 17:06
Thane :17:10
Dombivali : 17:22
Kalyan : 17:30
Karjat : 18:20 Hrs

Meeting Point : Karjat Station – 06:20 pm
06:30 pm : We will proceed to the base village Ambivali by tum-tum or private vehicle.
07:30 pm : Reach Ambiwali, Introduction round & Snack
Ascend – Enjoy Fire flies en-route
Reach pethwadi by 9.30pm
10.00Have Dinner and stay
10:30 pm : Start Trek & Enjoy Fireflies on the way while trekking.
12.00 pm Off to sleep

11 June 2017 Sunday
06:00 am : Wake up call, Sunrise view, Explore & Photography & Breakfast
06.30am. start ascend
08:00 am : Reach on top,Explore and rest
09:30 am : Start descending.
11:30 am : Reach Base Villages, Rest & Lunch time.
01:30 pm : Leave for Karjat by bus/ Private Vehicles
02:30 pm : Reach Karjat and take local to Mumbai.

Members are requested to take return ticket till karjat by their own.

Board the second last compartment from Karjat side which is the second one from CST side.
Everybody will board the same local and we meet in the train itself
Transportation from Karjat to Karjat
Snack
Stay
Dinner
Breakfast and tea
Guide & expertise Charges
Any personal expenses
Any other charges non mentioned above.
Identity proof.
Wind Cheater a must
Sleeping bags, bedsheets, mattress,
A bottle of water (Atleast 3 Ltrs),
Some ready to eat food. Plum cakes, Biscuits, etc.
Medicine those if u require usually (Optional)
Good trekking shoes,
A haversack to put in all the things to be carried.
Please avoid wearing GOLD and other ornaments.

Rains are expected, so pack your bags accordingly to save them from getting wet. Double pack your valuables in plastic bags

Note :
Kindly carry 1 Identity proof at least for the trek. We shall travel together as a group.
We all are going for an adventurous activity. Do not destroy or dirty the archaeological, historical monuments. Please do not carry or wear any valuables, ornaments, jewellery, etc. If carried, then we Do Not take any liability for the same. Rock Climbing, Rappelling, Trekking . For all these events you are at your own risk. Organizers are not responsible for any accident or compensation in whatsoever manner. We should strictly follow the code of conduct, to avoid troubling our fellow trekkers or other people from our group or even local people. Due to the Monsoon season we recommend you to please take care at every place while walking /climbing / trekking. No plastic littering on the way or in hills/mountains.
Smoking and drinking alcohol is strictly prohibited.
Sleeveless, low neck, figure hugging shirts/skirts/tops, short pants, hot pants not allowed.
Please avoid wearing gold and other jewellery (at own risk).
Fireflies Special Trek to Peth (Kothaligad)
May 21 | 4:30PM - June 5 | 6:00PM
Step out and enjoy this event
Invite your friends
and enjoy a shared experience