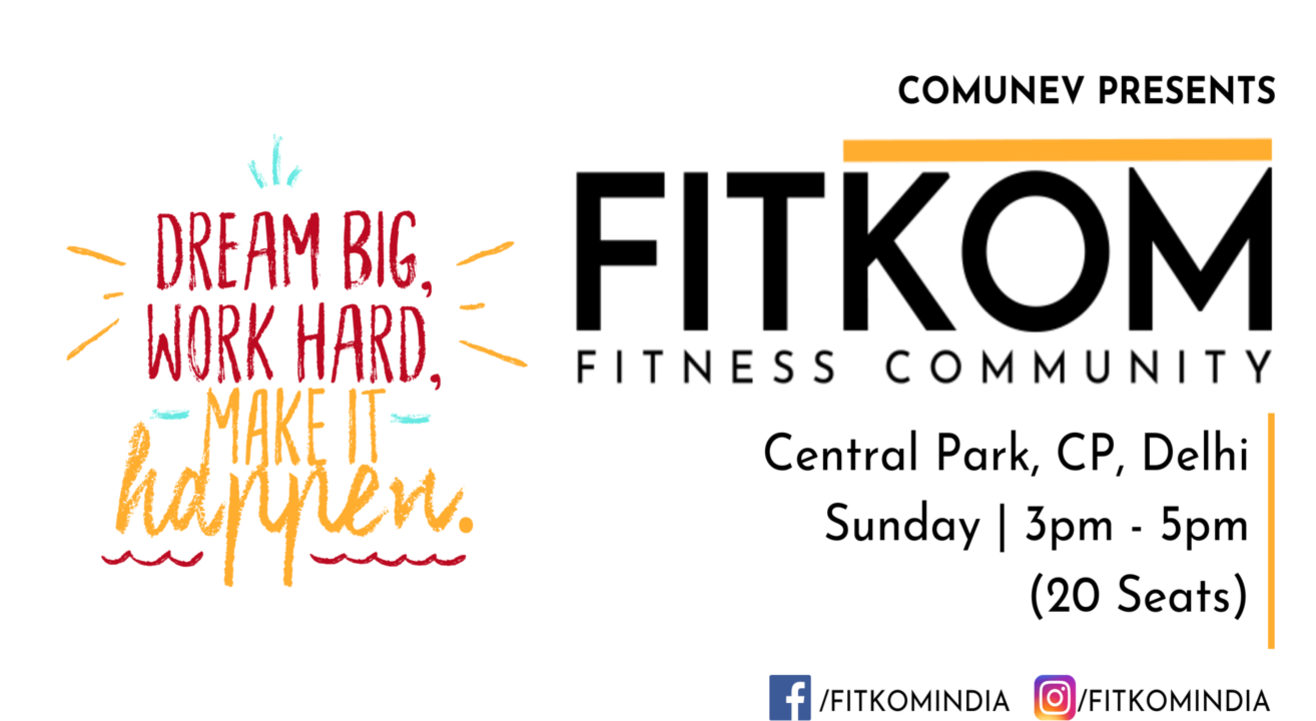 Fitness
Fitkom - Fitness Community
About
Fitkom is a Fitness community that organizes fitness event in Delhi monthly.


Are you:
Starting your fitness journey?
Obsessed with nutrition and science behind it?
A gym-goer/trainer?
Looking for gym partners?
Looking for friends who are into fitness?
A fitness freak?
If any of these is true for you, then Fitkom is the right platform for you.
Learn more about fitness as well as make new social connections.


Our Mission:
We want to connect people who are passionate about fitness or living a healthy lifestyle and even those who are just starting out. Our mission is to create a community of fitness enthusiasts from different areas of fitness- be it a fitness lover, nutritionist, personal trainer, yoga instructor or Dietitian. Fitkom will be the place for anything related to fitness. Our goal is to support the Fit India Movement started by our PM Narendra Modi and start a chain of a Fitness event in Delhi/NCR.


What happens in the event?
Fitkom event has the following sessions:
Session 1: Introduction/Ice Breaking
You introduce yourself in brief and get to know who everyone else is. Then we'll kickstart the event with a fun engaging activity.
Session 2: Story Sharing
Everybody shares their journey of fitness. Lots of inspiration and motivation.
Session 3: Problem discussion
We discuss the problems you're facing with health and nutrition. You get the knowledge from the right people. What to do in order to achieve your goal and how to do it.
Session 4: Discussion/Networking
Why go home alone when you can make some new friends right at the event. Network and talk as long as you wish.


What do you get?
If you attend our event, you get to-
Meet people who are just as passionate as you
Have knowledge about health and nutrition
Gain confidence and the ability to communicate clearly
Have some fun time
Gain new life experiences
Have your questions and queries answered
Health and nutrition are really important in this busy lifestyle. Learn more about it with the constant support of our community.
Join our Fitkom community right now and be part of a movement that makes fitness a reality for everyone!
(20 Seats only)


Social Media:
Facebook- https://www.facebook.com/fitkomindia
Instagram- https://www.instagram.com/fitkomindia
Twitter- https://twitter.com/fitkomindia
LinkedIn- https://www.linkedin.com/showcase/fitkom/


FAQs:
-Is this event for me?
Yes. No matter what your age, background, and experience are, you can still attend this event.
-Will I get training in the event?
Not really. It's a networking event primarily. Although, there will be some fun activities as well.
Organizer Contact - 7011761960