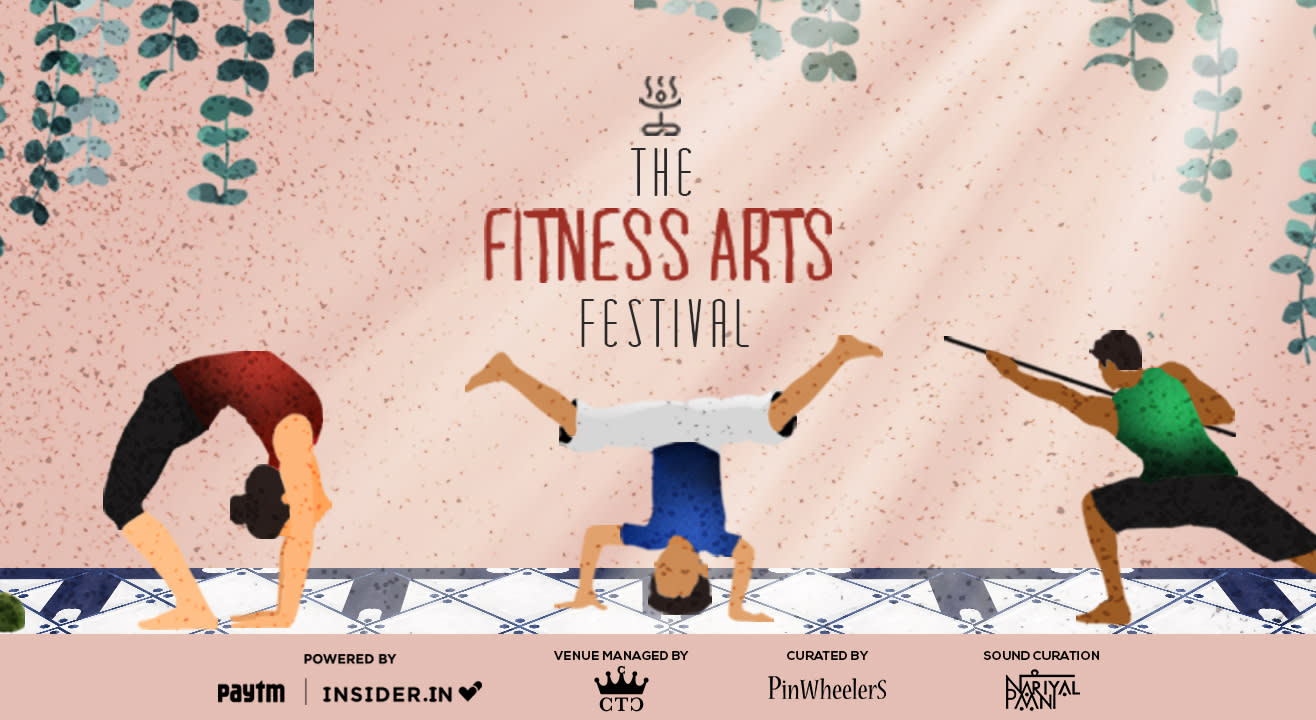 Chisel your mind and body at The Fitness Arts Festival!
On June 16, experience and learn multiple fitness artforms, achieve inner peace and much more.
Invite your friends
and enjoy a shared experience
Celebrate a blend of art and fitness with wellness at The Fitness Arts Festival - a one-stop platform to experience and learn renowned fitness artforms along with those that mirror our heritage and culture. Experts including the likes of Vipin Kazhipurath, Shantanu Sadanand Pujari, Amod Sarang, Sheetal, Alexander Fernandes and more will be joining you to make this experience memorable.

If inner peace is what you seek, get away from the hustle-bustle of your urban life and embrace the silence within you with yoga and meditation. Or gain insights at Tai Chi, Breaking, or Calisthenics workshops among others. You can also treat your eyes to renowned masters displaying art forms like Kalaripayattu, Mallakhamb, Capoeira or Muay Thai.

There's more! Experience a range of therapeutic activities and games to break-free from stress. Along with all this, engage in informative discussions, consultancy booths, and some lip-smacking foods. Recognise and implement the importance of healthy living.
Here's what to book:
Pick any one or more fitness art forms of your choice. Once you lock one workshop, you automatically get access to the festival. No need to buy Entry Pass separately.

For those who don't wish to enrol for any workshop, an entry charge of Rs.200/- is applicable. The entry allows you free access to talks, games, activities, market, food, consultancy booths, art workshops etc. This does not allow you access to the fitness workshop/class. You could try and register on the spot if slots are available but we suggest prior booking.
Check out what's in store for you and book your tickets!
Headliner of the Day

Watch the festival's teachers join forces in showcasing the mastery of their respective crafts in a 90 minute performance. Take in a high-energy, one-of-a-kind spectacle comprising of traditional kung-fu, acro yoga feats, a dramatic narrative of tai chi, artistry of the traditionally rich mallakhamb, hip-hop freestyle and more.
Consultancy Booths
'Holistic Healing': Catch Dr. Nilesh Zope share his experiences with drug-less remedies in his life and help you find one- pranayamas, mudras, naturopathy, acupressure, magnet and chakra, Aromatherapy and Bach Flower remedy- this man is a master of all.
'Learn About Your Hormones': These chemical messengers are the questions and answers to everything that has to do with the mind and body. A believer in yogic science, Dr. Runvijay's he's proficient in translating benefits of yoga to current frameworks of scientific descriptions. Come have a heart-to-heart talk with him to work towards a disease-free life.


Informative Discussions
'Ancient Wisdom of Amazonian Medicines': Learn about sacred plant medicines of the Amazon, plant communication, mental illness & depression, and ancient secrets of Earth, life, death and beyond with Tida. A Shamanic practitioner trained in the Amazonian jungles of Peru with the Quechua and Shipibo tribe, Tida comes with endless knowledge. He is also the manager of the Katari Centre, Peru which is an indigenous plant medicine center.

'The Gut Instinct': Learn about the history of fermentation' and how you can DIY them with Healthy Gut Partner MAVI's CommBucha and Rushina Munshaw Ghildiyal- founder of APB CookStudio (India's first Kitchen Studio).

'Growing Microgreens': Learn about tiny but nutrient-dense greens with Satish Dhar, founder of Tejasvani having four decades of experience in the welfare work for farmers.

'Mental Well-being': Come find a safe space to rekindle with and actualize all that you feel with Aahana Mulla, writer of 'Behind the Light'.
Festival Activities
Therapeutic Pottery | Mono Leaf Painting | Eco-conscious games | Thumb Wrestling | Kha Key Pehchano | Pottery | Warli art.
*Open to both kids and adults

Festival Indulgence
Breakfast Bowls | Slow Fashion | Mango Season Celebration | Salad Bar | Juice Bar | Community Kitchen | Massage Sessions | Organic Skincare | Make your own Fresh Farm Salads | Organic Avocados, Bananas & Mangoes | Herbal Infused Teas | Cold Brews | Local healthy food by Aarey women | Peanut Butter Sandwiches | Raw pressery Juices | Healthy Ice creams | Local but hygienic Sugar cane juice
Things to Carry
A Bottle of water | Yoga mat ( wherever applicable ) | Towel | Ticket for the workshop
Lifestyle
Hand Made Soaps | Fitness Clothing | Conscious Food with their organic & natural Shop | Treewear - Buy a Tee, They plant a tree | Recycle - Bags and Yoga Bags made with rice sacks

Nature Walks
Deepen your connection with nature.

India vs Pakistan match screening
Come celebrate with us

Subscribe to receive our newsletter!
Find the best experiences happening out there in your city or enjoy handpicked content while sitting comfortably at home. Paytm Insider is your go-to place to figure out what to do today!